Trump wants Justice Department to investigate who wrote anonymous New York Times op-ed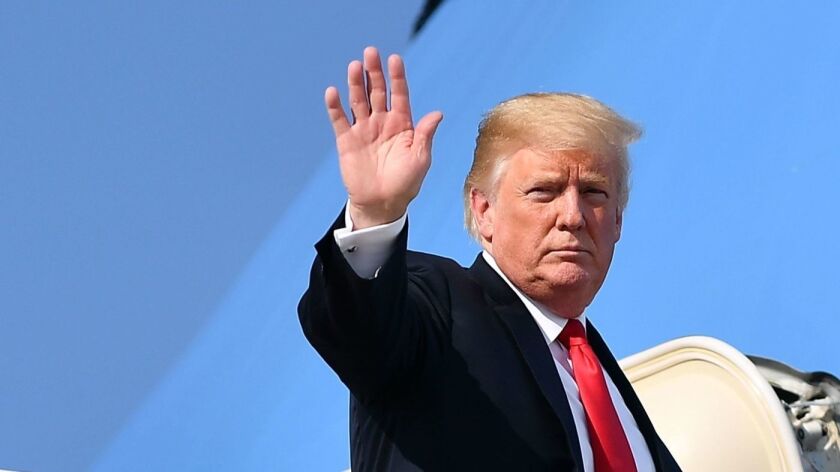 Reporting from Washington —
President Trump said Friday that he wants the Justice Department to investigate which senior administration official wrote this week's anonymous New York Times op-ed, which asserted that people working for the president are quietly trying to subvert his agenda.
Having already suggested in a tweet that the author could be guilty of "treason," Trump dove back into the subject Friday, telling reporters aboard Air Force One that he wanted Atty. Gen. Jeff Sessions to open an investigation into who wrote the essay.
"It's national security," Trump said. "I would say Jeff should be investigating who the author of that piece was because I really believe it's national security."
The president also said he was "looking at" taking legal action against the New York Times for publishing the essay, calling it "disgraceful."
In a statement, the newspaper responded, "We're confident that the Department of Justice understands that the 1st Amendment protects all American citizens and that it would not participate in such a blatant abuse of government power."
"The president's threats underscore why we must safeguard the identity of the writer of this op-ed," the statement said.
The Justice Department declined to comment on whether it planned to take action in response to the president's request.
Trump's words served as a bookend on a week that began Monday with a tweet in which he criticized Sessions for allowing the recent indictments of two Republican congressmen. The moves to enforce criminal laws were hurting the GOP heading into November's midterm election, he said.
Some of Trump's allies have suggested he subject top aides to polygraph tests or force them to sign sworn affidavits that could be used in legal proceedings. Trump said he's not sure what actions he may take.
"Supposing I have a high-level national security, and he has got a clearance — we talked about clearances a lot recently — and he goes into a high-level meeting concerning China or Russia or North Korea or something," Trump said. "I don't want him in those meetings."
Trump also suggested, as he has countless times in the past, that the country's libel laws should be "toughened up."
As the president was talking to reporters as he flew over Montana en route to North Dakota for a campaign stop, his predecessor was in Urbana, Ill., where he also commented on the anonymous author while offering a sweeping indictment of Trump and a call to arms for Democrats before the midterm election.
Addressing Trump's politics broadly as well as the events of the week, former President Obama suggested that the current president's detractors should take no comfort in an anonymous administration saying that people inside the White House "aren't following the president's orders."
"These people aren't elected," Obama said. "They're not accountable. They're not doing us a service by actively promoting 90% of the crazy stuff that's coming out of this White House and then saying, 'Don't worry, we're preventing the other 10%.' That's not how things are supposed to work. This is not normal."
Twitter: @EliStokols
---
For reporting and exclusive analysis from bureau chief John Myers, get our California Politics newsletter.
You may occasionally receive promotional content from the Los Angeles Times.