Newsletter: A State of the Union preview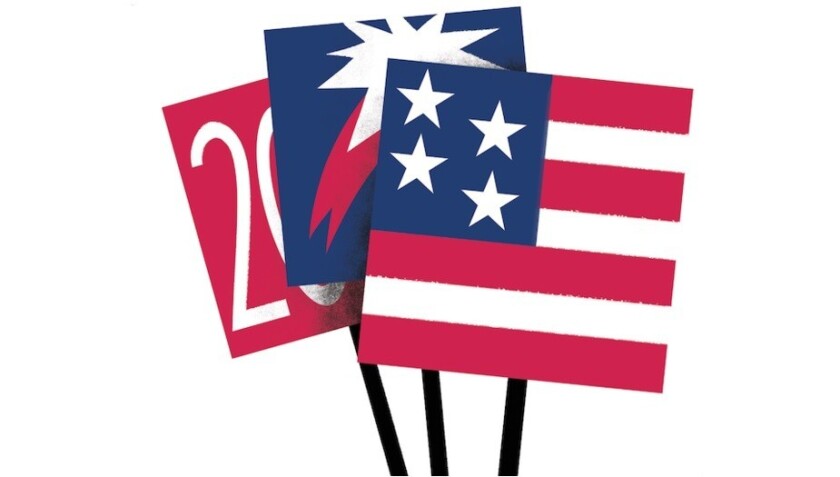 When President Trump steps to the dais in front of some 535 members of Congress on Tuesday night, he'll take some time to brag.
The White House says the president will lay out accomplishments that include the $1.5-trillion tax bill and rolling back regulations on businesses, and claim credit for gains in the stock market and drops in unemployment.
Trump's advisors are hoping the State of the Union address gives the president an opportunity to sweep turmoil aside for an hour on national television during which he can beam a litany of his accomplishments — in his own words — directly to living rooms across the country.
His theme: "building a safe, strong, proud America."
Brian Bennett has more details.
Watch the speech with us Tuesday. You can follow our coverage at latimes.com/politics.
OBSTRUCTION OR FIGHTING BACK?
Last week, Trump suggested that his critics are trying to unfairly accuse him of obstructing justice because they haven't been able to prove any collusion with Russians during the 2016 campaign. "Now they'll say, 'Oh, well, did he fight back? Fight back — oh, it's obstruction of justice,' " he told reporters.
The extent to which Trump has tried to "fight back" against the investigation became clear the next day, when the New York Times reported that last June he ordered the firing of special counsel Robert S. Mueller III, who has led the investigation. Trump backed down when White House Counsel Donald McGahn threatened to quit.
Jackie Calmes and Chris Megerian looked at how the president has repeatedly invited questions about whether he's obstructed justice. One thing is clear — whether or not Trump has broken the law, he's displayed a pattern of trying to control and impede the Russia investigation.
DEFENDING THE PRESIDENT, ON AND OFF THE AIR
Jay Sekulow, a prominent lawyer in conservative and religious circles, started a daily radio show more than two decades ago, and he didn't give it up when he joined Trump's legal team last year. Now you can tune into Sekulow's show to listen to him riff on news about the Russia investigation, including accusations that top law enforcement officials have conspired against the president. "It's not typical, but this isn't a typical client," one lawyer said.
STATE OF THE STATE: 'THE SPIRIT OF DEMOCRACY NEVER DIES'
His first speech as governor, 43 years ago this month, was delivered on the very same rostrum from which he gave his last annual address on Thursday. It's been an unprecedented ride for Gov. Jerry Brown, and it's now on the home stretch.
Sacramento bureau chief John Myers writes that Brown's State of the State speech combined a long view of California and a detailed reminder — maybe even a defense — of his record as governor since returning in 2011.
"The spirit of democracy never dies," the governor said to applause. "It's alive in this chamber, in the hearts of Californians and in people throughout the land."
He offered little by way of policy, but announced that a new task force of scientists and forestry experts will "review thoroughly the way our forests are managed and suggest ways to reduce the threat of devastating fires."
Our Times political team offers some context on parts of Brown's speech in this annotated transcript.
We also highlighted some of the memorable quips offered by California's longest-serving governor in the previous 15 speeches here.
And George Skelton has this eye-opening stat: A member of the Brown family will have been governor for 40% of the last six decades.
PERSONAL CLASH IN GOVERNOR'S RACE DEBATE
Gubernatorial front-runners Gavin Newsom and Antonio Villaraigosa have long sparred over policy differences, but during last week's gubernatorial debate, both men launched cutting personal attacks on how the other had gotten rich, report Seema Mehta and Phil Willon. Six of the gubernatorial candidates took part in the debate at UCLA, but former Rep. Doug Ose was once again left off the stage.
NATIONAL POLITICS LIGHTNING ROUND
-- Two leading Republican senators on Sunday called for legislation to protect the special counsel leading the Russia investigation.
-- After sexual misconduct allegations, casino mogul Steve Wynn is out at the Republican National Committee.
-- Ahead of the Grammy Awards, went after Jay-Z on Twitter.
-- Our team follows the tale of the president and the porn star to Las Vegas and spends some time observing Stormy Daniels.
Get the latest about what's happening in the nation's capital on Essential Washington.
VOTE OF NO CONFIDENCE IN MENDOZA
Under investigation for harassment allegations, state Sen. Tony Mendoza failed to get the required 70% of votes at a local Democratic meeting determining pre-endorsements. That means he must seek the endorsement at next month's state party convention.
The political setback comes after an intense week for the Artesia Democrat.
A Senate panel unanimously voted to extend his leave of absence until the investigation is completed, and Senate leader Kevin De León warned Mendoza will be suspended if he returns to work before the completion of an investigation into sexual harassment allegations.
IF YOU MISSED IT
We ran our congressional race tracker on the Sunday Essential Politics page in the print edition.
A reminder you can keep up with these races in the moment via our Essential Politics news feed on California politics, and subscribers to this newsletter will be the first to know when we have updates to the ranking.
SKELTON ON CENSUS FEARS
Would Trump cynically slap a citizenship question on the census questionnaire to scare off undocumented immigrants and hurt California politically? You bet, Skelton wrote in his Thursday column.
Trump's Justice Department, headed by Atty. Gen. Jeff Sessions, urged the Census Bureau last month to insert a citizenship question into the 2020 questionnaire. Without a maximum head count in California, the feds would need to spend less money in the state on grants and subsidies — and Democrats could lose a U.S. House seat and, thus, one presidential electoral vote, Skelton writes.
TODAY'S ESSENTIALS
-- This week's California Politics Podcast takes a close look at Brown's big speech, the fiery debate on the state Senate floor over sexual misconduct charges and the sharp jabs thrown in last week's big debate between candidates for governor.
-- Former Rep. Gabrielle Giffords and her husband, astronaut Mark Kelly, endorsed Newsom for governor on Friday, citing his championing of gun control efforts.
-- California Atty. Gen. Xavier Becerra on Wednesday marked his one-year anniversary in the post by filing his 25th legal challenge to Trump administration policies, this time over the federal decision to repeal restrictions on the oil-extraction method known as fracking.
-- California's June ballot measures get numbers: Propositions 68, 69, 70 and 71.
-- After saying last June he wouldn't make a third run against Rep. Jeff Denham, Central Valley farmer Michael Eggman will enter the 10th District race Monday.
-- Major tech executives in California are backing state legislation that would allow for a lot more housing near transit.
-- A measure to allow Californians to dodge the effects of Trump's tax overhaul got watered down.
-- Brown wants to put 5 million electric cars on the road by 2030.
-- Sen. Dianne Feinstein has nearly $10 million cash on hand, and loaned her reelection campaign $5 million, according to her campaign.
-- Progressive PAC Democracy for America weighs in on the race to unseat Rep. Mimi Walters, endorsing Katie Porter.
-- Amid speculation that he's considering a run in Rep. Duncan Hunter's district, Darrell Issa told a local station he's looking to take a "different role" in the community.
-- Two new candidates jumped into the race to replace Issa: San Diego County Supervisor Kristin Gaspar, a Republican, and attorney and Air Force veteran Christina Prejean, a Democrat.
-- Billionaire Meg Whitman, the unsuccessful 2010 gubernatorial candidate who spent $144 million of her own money on her bid, said she is won't run for public office again.
-- Steve Lopez delivers a powerful indictment of Los Angeles leaders as The Times starts a new series on homelessness.
-- The L.A. Times has a new editor.
LOGISTICS
Essential Politics is published Monday, Wednesday and Friday.
You can keep up with breaking news on our politics page throughout the day for the latest and greatest. And are you following us on Twitter at @latimespolitics?
Miss Friday's newsletter? Here you go.
Please send thoughts, concerns and news tips to politics@latimes.com.
Did someone forward you this? Sign up here to get Essential Politics in your inbox.
---
Get our Essential Politics newsletter
The latest news, analysis and insights from our politics teams from Sacramento to D.C.
You may occasionally receive promotional content from the Los Angeles Times.