A government paycheck makes up most of California treasurer John Chiang's income, taxes show
California treasurer and candidate for governor John Chiang has pretty much lived off his government paycheck during the last six years.
According to Chiang's tax returns, his average income from 2011 through 2016 was just over $184,000 a year, including his salary as treasurer, his now-estranged wife's earnings and some small investments. Last year, Chiang made $143,915 as treasurer, though he's currently earning about $152,000 for the job.
The race to become California's next governor is awash in cash »
That's quite a contrast with one of his Democratic rivals in the 2018 race for California governor, Lt. Gov. Gavin Newsom, who released his taxes in May. Newsom and his wife made an average of $1.4 million a year though their salaries, investments, wineries, restaurants, hotels and other hospitality businesses between 2010 and 2015.
So far, Chiang and Newsom are the only candidates who have released their state and federal tax returns.
Similar to Newsom, Chiang allowed reporters to review — but not photocopy — six years of returns on Friday.
Newsom's taxes vs. Chiang's taxes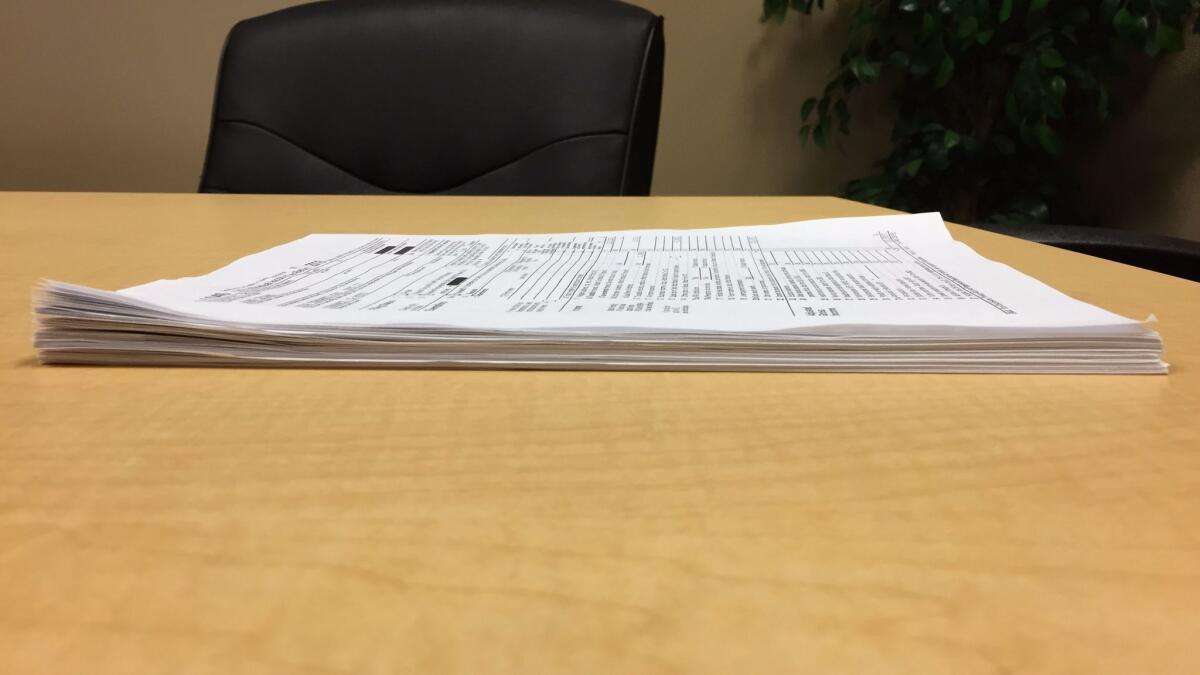 Chiang's relatively uncomplicated tax returns and simplistic personal finances largely mirror the theme of his steady but understated career in government service.
As a candidate for governor, Chiang is less known than rivals Newsom and former Los Angeles Mayor Antonio Villaraigosa even though he has held elective office in California since 1997. He served for a decade on the state Board of Equalization before he was elected to two terms as state controller and then treasurer in 2014. Before that, he worked for two members of Congress, as well in then-Sen. Barbara Boxer's Los Angeles office and for former Gov. Gray Davis when he served as state controller.
Chiang also put in a brief stint at the Internal Revenue Service, but he still hires a certified public accountant to handle his taxes.
How much Chiang gave to charity and other things the taxes revealed
• Chiang, who filed jointly with his wife until they separated in 2016, gave an average of $3,600 a year to charity over the six years, including contributions to the Miguel Contreras Foundation, California Conservation Corps, Koreatown Youth and Community Center, Jewish Family Services and USC's Keck School of Medicine. That comes out to about 2% of their annual income.
• All of the financial information related to Chiang's wife and her profession in marketing was redacted, so we're not sure exactly how she earned that portion of their income.
• The returns show the Chiangs paid roughly $30,000 a year in federal taxes and more than $11,000 in state taxes on average over the six years.
• The biggest federal income tax deductions were for the interest paid on the mortgage for their Torrance condo and for their state income tax bill.
• The Chiangs were due tax refunds in 2011, 2012 and 2013, but instead of taking the cash, they applied it to their taxes the following year. That included more than $10,000 in refunds they were owed in 2011.
Now there will be more pressure on Chiang and Newsom's rivals to release their returns
Villaraigosa promised to release his taxes but hasn't set a date. After leaving City Hall, Villaraigosa worked as an advisor to controversial nutritional products company Herbalife, and his earnings from the company could open him up to attacks. He also did work for Banc of California and global public relations firm Edelman, and he served as a part-time professor at the USC Price School of Public Policy.
Another Democrat, Delaine Eastin, a former state superintendent of public instruction, has also vowed to release her tax returns. Among the top Republicans in the race, venture capitalist John Cox plans to release his returns before the June primary, his campaign spokesman said. GOP state Assemblyman Travis Allen's gubernatorial campaign did not respond to requests for comment.
Twitter: @philwillon
Get our Essential Politics newsletter
The latest news, analysis and insights from our politics team.
You may occasionally receive promotional content from the Los Angeles Times.