Senate candidates crisscross Southern California making last-minute pleas for votes
U.S. Senate candidate Kamala Harris, right, stumps from the pulpit with LA City council president Herb Wesson, left, at Mt. Tabor Missionary Baptist Church. (Brian van der Brug / Los Angeles Times) 
U.S. Senate candidates Kamala Harris and Loretta Sanchez spent their final Sunday before election day in their political comfort zones, issuing their final pleas for support and urging Southern Californians to vote.
Harris, the two-term state attorney general, spent the morning dropping by some of central Los Angeles' most popular black churches, where the pews were full and the greetings were celebratory and warm.
"It is so important [to vote]. There is so much at stake," Harris told parishioners at the First African Methodist Episcopal Church of Los Angeles. "This is truly a pivotal moment in our history."
Though she never spoke his name, Harris' admonishment was in part a reference to Republican presidential nominee Donald Trump, whom she has derided as unfit to serve in the White House and a clear danger to American values.
During the visits, Harris was accompanied by Los Angeles City Council President Herb Wesson and Rep. Karen Bass (D-Los Angeles), and at every stop she encouraged churchgoers to cast their ballots at early voting centers on Sunday, even providing the addresses.
"What impressed me has been her knowledge of the local area and all the issues," said Agnes Wood of Los Angeles, who heard Harris speak at Mt. Tabor Missionary Baptist Church on Western Avenue.
Wood said she would be proud to see Harris become the first black politician elected to the U.S. Senate in California, but added that it was Harris' experience and qualifications that won her over.
Harris, the clear front-runner, addressed the historic significance of the race.
"When I look at the fact that we're still doing 'firsts,' it tells me that we still have a long way to go," Harris said. "Hopefully when each of us break these barriers, it reminds everyone that anyone can do anything."
If Sanchez pulls off an upset, she would be the first Latino elected to the Senate in California, and could be the nation's first Latina senator.
Harris later visited Torrance for a rally with Democrat Al Muratsuchi, a former assemblyman in a rematch against Assemblyman David Hadley (R-Manhattan Beach).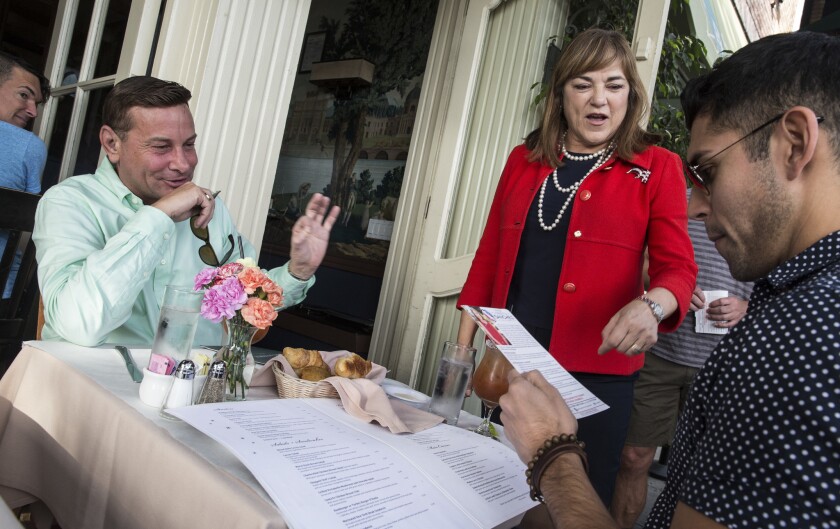 Sanchez spent the late morning at a get-out-the-vote rally in Long Beach's Cambodia Town with Reps. Alan Lowenthal and Janice Hahn, who have both endorsed Sanchez's Senate bid. She reminded the crowd of the work that the three members of Congress had done to help Cambodian immigrants and to urge the Cambodian government to hold free and fair elections.
"You will always have at least two friends in the Congress, Alan Lowenthal and Loretta Sanchez, to help you," Sanchez told the crowd gathered at MacArthur Park. Hahn is running for Los Angeles County supervisor.
Before the event, Lowenthal told The Times that Sanchez will have a difficult, but not impossible, path to victory on Tuesday, especially since Harris has won the endorsements of the California Democratic Party, Gov. Jerry Brown and U.S. Sens. Barbara Boxer and Dianne Feinstein.
Lowenthal lamented that the party chairman, governor and senators all hail from Northern California.
"We call it the Northern California party," Lowenthal said. "It's tough for us down here. We need the voters of Southern California to step up."
In a recent USC Dornsife/Los Angeles Times poll, 48% of likely voters supported Harris, compared with 31% who backed Sanchez. The gap between the two Democrats has widened since early September, when Sanchez began holding a series of news conferences attacking Harris' record as attorney general.
Sanchez told reporters that she remains confident and, as she campaigned up and down the state, she heard from an outpouring of Californians who vowed to cast their votes in this election.
"When we see this surge of voters come up, that they're going to come out and vote Loretta Sanchez for Senate," Sanchez said. "I'm pretty excited about Tuesday and I think we're going to win."
After the Long Beach rally, Sanchez headed north to West Hollywood, where she chatted with patrons enjoying lunch and drinks at The Abbey restaurant, one of her campaign stops before the June primary, as well as other popular establishments in the city.
Jose Santana of Valley Village said he and many of his friends have been so overwhelmed by the volume of news coverage of the presidential contest that California's Senate race and 17 ballot measures have been largely downed out.
Still, Santana said he's already seen long lines at polling centers where Southern Californians were able to vote early. He expects most are fearful that the country may elect Trump, who has pilloried Hillary Clinton as a "nasty woman," among other things.
"I bet it'll be crazy on election day because of all the people who go out to vote for the 'nasty woman,'" Santana said.
Follow @philwillon on Twitter
ALSO
California's U.S. Senate race is slipping away from Loretta Sanchez
Hurting for support in her own party, Rep. Loretta Sanchez tilts her Senate campaign to the right
Updates on California politics
---
Get our Essential Politics newsletter
The latest news, analysis and insights from our politics teams from Sacramento to D.C.
You may occasionally receive promotional content from the Los Angeles Times.