Amid uproar over sexual harassment, California lawmakers return to work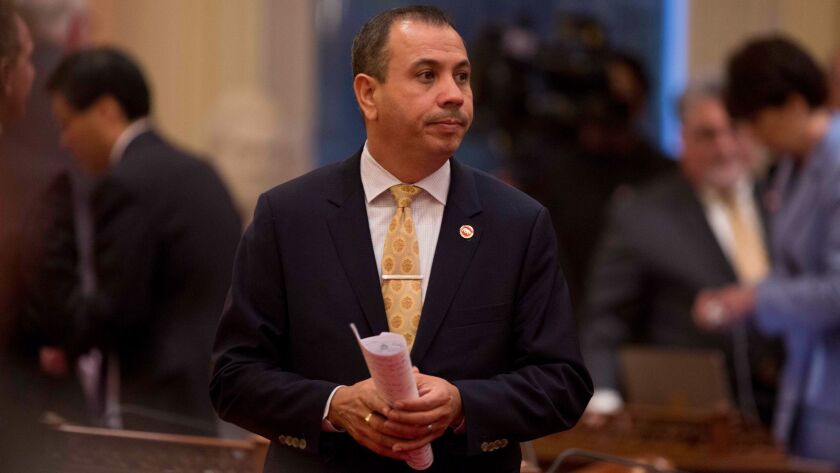 Reporting from Sacramento —
Most years, the Legislature's January kickoff after a months-long break has the predictable feel of the first day back at school. But Wednesday, as lawmakers returned for a new year of work, the atmosphere was distinctly unsettled. In the months lawmakers had been gone, the national tidal wave of sexual harassment allegations made a direct hit on the Capitol dome, leading to allegations, resignations and an uncomfortable scouring of a workplace environment women say has been rife with misconduct.
Their return Wednesday was punctuated by a protracted closed-door debate on the fate of state Sen. Tony Mendoza (D-Artesia), who has been accused of inappropriate sexual advances toward staff members. Mendoza announced he would take a leave of absence for the month of January, unless an investigation into his behavior concludes earlier.

For the record:
1:35 a.m. Jan. 4, 2018An earlier version of this article misidentified state Sen. Andy Vidak of Hanford as a Democrat. He is a Republican.
The disquiet infused the day's proceedings in other, more subtle ways, from uneasy jokes and tentative hugs. Like homeowners returning from vacation to a house that was broken into, state lawmakers spent their first day back grappling with the upheaval that had occurred while they were away.
"Every conversation I've had, it comes up," Assemblyman Todd Gloria (D-San Diego), a member of the Assembly leadership, said of the harassment controversies. "It's obviously major stuff and all of us are trying to take it seriously. But we've also been taking it seriously in 80 different locations across the state. Now here we are, all together."
Female lawmakers, staffers and lobbyists speak out on 'pervasive' harassment in California's Capitol »
So conspicuous was the specter of controversy that Assembly Speaker Anthony Rendon (D-Lakewood) dedicated the bulk of his remarks during the chamber's opening session to the scandals of recent months.
"Every year brings us challenges, but the current year contains a challenge that is markedly different because it is within," said Rendon, adding, "this Capitol community — and I speak of both houses — must build a community of active protectors."
To that end, Rendon and Senate President Pro Tem Kevin de León (D-Los Angeles) announced on Wednesday the formation of a joint committee tasked with evaluating the Legislature's procedures in handling sexual complaints. The move marks the first time the two houses will work together in a uniform evaluation, answering critics who said the Senate and Assembly's separate human resources operations led to confusion.
In the Senate, what was planned to be a routine opening session turned into an hours-long standoff, as Sen. Andy Vidak (R-Hanford) sought to expel Mendoza for his sexual harassment allegations. Mendoza, who is currently under investigation by an outside law firm hired by the Senate, has forcefully denied allegations that he acted inappropriately with a female Senate fellow assigned to his office and with two other former aides who alleged they were made uncomfortable by his attention. He has called on his colleagues to wait for the results of the probe before seeking additional sanctions.
In closed caucus meetings, Senate Democrats urged Mendoza to take a leave of absence or face an effort to suspend him without pay. Mendoza ultimately acquiesced to a one-month leave.
The mood, at least superficially, was more jovial in the Assembly, where colleagues exchanged hugs and backslaps and new year's greetings. Much of their session was dedicated to welcoming the house's newest lawmaker, Assemblywoman Wendy Carrillo (D-Los Angeles), who won her seat in a special election to replace Jimmy Gomez, a Los Angeles Democrat now serving in the U.S. House of Representatives.
Carrillo said in an interview that as the first woman elected to the Legislature since the presidential election, she was looking forward "to setting a tone for women and for progressives at a time when women's issues are front and center of the conversation, especially when it comes to sexual harassment."
Still, the Assembly was reminded of the turmoil surrounding sexual harassment in the Capitol — with two colleagues accused of sexual misconduct no longer present.
Assemblyman Raul Bocanegra (D-Pacoima) stepped down in late November after seven women publicly accused him of making unwanted sexual advances toward them. Bocanegra apologized for a 2009 incident — at the time he was a legislator's chief of staff — in which a legislative staffer said he reached into her blouse at a nightclub. He denied the other allegations.
Another Assembly Democrat, Matt Dababneh of Woodland Hills, resigned at the end of the year after multiple allegations of sexual misconduct, including by a lobbyist who said the legislator forced her into a bathroom and masturbated in front of her and another woman who said Dababneh had nonconsensual sex with her. Dababneh has denied all accusations of wrongdoing.
A third legislator, Assemblyman Sebastian Ridley-Thomas (D-Los Angeles), resigned his post as well, citing poor health.
The departures have reduced the Assembly Democrats' ranks to 53, short of the supermajority required to pass bills that raise taxes. A special election to fill Bocanegra's seat has been called for April 3, with a potential runoff on June 5. Election dates to fill the other seats have not been set.
Sexual harassment hearings come as California Capitol is roiled by accusations and a resignation »
The focus on sexual harassment has also infused policymaking, with several bills introduced at the start of the session to confront the problem. Among them are a proposal by Sen. Connie Leyva (D-Chino Hills) that would ban non-disclosure requirements in settlements for sexual harassment, discrimination and assault cases, and a measure by Assemblyman Kevin McCarty (D-Sacramento) that would make legislators financially liable for settlements of substantiated harassment accusations.
A long-shelved bill by Assemblywoman Melissa Melendez (R-Lake Elsinore) that would extend whistleblower protections for Capitol staff also has found new life, with more than 50 lawmakers in both parties showing support by signing on as co-authors.
"I'm encouraged by the fact that everyone gets that this is super serious, that the credibility of the Legislature is on the line in many ways," Gloria said. "At the end of the day, we want to look at our constituents and have them feel good about who represents them. Even if you're not a participant in some of the behavior that has been discussed, we're all part of an institution that can and must do better."
Staff writer Jazmine Ulloa in Sacramento contributed to this story.
Follow @melmason on Twitter for the latest on California politics.
---
For reporting and exclusive analysis from bureau chief John Myers, get our California Politics newsletter.
You may occasionally receive promotional content from the Los Angeles Times.