Q&A: 3 California states are 'just the first step toward greatness,' says ballot measure's backer, Tim Draper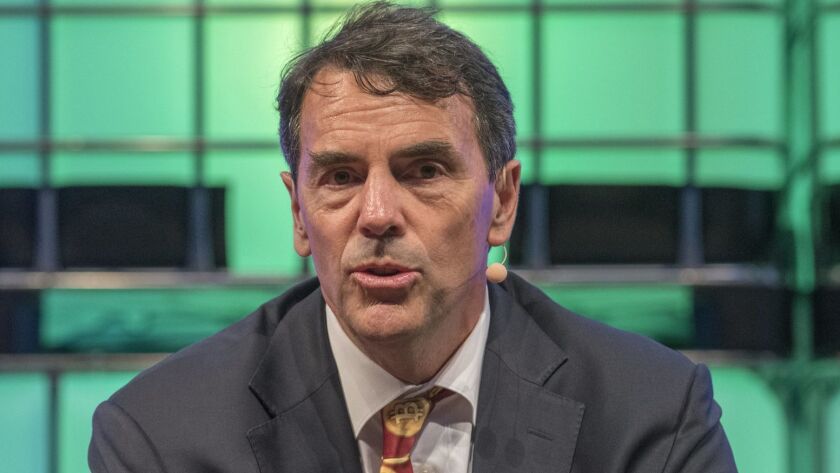 Sacramento Bureau Chief
Tim Draper is used to making waves.
A third-generation Silicon Valley venture capitalist, Draper has a reputation as an eccentric entrepreneur. He was an early investor in tech companies that hit it big, including Skype. And he's now one of the nation's most ardent supporters of cryptocurrencies like bitcoin.
On Tuesday, elections officials estimated that Draper had collected more than 402,468 valid signatures for his measure. That's more than enough to be included on a November ballot that could see as many as 16 propositions by the deadline for certification later this month.
The Times asked Draper about his motivations. What follows is an email Q&A, lightly edited for length and clarity.
---
No doubt you know some believe this is an unserious proposal to the state's serious problems. How would you respond?
This arrogant dismissiveness represents the current state of corruption rampant in the halls of the bureaucracy in the Sacramento status quo. We have failing school systems, broken infrastructure with bad waterways and highways, and we have the highest taxes in the nation. There is no excuse for people not being open to a new solution ... [Critics] offer nothing but kneejerk rejection of discussion around one of the most meaningful initiatives to come through the ballot, ever!
Who helped you determine where the three states' boundaries would go? Was there a methodology used?
Over the past year and a half, we have gone up and down the state of California and listened to what the voters are most concerned about ... They don't feel effectively represented in Sacramento ... They want to feel like their state has a locally vested plan to help successfully educate their kids, deliver reliable roads and waterways and constantly work in the best interests of the community, all while maintaining that essential feeling of regional pride. Reflecting those priorities, the Cal-3 coalition recognized that three states, based on natural geography, population density and representation that prioritized support closer to home, had overwhelming support from Californians, and the statewide approval to put Cal-3 on the ballot is a testament to Cal-3's commitment to delivering more meaningful results closer to home for all Californians.
If Californians vote to split the state, here's what would happen »
Do you intend to fund the November campaign in a significant way, and can you offer any details on the level of money you'd spend?
We expect to see significant financial support from all corners of California, just as we have seen signature support from citizens across that state to put this initiative on the ballot for the first time ever! ... One thing is for sure. I don't want to have to leave this state, but I don't want my grandchildren to have to live in the state that is near last in education, last in quality of life, last as a place to do business and last in taxes ... Now it is up to Californians. They have an unprecedented chance to really improve government in California, and they will get a chance to vote on [something] to truly make a difference in November.
Is part of your goal to spark discussion about California's future, rather than an actual three-state future?
You may have thought this, but I am very straightforward here. I believe that the state needs to be refreshed, rebooted, and reinvigorated. The Cal 3 initiative would not have earned the support of so many across the state to earn a place on the ballot for the first time ever if the voters did not think a three-state future held real promise of meaningful solutions for all Californians. To be clear: The vote this November is just the first step toward greatness ... From there, we will need the U.S. Congress to approve our right to be three.
Please consider subscribing today to support stories like this one. Get full access to our signature journalism for just 99 cents for the first four weeks. Already a subscriber? Your support makes our work possible. Thank you.
---
Get our Essential Politics newsletter
The latest news, analysis and insights from our politics teams from Sacramento to D.C.
You may occasionally receive promotional content from the Los Angeles Times.