A fancy downtown L.A. hotel waits for Trump to arrive
The lobby of the InterContinental Los Angeles Downtown Hotel sits on the 70th floor of the Wilshire Grand building. Its floor-to-ceiling windows provide a clear view all the way to the ocean, and by 6:30 p.m. it was really starting to fill up with guests.
Earlier in the day, it felt as if the 73-story hotel was in the middle of a cloud. As the sun broke through, Paul Saxton moved closer to the window to get a good shot of the angelic sunset and the Hollywood sign.
"When I saw this view, I was like, oh, my God!" said Saxton, a retired New Yorker who used to work near Trump Tower. He said he was in town with his wife, who is managing a conference taking place in the hotel.
The hotel, of course, is where President Trump is staying Tuesday night. Which means checking in on this particular day is no ordinary hotel stay.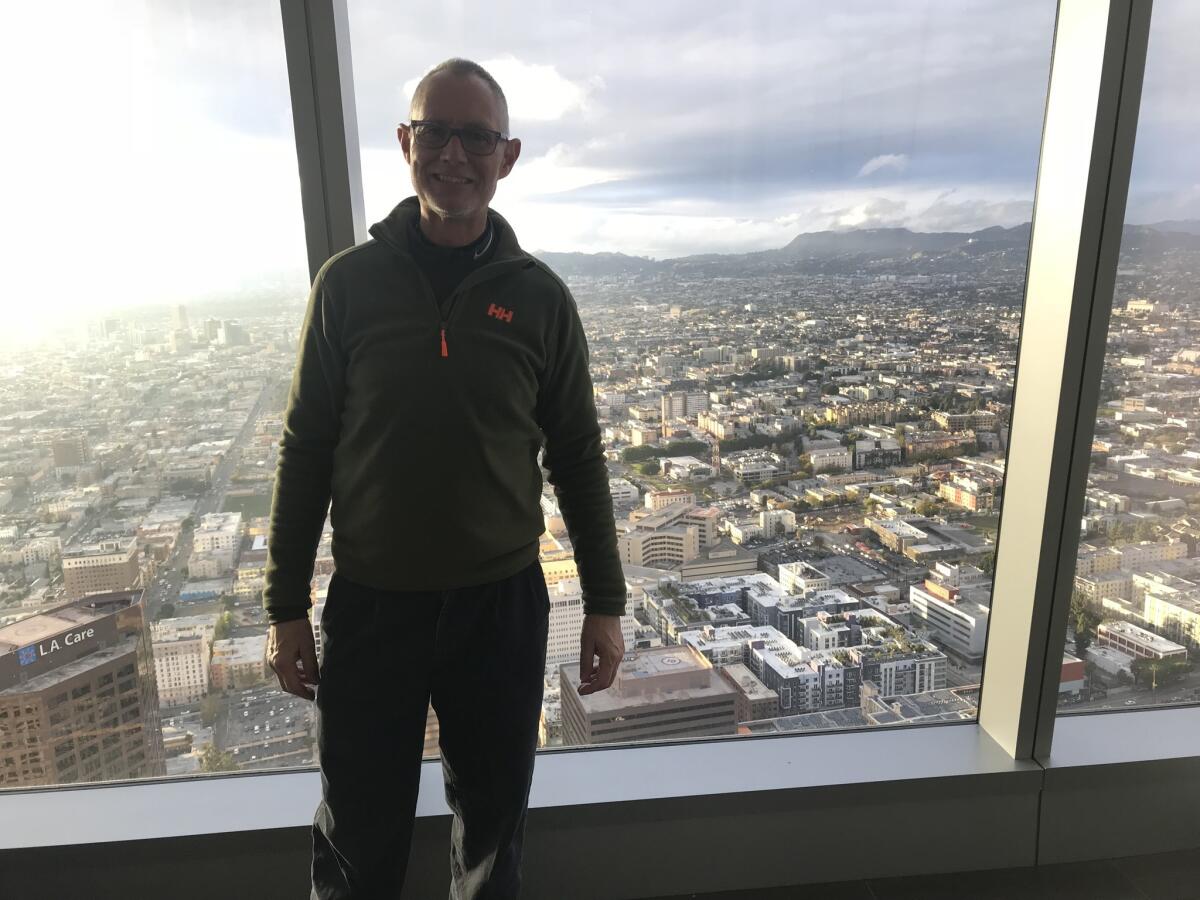 Saxton said the added security meant that many of the guests and even some of the speakers at the conference couldn't get into the hotel. Guests were forced to go through metal detectors in the lobby and are being wanded by Secret Service when they return from the pool on the seventh floor.
Saxton, a lifelong Democrat, said he was a bit perplexed over why Trump was staying downtown when he had been raising money in Beverly Hills. He quipped that the president must have gotten a good deal or a free room. (More likely, the president and his entourage on the trip received the standard government rate.)
There were plenty of ways for people to forget the security measures and protesters gathering outside.
As they swam laps in the hotel pool, Davis, 13, and Mila, 9, were unfazed by the crush of sirens and helicopters overhead.
They didn't care about the rain either — even if it made the pool kind of cold.
Dad Moses Luevano sat in the hot tub nearby, on his phone as they splashed each other and enjoyed the scene. The family is visiting from San Antonio and are headed next to Boston and Washington.
"It's like we're following the president," Moses joked.
The family didn't know Trump was coming and his presence made their trek to the Santa Monica Pier more difficult this morning. They had to take the Expo Line.
Luevano said he voted for Trump and was pleased with the tax cut the president enacted, but is turned off by the "personal stuff." He suggested the president enjoy the view while he's in town.
"He's staying in the newest biggest, tallest hotel in Los Angeles. He has to sit on the top of the tower."