Esper criticized for industry tries, but appears headed for confirmation as Defense secretary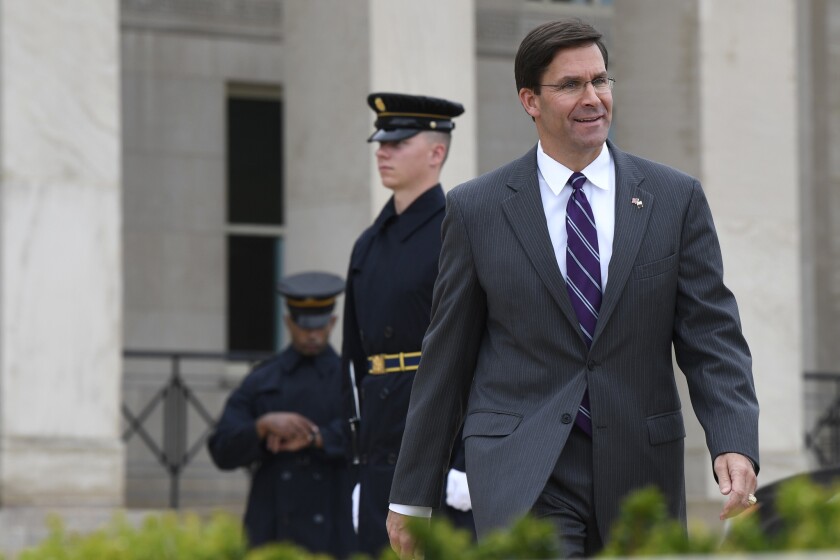 Washington —
President Trump's nominee for Defense secretary reassured lawmakers he would restore stability to a troubled Pentagon, if confirmed by the Senate, as he rejected criticism that his ties to a defense contractor where he formerly worked "smacks of corruption."
Mark Esper, who has been serving as acting secretary since June, said Tuesday he would not adopt new restrictions on his dealings with Raytheon Co., where he served as chief lobbyist from 2010 to 2017.
In the sharpest exchange of an otherwise friendly confirmation hearing before the Senate Armed Services Committee, Sen. Elizabeth Warren (D-Mass.), a candidate for her party's presidential nomination, pressed Esper to extend and broaden ethics restrictions on dealings with his former employer, which expire in November.
"No, senator, I will not," Esper, a former Army officer, told Warren. "I went to war for this country.... I think the presumption is that anyone who comes from business or the corporate world is corrupt."
Warren, who has built her candidacy partly on a vow to take on corporate America, announced Tuesday her opposition to Esper, saying his refusal to commit to new restrictions on his dealings with Raytheon "smacks of corruption, plain and simple."
Pentagon officials in the past have come from the defense industry, including Esper's predecessor, former acting Secretary Patrick Shanahan, who was a top executive at Boeing. Esper has broader national security experience than Shanahan, having graduated from West Point, serving in the Army, and working as a congressional aide and in a previous civilian post at the Pentagon.
But it's believed to be unprecedented for a nominee for Defense secretary to have been a Capitol Hill lobbyist for a defense firm.
Republicans and other Democrats on the 27-member panel appeared largely supportive after Esper reassured them that he would be an independent voice in Trump's foreign policy team. He emphasized areas where his views aligned more closely with Congress than with Trump, including on the importance of strengthening military alliances abroad.
Esper also cast himself as closer in temperament to former Defense Secretary James N. Mattis, who often sought to restrain Trump's national security ideas, than Shanahan, who went along with the White House more readily and labored through several rocky Senate hearings .
"If confirmed, you will help oversee national security policy for a president whose temperament and management skills are challenging, and likely very different from your own," said Sen. Jack Reed (D-R.I.), the panel's top Democrat. "You must be willing and able to provide the President with your best policy advice even if the President disagrees with your counsel, and it runs contrary to his policy goals."
Esper vowed to move quickly to fill numerous vacancies at the top of the Defense Department. At least 19 senior Pentagon civilian posts are open or filled by acting appointees, prompting Reed to say that the Defense Department "is adrift in a way I have not seen in my time on Capitol Hill."
Esper acknowledged that. "I need to staff up the top tier of the Pentagon soonest," he said.
His nomination, which could be confirmed by the full Senate this week, has been fast-tracked after Shanahan, Trump's previous choice, withdrew following disclosures about a decade-old divorce. The department has not had a confirmed secretary since Mattis resigned in December.
Esper had been acting secretary of Defense since Shanahan withdrew his candidacy in June. Federal law prohibits nominees from permanently holding posts they are occupying in an acting capacity, so Esper stepped aside Monday when the White House sent his nomination to the Senate.
Esper was replaced temporarily as acting secretary by current Navy Secretary Richard V. Spencer, who will be the third person to hold the top job in an acting capacity in just two months. Spencer is likely to hold the job for only a few days until the Senate votes on Esper's nomination.
His ties to Raytheon could prove the biggest hurdle Esper faces on his way to confirmation.
An ethics agreement signed by Esper in 2017, when he was confirmed as secretary of the Army, recuses him from decisions involving Raytheon. That agreement expires in November. After taking over as Pentagon chief last month, he also put in place procedures for ensuring that decisions affecting the company were directed to other Pentagon officials.
Warren called on Esper to extend the recusal agreement through his tenure of Defense secretary, not to seek waivers that would allow him to be involved in matters affecting Raytheon on a case-by-case basis, and not to accept employment with any defense contractor for at least four years after he leaves the Pentagon.
In a July 15 letter to the Office of Government Ethics, Esper said he would continue to participate in Raytheon's deferred compensation plan if confirmed as Defense secretary. "For as long as I participate in this plan I will not participate personally and substantially in any particular matter that, to my knowledge, has a direct and predictable effect on the ability of Raytheon to provide this contractual benefit unless I first obtain a written waiver," Esper wrote in the signed letter. That falls short of a full recusal called for by Warren.
In a financial disclosure form filed last month, Esper listed the value of the deferred compensation plan as being between $1 million and $5 million. The plan will begin paying out after November 2022, five years after he left Raytheon, in equal increments over a 10-year period, he said.
He repeatedly endorsed diplomacy over military action in dealing with Iran and China, going out of his way at several points to contrast his views with Trump's.
In one striking example, Esper gave credit to the Obama administration for urging European allies in NATO to increase their defense spending, rather than citing Trump's attacks on Germany and other allies, whom he has accused regularly of failing to pay the U.S. for its defense.
"I thought the Obama administration did a very good job," Esper said, one of several instances where he praised Obama's team.
Though Trump often dismisses the contribution of U.S. allies, Esper said the Pentagon and its allies would be expanding naval patrols and escorting of oil tankers in the Middle East, near the Strait of Hormuz, to guard against attacks by Iran.
Like Trump, though, Esper endorsed the importance of diplomatic outreach to Iran, a stark contrast with Secretary of State Michael R. Pompeo and Trump's national security advisor, John Bolton, both of whom have favored a more confrontational approach with Tehran.
In another break with some Trump administration officials, Esper said he did not believe that a congressionally approved authorization to use military force against Al Qaeda and other militant groups from 2001 gives the administration legal permission to launch a war against Iran.
"I agree we do not want war with Iran. We are not seeking war with Iran. We need to get back on the diplomatic channel," he told lawmakers.
Whether Esper will emerge as a maverick within Trump's national security team remains unclear. He and Pompeo are friendly, having both graduated from West Point. Trump was initially a big fan of Mattis, but soon tired of his attempts to rein in Trump's sometimes-impulsive military moves, including his decision to send active-duty troops to the southwest border, and his call to bring troops home from from Afghanistan and Syria.
Esper faced no questions Tuesday from lawmakers about U.S. strategy in Afghanistan, where there are still about 9,000 troops nearly 18 years after the U.S. went to war there.
---
Get our Essential Politics newsletter
The latest news, analysis and insights from our politics team in D.C.
You may occasionally receive promotional content from the Los Angeles Times.