Boy Scouts: Top leaders didn't call Trump to praise speech as the president said
The Boy Scouts denied Wednesday that the head of the youth organization called President Donald Trump to praise his recent politically aggressive speech to its national jamboree.
Trump told the Wall Street Journal in an interview published Wednesday, "I got a call from the head of the Boy Scouts saying it was the greatest speech that was ever made to them, and they were very thankful." Politico published the transcript of the interview.
"We are unaware of any such call," the Boy Scouts responded in a statement. It specified that neither of the organization's two top leaders — President Randall Stephenson and Chief Scout Executive Mike Surbaugh — had placed such a call.
The White House had no immediate response to the Boy Scouts' denial.
Surbaugh apologized last week to members of the scouting community who were offended by the political rhetoric in Trump's July 24 speech in West Virginia.
Other U.S. presidents have delivered nonpolitical speeches at past jamborees. To the dismay of many parents and former scouts, Trump promoted his political agenda and derided his rivals, inducing some of the scouts in attendance to boo at the mention of former President Obama.
"I want to extend my sincere apologies to those in our Scouting family who were offended by the political rhetoric that was inserted into the jamboree," Surbaugh said. "That was never our intent."
Surbaugh noted that every sitting president since 1937 has been invited to visit the jamboree.
Stephenson told the Associated Press two days after the speech that Boy Scout leaders anticipated Trump would spark controversy with politically tinged remarks, yet felt obliged to invite him out of respect for his office.
Hoping to minimize friction, the Boy Scouts issued guidelines to adult staff members for how the audience should react to the speech. Any type of political chanting was specifically discouraged.
Stephenson, who did not attend Trump's speech, said the guidance wasn't followed impeccably.
Mayor of London again calls on Trump to cancel state visit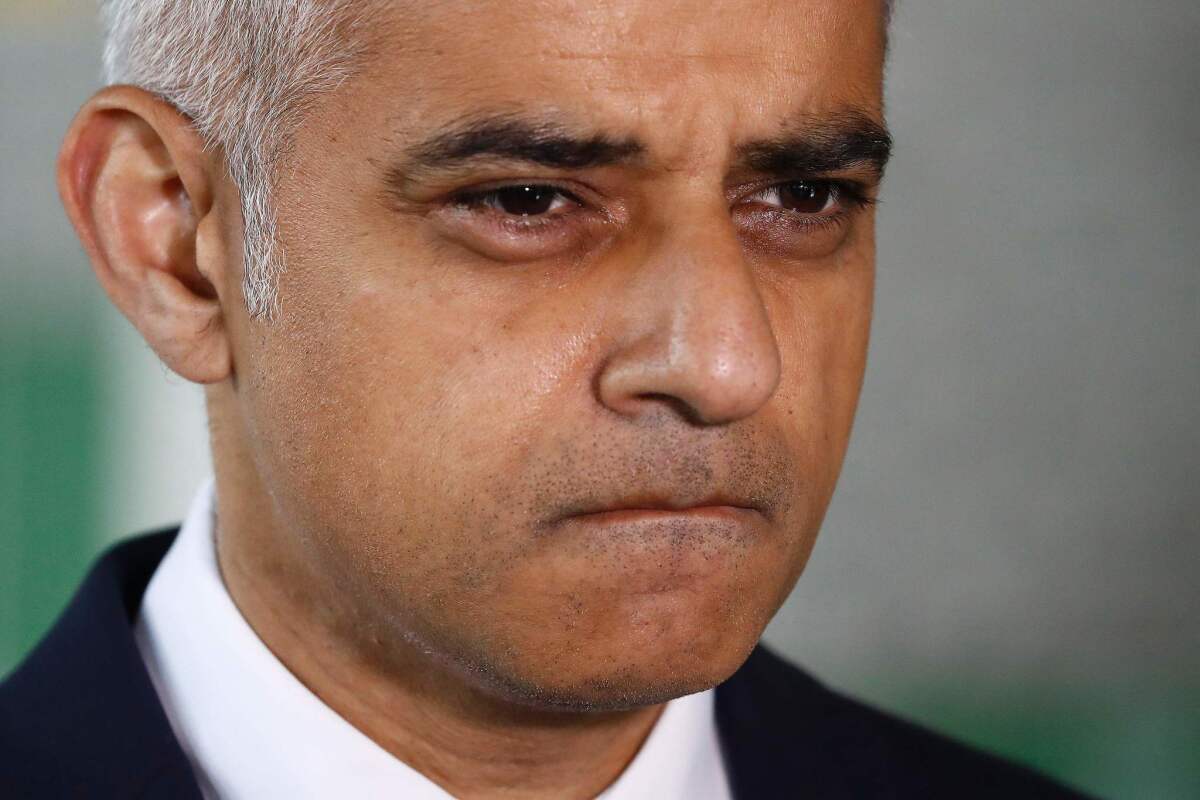 The mayor of London has reiterated his calls for President Trump's state visit to Britain to be canceled in the wake of the city's terrorist incident, saying his policies "go against everything we stand for."
The war of words between the two leaders intensified further Monday evening after Trump criticized Mayor Sadiq Khan's response to the London Bridge terrorist attack in two tweets, and the mayor said Trump should not be welcomed in the capital.
"Since Saturday I've been working with the police, with the emergency services, with the government and others to deal with the horrific attack on Saturday," Khan said Monday evening. "I just haven't got the time to deal with tweets from Donald Trump."
But when pressed on whether he thinks a state visit for later this year should go ahead as planned, Khan was unequivocal.
"My position remains the same. I don't think we should be rolling out the carpet to the president of the United States in the circumstances where his policies go against everything we stand for," Khan told Channel 4 news.
"When you have a special relationship, it is no different to when you have a close mate: You stand with them in times of adversity, but you call them out when they're wrong. And there are many things about which Donald Trump is wrong."
Trump initially criticized Khan hours after the London attack posting on Twitter: "At least 7 dead and 48 wounded in terror attack and Mayor of London says there is 'no reason to be alarmed!'"
Khan's office soon pointed out that the president had, in fact, misquoted Khan, who actually said that Londoners should not be alarmed by the increased armed police presence on the streets.
Trump took to Twitter again on Monday to slam the London mayor once more.
"Pathetic excuse by London mayor Sadiq Khan, who had to think fast on his 'no reason to be alarmed' statement. MSM [Mainstream media] is working hard to sell it!" the president wrote.
This is not the first time Khan, the first Muslim mayor of a major Western capital city, has called for Trump's state visit to be banned.
He previously branded Trump's policies on immigration and proposed travel ban on people entering the U.S. from predominantly Muslim countries "cruel."
An online government petition calling for the invitation to be withdrawn also gathered more than 1.8 million votes.
The visit was first announced during Prime Minister Theresa May's trip to Washington, where she became the first foreign leader to meet the newly-inaugurated president.
State visits are personal invites from the British monarch and involve a significant amount of pomp and ceremony, and usually a state banquet.
He helped bring down President Nixon. He thinks President Trump is even worse.
John Dean is a connoisseur of coverups, a savant of scandal, so he can more than imagine what it's like inside the Trump White House right now.
"It's a nightmare," he said, presiding in a high-backed leather wing chair off the lobby of the Beverly Hills Hotel. Not just for those in the headlines — political strategist Steve Bannon, jack-of-many-duties Jared Kushner — but for their unsung assistants and secretaries as well.
"They don't know what their jeopardy is. They don't know what they're looking at. They don't know if they're a part of a conspiracy that might unfold. They don't know whether to hire lawyers or not, how they're going to pay for them if they do," Dean said in a crisp law-counsel cadence. "It's an unpleasant place."
Dean was a central figure in Watergate, the 1970s political scandal against which all others are measured, serving at the tender age of 32 as President Nixon's White House attorney. In that capacity Dean worked to thwart investigators after the clumsy break-in at Democratic Party headquarters, then flipped and helped sink Nixon by revealing the president's involvement in the coverup.