Fewer Americans are living with hepatitis C, because more have died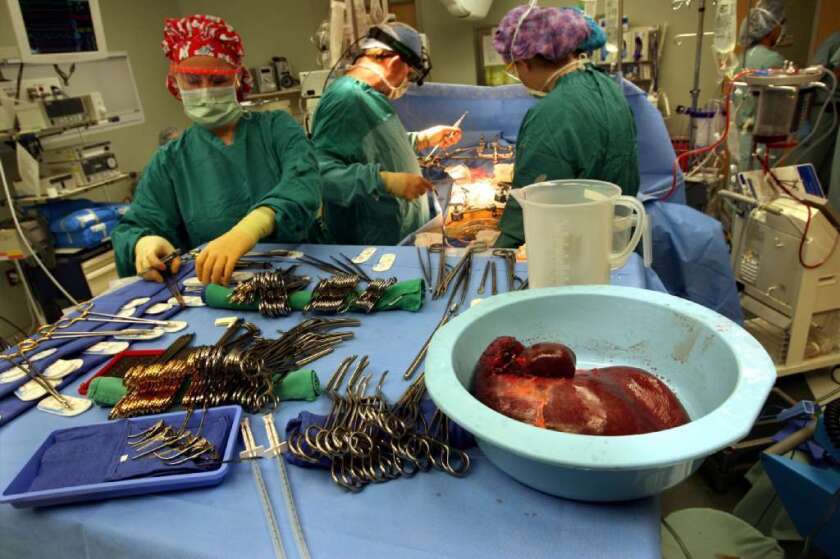 The number of Americans who are infected with hepatitis C is falling, but that's probably because more people who have been sickened by the virus are dying as a result, government researchers reported Monday.
After analyzing data from thousands of people who participated in the National Health and Nutrition Examination Survey, researchers from the Centers for Disease Control and Prevention estimated that about 1% of the population over age 5 have hepatitis C. If so, that would translate to 2.68 million people with the virus, known as HCV.
In addition, the researchers estimated that 900,000 additional people once had the liver disease but no longer have an active infection. Altogether, 1.3% of of the population has a past or current HCV infection, according to a study published in Tuesday's edition of Annals of Internal Medicine.
All of these figures are based on survey data collected between 2003 and 2010. Previous studies have estimated that 1.6% of Americans had a past or current HCV infection in the years 1999 to 2002, along with 1.8% of the population in the years 1988 to 1994.
At first glance, the declining prevalence of HCV might seem like good news. But the authors of the new study in Annals think something else is going on.
If better treatments were curing patients, then the statistics would show a decrease in the number of people with current HCV infections and an increase in the number of people infected with HCV. Instead, the number of people in both groups has been falling in parallel. This "supports the suggestion that mortality among chronically infected persons has increased," they wrote.
Hepatitis C is a dangerous infection of the liver that has become the No. 1 cause of cirrhosis, liver cancer and liver transplants in the U.S., according to the CDC. Some patients who contract HCV recover in a matter of weeks, but at least 75% develop chronic infections that can last for the rest of their lives. The virus can be spread through contact with infected blood, and health experts estimate that hepatitis C now kills more Americans each year than HIV.
The CDC researchers also analyzed the data to identify risk factors associated with HCV infection. Compared with Americans who never had the virus, those with chronic infections were more likely to have received a blood transfusion before 1992 and to have injected illicit drugs. However, 49% of people with chronic infections had neither of these risk factors in their history, the researchers reported. Therefore, "risk-based screening alone is an incomplete approach to identifying chronically infected persons," they wrote.
People with hepatitis C were also more likely to be men; to be between the ages of 40 and 59; to have less education; and to have lower family income, according to the study.
Overall, 81% of all people with chronic hepatitis C were born between 1945 and 1965. This is why the CDC recommends that all people born during that window get tested at least once. Such screening would flag about 800,000 people who otherwise wouldn't know they were infected; if all of them got treatment, an estimated 120,000 deaths due to HCV could be avoided, the researchers wrote.
"The health impact of advances in HCV therapy can be realized only when HCV-infected persons are tested, identified, and linked to appropriate care and treatment," they wrote.
The study authors are from the CDC's National Center for HIV/AIDS, Viral Hepatitis, STD, and TB Prevention in Atlanta and the National Center for Health Statistics in Hyattsville, Md.
If you're interested in the latest scientific and medical studies, you like the things I write about. Follow me on Twitter and "like" Los Angeles Times Science & Health on Facebook.
---
Get our free Coronavirus Today newsletter
Sign up for the latest news, best stories and what they mean for you, plus answers to your questions.
You may occasionally receive promotional content from the Los Angeles Times.