Ceramicist Michael Hirsh is again donating a collection of his unusual art pieces to a fundraiser benefiting homeless families.
The Burbank resident has taught pottery — making functional items like coffee mugs through hand-building and throwing on the wheel — for about 15 years at the Betsy Lueke Creative Arts Center.
With advanced students, he teaches more of the artistic aspects of ceramics.
Hirsh has created colorful vessels for the eighth annual Empty Bowl Lunch scheduled from noon to 2:30 p.m. on Oct. 21 at St. Charles Borromeo Church in North Hollywood. The event benefits Family Promise of the Verdugos, a local nonprofit assisting first-time homeless families with children find housing and sustainable employment.
Independent potters, arts associations and community groups create handcrafted ceramic bowls and guests purchase a $35 ticket for a meal of soup, bread and dessert donated by area restaurants.
Hirsh's own work has graduated from pottery to Mid-Century-modern style vases and tile wall art that he carves into using clay tools. But he creates bowls just for the Family Promise fundraiser each year.
His glazing technique is what makes his bowls unusual, he said.
"I do a lot of specialized glazing in multiple colors and that's what people like about the bowls I make," he said. "They also have very unique glaze patterns on them."
Their composition is also very thin and light weight, he added, so they are very different.
Fellow artist Barbara Lazar introduced Hirsh to the Empty Bowl fundraiser. She took him to see how the program worked. He was impressed and has donated bowls to the project since the event began.
"I liked that they didn't just give out money or food but made an effort to get people up on their feet," he said.
The program provides job training and business attire to help adults rejoin the work force. It also finds affordable housing for the family.
"And it is not individuals, it is whole families with children this program helps," Hirsh said. "It's critical for kids to be in a stable environment, so I felt this charity was different. It was helping people get on their feet, instead of putting a band-aid on the problem where people take the help but still don't have jobs and remain homeless. This [program] was a much more worthwhile way to go about helping people like that."
Those purchasing a ticket or sponsorship will take home a bowl made by a local artisan as a reminder of the hunger and uncertainty homeless families face every day. This year's event will also feature arts and crafts for sale by local artists beginning at 11:30 a.m.
These days, homelessness affects all communities and this is one solution that helps families in Burbank and Glendale, said event chair Jane Winter.
"Family Promise breaks it down to helping local families who find themselves homeless for the very first time," she said. "With a little help, families can get back on their feet again and return to being independent. Buying a $35 ticket to a lunch is such an easy way to be part of the solution."
Tiptons enjoying retirement in Carson City
What a great surprise to hear from my longtime friend Sharron "Sherry" Tipton over the summer.
She and her husband, Michael, moved from Burbank to Carson City, Nev., after retiring in 2005. They remodeled and are living in a home previously owned by Michael Tipton's parents. Michael and Sharron Tipton celebrated their 50th anniversary this year. They were married on June 23, 1968.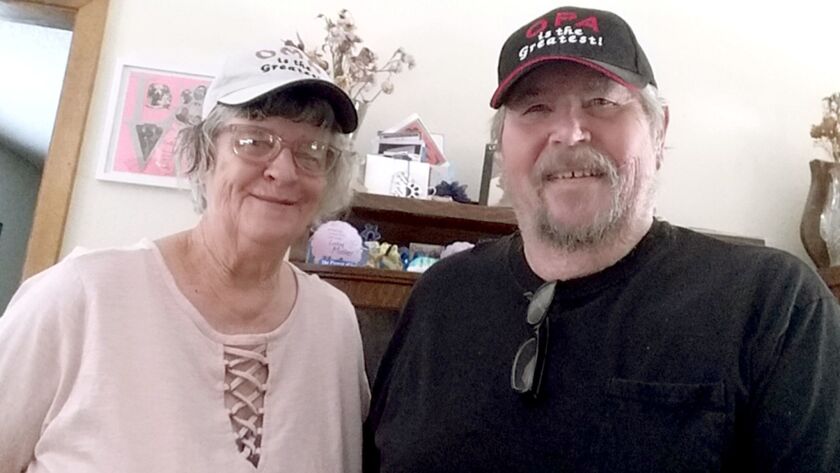 Michael Tipton was born and raised in Cheyenne, Wyo., and Sharron was born in Los Angeles. They met during their junior year of high school at the local bowling alley in Cheyenne. They were married in Cheyenne at St. Mark's Episcopal Church.
Michael Tipton was a television engineer for 30 years at the former NBC Studios in Burbank. He was a member of the Society of Motion Picture and Television Engineers and was a shop steward.
Sharron Tipton was an instructional aide and teacher in three Burbank schools. A member of the PTA at Bret Harte Elementary, Luther Burbank Middle School and Burroughs High School, she held the offices of historian and press editor. She wrote and sent press releases about those schools to me for 13 years.
​The Tiptons' daughter, Sherry, and her husband, Luis Macias, have two children. They live in the family's Burbank home. Son, Lanny, and his wife, Trish, have two children and live in King City, Calif.
Sharron Tipton said they keep the spark alive in their marriage by cuddling a lot, laughing and accepting each other's shortcomings.
​Joyce Rudolph can be reached at rudolphjoyce10@gmail.com.
​JOYCE RUDOLPH can be reached at rudolphjoyce10@gmail.com.
---