While most Burbankers have already packed away the lights, decorations and other traces of their Christmas celebrations, local Armenian residents were still deeply in the holiday spirit as the Burbank chapter of the Armenian National Committee of America, or ANCA, opened its community center for its annual Christmas dinner this past Monday evening.
Although the majority of Christians celebrate Christmas on Dec. 25, Armenians do so on Jan. 6.
The reason they celebrate Christmas 12 days later than others stems back to the end of the third century.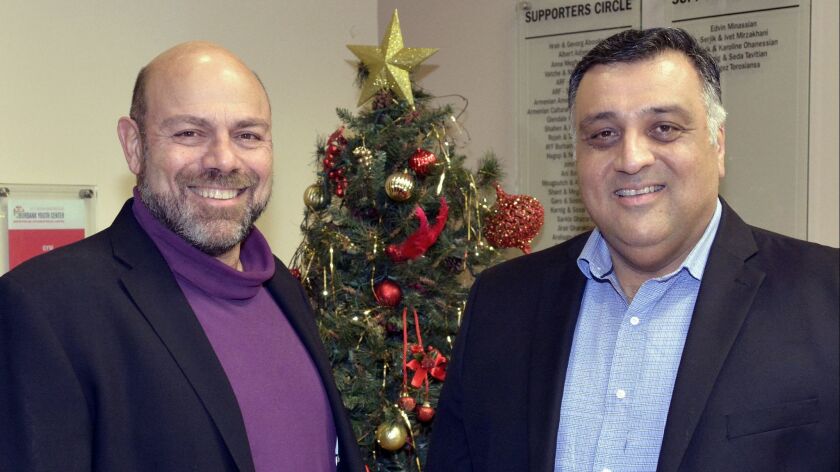 When Roman Christians made the decision to recognize the birth of Christ on Dec. 25 to coincide with a pagan holiday, the date was not accepted by the Armenian Church who maintained the ancient tradition of celebrating the birth and baptism of Christ on Jan. 6.
At the Christmas celebration last week, officers and members of the local chapter of the ANCA welcomed guests from a wide range of the community including elected and appointed officials as well as representatives from civic, business and charitable organizations.
The reception, which has become an annual tradition, provides the committee, their supporters, and the public time to reflect on their previous year's accomplishments and give thanks to Burbank community leaders for their continued support.
Hosted by Silva Kechichian, the chapter's chairwoman, attendees were updated on the organization's achievements and goals by the chapter's co-founder Garen Yegparian.
"This year, we have built upon many of our outreach programs," Yegparian said. "Through our commitment to community relations we have worked with the Burbank Temporary Aid Center, stepped in to mitigate a situation at one of our local high schools and continue to encourage Armenian-Americans to participate in public service with nonprofit organizations and on city boards and commissions."
Yegparian also spoke of the group's commitment to local schools, where they have educated students on Armenian history, donated books and held career days.
"We also continue to expand our athletic, Scouting and other youth programs, advocate on behalf of Armenia Relief Society issues and support the work of the Armenian Cultural Foundation, the umbrella under which many of our programs operate," Yegparian said.
Among the many special guests in attendance were Burbank Vice Mayor Sharon Springer, Burbank Councilman Bob Frutos, Glendale Mayor Zareh Sinanyan, Glendale Councilwoman Paula Devine and former Burbank Mayor Marsha Ramos.
Also attending from Burbank were school board member Armond Aghakhanian, city clerk Zizette Mullins, city treasurer Debbie Kukta, Police Chief Scott LaChasse and police commissioner Hagop Hergelian as well as Armenian Cultural Foundation chairman Vicken Babikian and foundation board member Antranik Jarchafjian.
The Burbank chapter of the ANCA is a grassroots public affairs organization established to inform, educate and act on a wide range of issues concerning Armenian Americans throughout the area. The Burbank committee has a long and growing tradition of serving the local Armenian-American community and has drawn its strength from dedicated members who have been successful in unifying Burbank's Armenian-Americans behind a common and positive agenda.
David Laurell may be reached by email at dlaurell@aol.com or (818) 563-1007.
DAVID LAURELL may be reached by email at dlaurell@aol.com or (818) 563-1007.
---