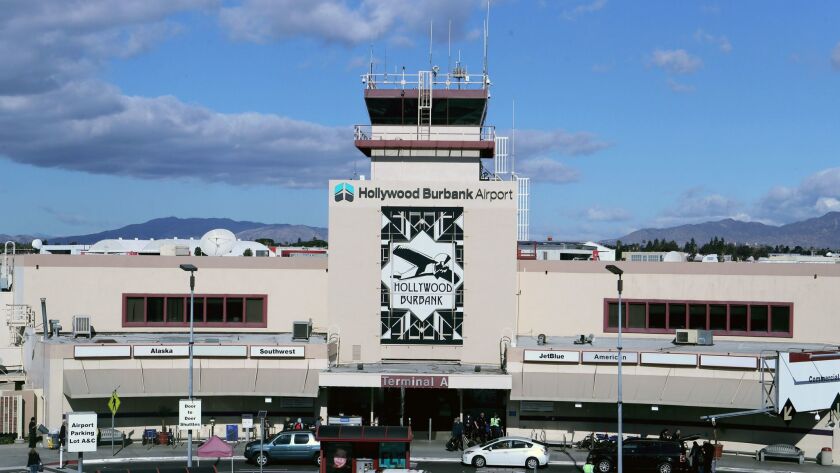 Hollywood Burbank Airport is working to clean up the air in and around the airfield.
The Burbank airport is currently in the process of developing an air-quality improvement plan and entering into a voluntary memorandum of understanding with the South Coast Air Quality Management District, or AQMD, to meet the Clean Air Act of the U.S. Environmental Protection Agency.
Hollywood Burbank hosted an open-house workshop Monday night at the airport to outline what changes can be made to reduce emissions created by both travelers and those who work at the airport.
Lisa Trifiletti, a consultant hired by Hollywood Burbank to work on the project, said the airport has been working with the AQMD and Airlines for America, a trade association and lobbying group, as well as other airports in the region since the fall of 2018 to create a plan that will help reduce emissions on multiple fronts.
Under the proposed air-quality-improvement program, Hollywood Burbank will require that ground-support equipment used by the airlines operating at the airport — such as the push-back tugs that move aircraft onto the runway or the belt loaders that load and unload luggage from a plane — should create fewer emissions.
Adam Walters, manager of environmental services for Southwest Airlines, was at the workshop and said Southwest has been converting its fleet from diesel- and gasoline-powered ground-support equipment to those that run on electricity.
Hollywood Burbank's proposed clean-air plan also states that the current vehicles owned and operated by the airport — excluding vehicles used by its police and fire departments — will be replaced by ultra-low-emission vehicles or better when they need to be replaced.
Additionally, the air-quality-improvement program proposes to require contractors to follow clean-construction policies when working on a project.
The airport has also committed to install additional electric-vehicle chargers as the need grows.
In addition to requiring clean-construction policies, the proposed program also ensures that the airport will commit to a minimum LEED Silver certification for its replacement terminal project.
Trifiletti said Hollywood Burbank's air-quality-improvement program also addresses emissions caused by those going to and from the airport.
She said airport officials are working to become a member of the Burbank Transportation Management Organization, or BTMO, which helps local businesses find ways for their employees and customers to use other modes of transportation, including public transit, biking, walking or using van-pooling services.
Bronwen Keiner, director of the BTMO, said on Monday that there are many services available, such as Metro's Via ride-sharing program and the Waze Carpool service, which are cheaper alternatives compared to driving to a transit hub.
Trifiletti said the benefit of entering into a memorandum of understanding with the AQMD is that the air-quality regulators will receive an annual report from the airport and measure how well it is doing.
She added that it allows Hollywood Burbank to enforce clean-air standards to ensure that it and those that operate at the airport reduce their emissions.
---