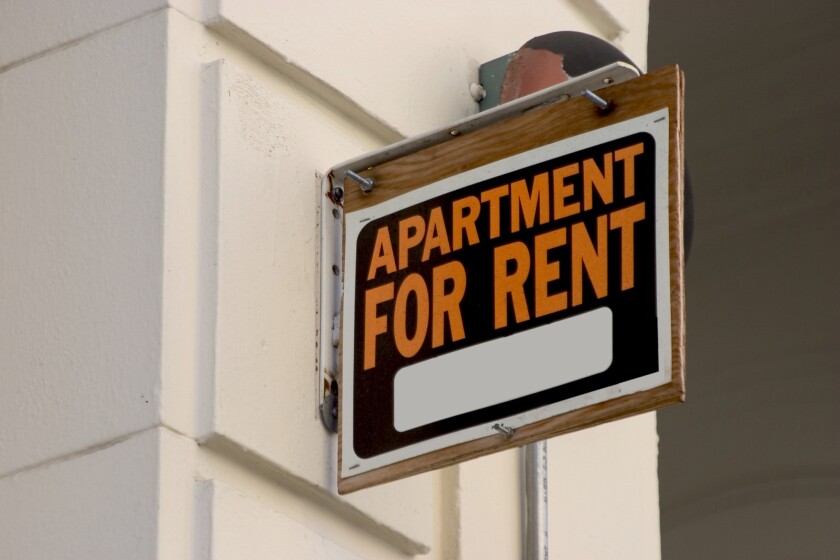 The Burbank City Council chambers were packed Tuesday night, with several concerned residents who pleaded with the City Council to protect renters in the city.
However, there were also people who did not support a possible ordinance that may go before council members in the future.
Council members were considering whether to draft an ordinance that would bar landlords in the city from evicting their tenants without cause.
An increasing number of Burbank renters have been receiving no-fault eviction notices from their landlords, which many people blame on the recent passage of state Assembly Bill 1482.
On Oct. 8, Gov. Gavin Newsom signed the measure into law. It allows for just-cause evictions and caps annual rent increases. However, the new law does not go into effect until Jan. 1, and some landlords have reportedly been issuing no-fault evictions ahead of the new year.
The urgent push is due, in part, to landlord attorney Dennis Block telling landlords to quickly evict their tenants before AB 1482 goes into effect to avoid the new regulations, tenants rights advocates say.
Before AB 1482, landlords were able to evict tenants without fault, but the new regulations will change that.
Under the new measure, renters who have lived in their units for at least 12 months can be evicted with just-cause, such as not paying rent or breaking their lease agreement. However, landlords have to give tenants an opportunity to resolve any issue.
Tenants can still be evicted by no-fault. However, landlords are required to pay a relocation fee for each affected tenant.
Many cities around Southern California have been quickly moving to protect renters until the new state law goes into effect.
The Los Angeles City Council last week approved an emergency eviction moratorium to curb no-fault evictions for the time being.
Local resident Molly Shore said she is all too familiar with no-fault evictions because she was a victim of the practice more than two years ago.
Shore, who has been a renter in Burbank for the past 16 years, said if Los Angeles can help its constituents, so should Burbank.
"It is very important that they protect these people," Shore said before the meeting.
Although Shore was in support of Burbank adopting an ordinance protecting local renters, she said she was not a supporter of AB 1482, claiming that the legislation did not go far enough to prevent price gouging.
Instead of allowing landlords to charge up to 5% rent increases, plus inflation, annually, Shore said she would liked to have seen hikes capped at 3% each year.
Burbank resident Annie McGruddy is currently being affected by recent evictions. She and her neighbors who live in a nine-unit apartment in the 600 block of Whitnal Highway were served no-fault eviction notices on Oct. 9, just a day after their apartment recently changed to a new owner.
She said during the council meeting that the new landlord recently extended the move-out date for her and her neighbors from early December to New Year's Eve, which she thinks is not enough time to find a new home and find enough money to cover the costs associated with moving.
"As long-term tenants of that apartment, we have done nothing to warrant this no-cause eviction," McGruddy said. "It's thrown our lives in disarray and will cost us thousands of dollars between relocation expenses to new security deposits and other moving costs."
While many were in support of a local ordinance, there were also those who opposed it.
Tom Flavin, chief executive of the Burbank Chamber of Commerce, said having an ordinance barring no-fault evictions would discourage investments in housing and would become an obstacle for the city's goal of constructing 12,000 housing units in the next 15 years.
"We urge you tonight to note and file the staff report, let the state law take effect, then evaluate its impact and protect Burbank's local control rights," Flavin said during the council meeting.
As of 7:45 p.m., the City Council had not made a decision on the issue. However, an updated story about a possible eviction ordinance can be found burbankleader.com on Wednesday.
---