Burbank sees a sharp jump in the homeless population this year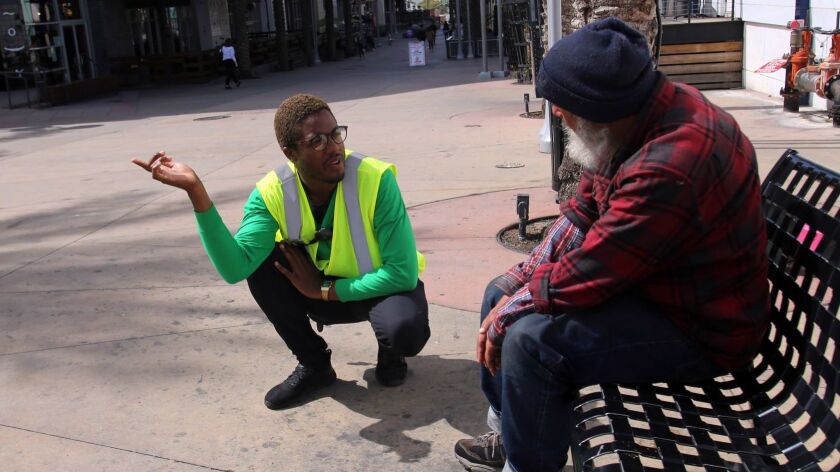 With a worsening homeless crisis countywide, authorities reported last week the number of people living in Burbank on the streets and in shelters rose by 40% compared to last year.
The annual point-in-time count conducted by the Los Angeles Homeless Services Authority, or LAHSA, earlier this year found 286 people living in the city without permanent homes. Last year's count found 203 people were homeless in Burbank.
Of the people counted this year, the agency found 213 of them living unsheltered — meaning they were living on the street, in tents, makeshift shelters or in vehicles. About 60 people were found to be living in transitional housing and 13 living in emergency shelters.
Although the numbers have fluctuated in previous years, figures from LAHSA show that homelessness is on the rise in Burbank. In 2017, 233 were counted as homeless and, in 2016, that number was 151.
On a countywide level, authorities saw a jump of about 12% compared to last year, with an estimated 58,935 people living without a permanent home.
To combat the issue locally, Marcos Gonzalez, the city's grants coordinator, said Burbank officials established a three-year homeless plan outlining different short- and long-term solutions for homelessness.
Solutions include a storage-locker program currently in the works by the city whereby homeless people can safely store their belongings while out looking for work or going to appointments without the fear of having their property stolen or thrown away, according to Gonzalez.
Several new transitional-housing units have also opened in Burbank, including a three-unit property for homeless families, which help provide a temporary-living space until people can move into permanent homes.
Gonzalez said the city has also been working on getting more people off the streets and into transitional-housing units and emergency shelters.
However, city spokeswoman Simone McFarland said there's one significant hurdle that Burbank needs to get over in order to effectively implement its homeless plan — money.
"The capital is always a big challenge for us," she said.
Measure H was approved by L.A. County voters in 2017 and created a quarter-cent sales tax to help fund homeless programs such as shelter beds, rent subsidies as well as substance-abuse and mental-health counseling. The tax is estimated to raise approximately $355 million a year.
Last year, Burbank initially received about $77,000 in Measure H funds.
"We don't get a direct allocation, we're required to apply for grants to get the [Measure H] funds," she said. "Even though the city is putting a quarter-cent sales tax in, we're receiving very little back."
Gonzalez said that with the scarcity of funds from the county, some homeless projects may take longer than what was laid out in the city's three-year plan.
He pointed to partnerships with organizations like the Salvation Army and local churches conducting their own outreach and providing help to the homeless population as a sort of stop-gap solution.
However, addressing homelessness isn't just the responsibility of the city or charities and churches, according to McFarland. It has to be a citywide effort that involves everyone, from businesses to regular residents.
"It's about creating partnerships and the ability to work together," she said. "We can succeed if we're able to leverage each other."
---