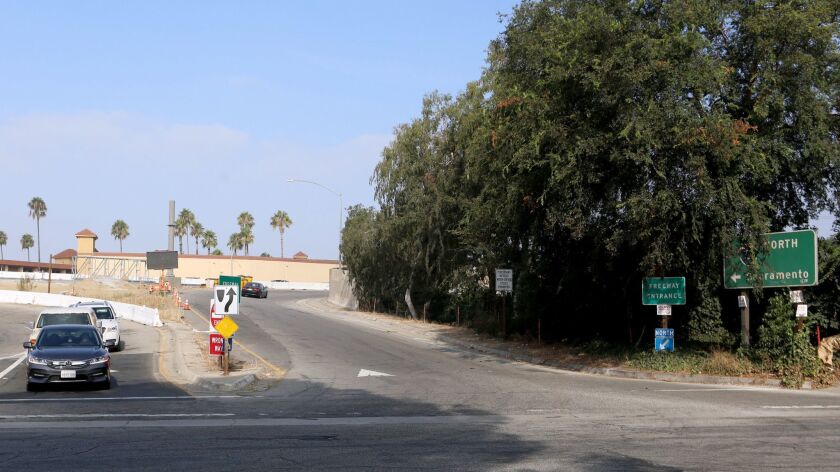 At least three road construction projects are slated for this weekend and next week in Burbank, including one involving a ramp along the 5 Freeway.
The Buena Vista Street onramp along the northbound 5 Freeway will be closed until 6 a.m. on Monday, according to Caltrans officials. The same ramp will be closed again from 10 p.m. on Sept. 7 to 6 a.m. on Sept. 10.
Drivers will need to use the ramp at Hollywood Way instead during the closures, officials said.
Additionally, there will be full closure of the northbound 5 Freeway near the 134 Freeway from midnight to 5 a.m. Monday through Thursday, said Michael Comeaux, public information officer for Caltrans, District 7.
The connector between the westbound 134 Freeway to the northbound 5 Freeway will be closed from 10 p.m. to 5 a.m. on those days, he added.
Crews will be putting in new girders in that area. Comeaux said.
For more information, visit my5la.com.
Construction on Burbank Boulevard at the San Fernando Boulevard intersection will begin Saturday and continue through Sept. 11, according to Burbank officials.
The project will widen the intersection by adding turn lanes. Crews will also upgrade traffic signals, improve crosswalks and transit stops, replace damaged concrete and install landscaping, officials said in a statement on Thursday.
Northbound and southbound through traffic on San Fernando Boulevard will be closed and eastbound and westbound traffic on Burbank Boulevard will be reduced to one lane.
Residents wanting to cross the 5 Freeway should use Olive Avenue, along with Magnolia Boulevard or Buena Vista Street as alternatives, city officials said, and students traveling to Burbank High School should use Glenoaks Boulevard.
Detours will be provided via Delaware Road, Third Street and Ginnell Drive. Bus stops will also be closed, so Metro riders should board buses at Magnolia Boulevard and First Street, according to city officials.
For more information about the Burbank/San Fernando project, visit burbankca.gov.
Twitter: @LAMarkKellam
---