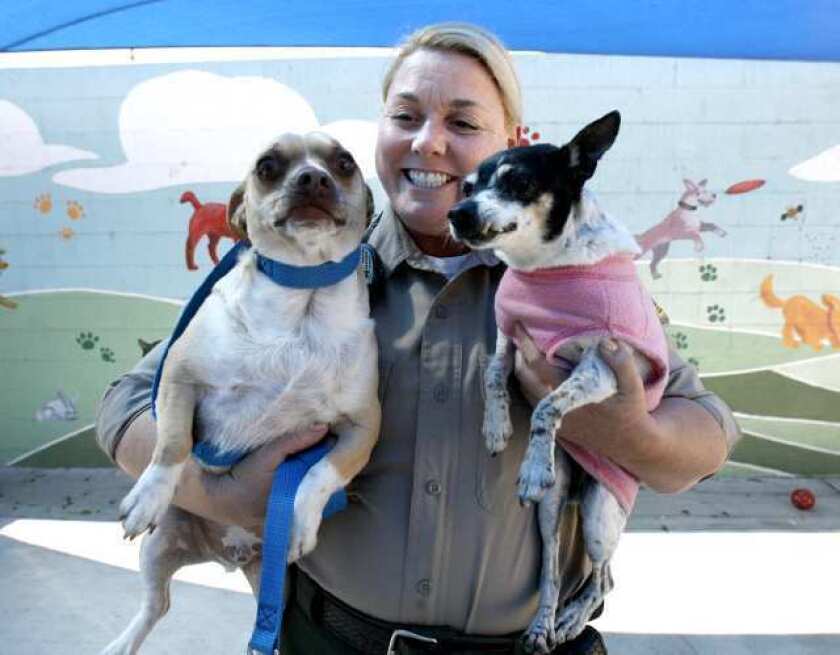 A pair of inseparable dogs were adopted last week from the Burbank Animal Shelter only to be returned three days later, prompting reminders from shelter staffers that especially when it comes to pets, patience is a virtue.
Molly, a 12-year-old fox terrier, landed at the shelter with Pica, a two-year old Chihuahua-beagle mix. Their former owner gave them to the shelter months ago before entering the hospital.
The pair has lived at the shelter for seven months, but they're not alone. A 17-month old pit bull named Dodger Girl was returned to the shelter the day after she was adopted four months ago. She had originally come to the shelter as a stray.
Although the shelter's staff is eager to find all three animals permanent homes, their long stay may make for a longer adjustment period for their new owners.
"They're going to take at least 30 days to adjust to a home life," said Animal Control Officer Stacie Wood. "People — they don't give it enough time."
Wood said Dodger Girl has had obedience training, but would need more socialization. Molly and Pica need to be adopted together because apart, "they get very depressed and very worried," she said.
Burbank resident Kellie DiPiazza adopted a 4-year-old pug (Lola) and 6-year-old fox terrier (Trixie) after they both had lived at the shelter for seven months. DiPiazza brought them home to a rabbit and two cats, then braced for the adjustment.
"When we first got these guys, they wanted to play with the kitties in a way the kitties did not want to play. I thought maybe I made a mistake," she said. "I couldn't anticipate they would be harmonious, ever."
After a month, there were improvements, but after two months, DiPiazza said she could trust Lola and Trixie "not go to the bathroom when they weren't supposed to."
After bringing them home a little more than a year ago, DiPiazza said she could hardly believe both cats and dogs were recently relaxing on the floor together.
"I knew I was going to have to take some time to get them trained," she said. "People need to be really realistic. You have to be patient, but it's well worth it."
Wood recommends that potential owners meet the pets on neutral territory when the dogs are out of their cages. On Sundays, shelter volunteers welcome people to interact with the dogs while walking in the Verdugo Mountains.
Wood also insists that people who are looking to adopt a dog — even if they've owned a dog before — pursue training and speak with a behaviorist.
"You have to give it enough time," she said. "They're not disposable. You wouldn't necessarily adopt a child and bring it back. It's the same thing on a different level."

---