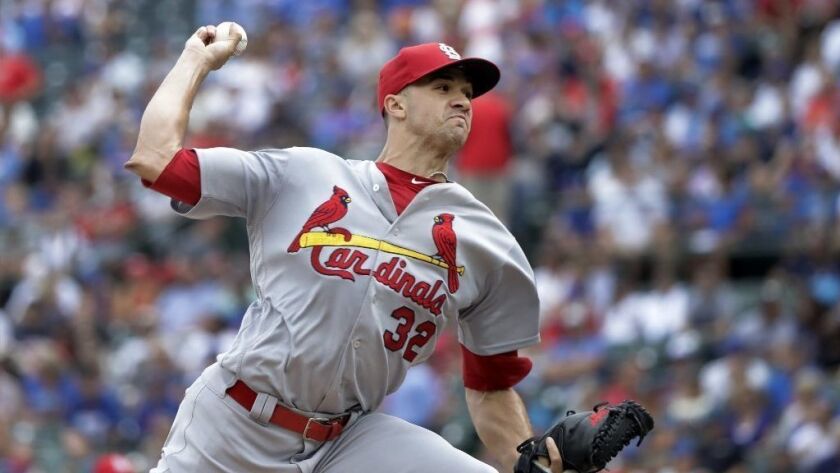 It's been a frustrating season thus far for the St. Louis Cardinals in the aftermath of several injuries to key players and the firing of manager Mike Matheny.
St. Louis, expected to contend for the National League Central Division championship along with the rival Chicago Cubs and Milwaukee Brewers, has fallen on hard times. Entering Tuesday's road game against the Cincinnati Reds, the Cardinals were a disappointing 50-50 and in fourth place.
Starting pitcher and Burbank resident Jack Flaherty is doing all he can to help resuscitate the struggling Cardinals.
Flaherty has a 3.15 earned-run average and a 4-4 record. Flaherty, a right-hander who is in the discussion for the National League Rookie of the Year award, has struck out 96 and walked 28 in 80 innings.
Flaherty, 22, is scheduled to start Wednesday at Cincinnati. In his last appearance Friday against the Chicago Cubs at Wrigley Field, Flaherty picked up the win — his first at the storied venue. He went five innings, allowing one run and two hits in an 18-5 victory. He struck out nine and walked four. Flaherty, who attended Harvard-Westlake High in North Hollywood, escaped a bases-loaded jam by getting a pair of strikeouts.
"Jack — for me, the way he goes about it — is mature beyond his years," St. Louis interim manager Mike Shildt told mlb.com. "He's got a slower heart rate based on what he does and he used it well there. He could've gotten sped up and let the game get sped up on him, but he actually slowed down and got refocused and started executing more. That's a really good trait."
The Cardinals have seen starting pitchers Carlos Martinez, Alex Reyes, Michael Wacha and Adam Wainwright go on the disabled list, leaving Flaherty to help St. Louis get back on track.
Flaherty, who was selected by St. Louis with the 34th and final selection of the first round in the 2014 Major League Baseball First-Year Player Draft and made his debut in September, pitched perhaps his best game against the Milwaukee Brewers on June 22.
Flaherty had a no-hitter in the seventh inning before yielding a solo home run to Jesus Aguilar. He allowed one hit and matched his career high with 13 strikeouts, but didn't factor into the decision in a 2-1 defeat.
St. Louis All-Star catcher Yadier Molina praised Flaherty's effort.
""That was unbelievable," Molina told the Associated Press. "Good pitching, good effort. Everything was working for him. We didn't hit enough to get him the win tonight."
Flaherty remains in the discussion for the National League Rookie of the Year. Among his challengers are expected to be outfielder Juan Soto of the Washington Nationals, outfielder Ronald Acuna of the Atlanta Braves, pitcher Walker Buehler of the Los Angeles Dodgers and pitcher Carlos Villanueva of the San Diego Padres.
Twitter: @TCNCharlesRich
---