City Council candidate wants to focus on rent control and affordable housing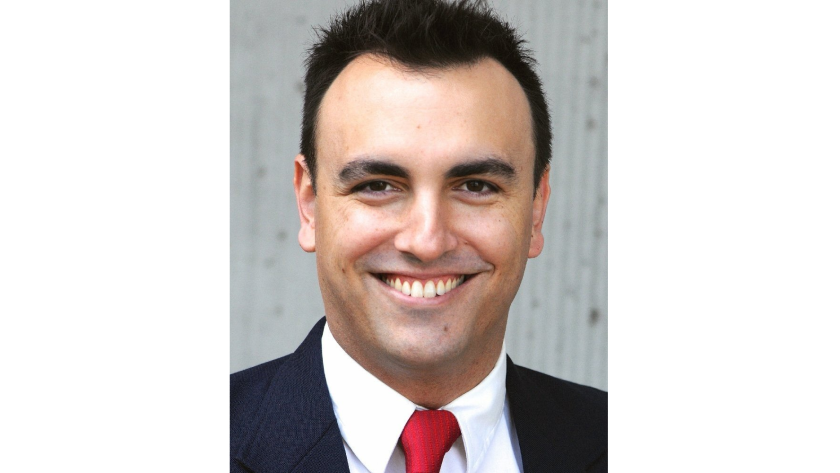 Konstantine Anthony knows what it is like to be homeless and sleep on a friend's couch or in his car. For that reason, the first-time candidate for Burbank City Council wants to make sure that others in the city do not have to endure what he went through.
Though the 35-year-old Burbank resident was homeless for only a few weeks, Anthony, a social media manager for Disability Action for America, said such an event can happen to anyone in any city.
"I understand what it means to lose your house, have nowhere to go, sleep in your car, ask a friend for a couch while still having a job and earning a living and not being able to afford a place to live," he said.
Join the conversation on Facebook >>
Anthony, who moved to Burbank in May 2004, said that it was a combination of the results of the recent presidential election and encouragement from his family and friends that made him want to run for one of three open seats on the City Council in the primary election on Feb. 28.
---------------------
FOR THE RECORD
1/10, 3:31 p.m.: A previous version of this story incorrectly stated that the candidate moved to Burbank in May 2016. He moved to Burbank in May 2004.
---------------------
What do you consider to be the biggest issue facing Burbank today?
The biggest issue that Anthony is looking to address should he be elected to council is the shortage of affordable housing in Burbank.
Having previously worked as a property manager for about four years, Anthony said that he knows the ins-and-outs of housing issues and thinks that a modern form of rent control is what will help address the housing shortfall.
He said that his version of rent control would eliminate lease agreements and have tenants rent on a month-to-month basis, which would allow the market to stabilize itself.
"This fear that rent control is suddenly going to crush profits is not what I'm trying to do or stand for," Anthony said. "I love the free market when the market is free. Free means fair. Free means equal."
How would you ensure that members of the Burbank-Glendale-Pasadena Airport Authority stick to what they told voters they would do?
Now that the Burbank-Glendale-Pasadena Airport Authority is moving ahead with a replacement terminal at Hollywood Burbank Airport, Anthony said that the key to making sure the authority sticks to its word about the projectis transparency.
While he agrees that the new 355,000-square-foot terminal would be an asset for Burbank, Anthony said that residents need to keep pressing the airport authority regarding its plans for the 14-gate terminal.
"I have yet to see a detailed plan of what is and is not going to happen," he said. "It's up in the air. That's fine, as long as we're all made aware of what is happening … When something happens, when something changes or when there is progress, we have to know what's happening."
How would you ensure that the city's budget is balanced without pulling money from the General Fund?
With plans for a new mixed-use development at the outgoing IKEA store site and the Talaria project, Anthony said the city should be able to make up for an anticipated city budget deficit Burbank will face over the next several years.
He also thinks that implementing rent control would encourage people to invest in properties in Burbank.
Additionally, Anthony said that he will crack down on unnecessary expenditures and try to hire vendors and consultants from within the city.
"I won't use third-party vendors when we can use local residents," he said.
--
Anthony Clark Carpio, anthonyclark.carpio@latimes.com
Twitter: @acocarpio
---