Female gamers, no strangers to online harassment, learn ways to combat discrimination during summer camp at UCI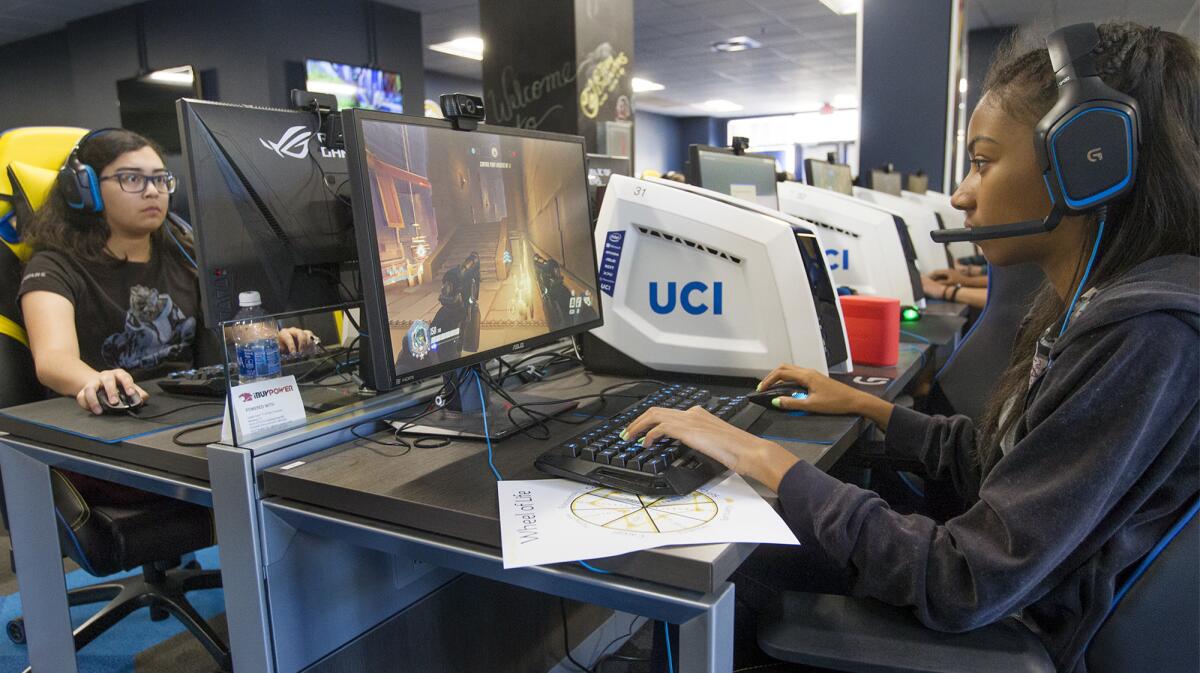 When UC Irvine student Jenny Song first started gaming around age 10, her older brother advised her on an important rule to follow — don't tell anyone online you're a girl.
She said she didn't understand at the time, but later encounters with male players telling her she shouldn't compete in the games when her gender was known led her to realize why.
The comments she faced have involved male gamers reprimanding her to do something else instead of playing with them. Other female gaming-enthusiasts have heard harsher jabs like, "Go back to the kitchen" and "We're going to lose. We have a girl on our team."
"I felt I had something to prove," Song said when reacting to crude remarks. "But they can trash talk as much as they want. As long as I reach my goals in terms of gaming, that's all that matters to me."
This past month at the UCI eSports Arena's first girls' summer camp, young women interested in gaming heard from professional competitors, streamers and gaming companies about inclusion in the gaming community while also speaking out on the harassment and discrimination female gamers face.
The eSports arena, which opened in the fall, is equipped with dozens of computers for visitors to play games such as "League of Legends" and "Overwatch."
E-sports, or electronic sports, are multiplayer videogame experiences and competitions where players play against each other through a digital platform.
"The competitive world of professional eSports is almost all male and when you see something like that, it stands out," UCI eSports' acting director Mark Deppe said. "We then came up with the idea of hosting a girls' camp, which really evolved out of a need and campus desire."
According to New York-based market research firm SuperData, male viewership more than doubles female viewership on channels that stream eSports, such as Twitch and Azubu.
"It's a boys' club," said Stephanie Llamas, vice president of research and strategy at SuperData. "You have a lot of males who have used games to feel like a community in a way they might not have otherwise felt, and feeling like someone is intruding and feeling like it's women is a part of that.
"If women don't feel like they can participate at the amateur level, they're not going to be represented all the way up to the professional level."
The weeklong camp at UCI — which welcomed 17 girls in middle school, high school and colleges — included playing time in the arena and panel discussions on topics such as careers in the gaming industry, tournaments, game creation and dealing with harassment.
Camp coordinators Hillary Phan and Jessamyn Acebes, both UCI students, handled the camp schedule and guest speaker arrangements.
"You don't see a lot of pro-female gamers and that's for different reasons," said Phan, who has received messages from male players asking for her Skype ID, phone number and address. "For one, you may have parents that say it's just for boys and, two, you see a lot of harassment which discourages girls from gaming. It's not really set up in a way where women can succeed."
Kim Phan, director of eSports operations at Irvine-based gaming company Blizzard, said that one way to encourage more girls to game is to start early.
"Things like this camp are teaching them that gaming is a normal thing to do for fun," Kim Phan said. "Gaming is often portrayed as the guy sitting alone in the basement playing games all day. When the media shows gaming in that light, it hurts what we're trying to do."
Kim Phan and fellow Blizzard employees sat on a panel during the camp to talk about careers at Blizzard, where women are employed across various departments in the company.
"I don't want [the campers] to see gaming as something that's only for boys — it's something everyone can be a part of," Kim Phan said.
Campers said it's not uncommon for female gamers to put on a more vicious persona while playing in order to "keep up" with the boys.
"Being a girl, there is pressure to do well and be an exceptional player," said Boonie Sripom, a life coach and gaming community advocate in Orange County whose expertise is in clinical psychology. "It's like, any mistake you make is because you're a girl."
While trash talk does occur in gaming, the behavior can cross the line of harassment when threats, stalking and offensive name-calling take place.
"The anonymity is a huge part of it, I think," Sripom said of why people harass others online, where players are mostly known by only an avatar and a username.
Guest speaker Sheila Weidman spoke to campers on her years of being a streamer, a player who broadcasts his or herself live while playing the games.
While streaming, she can view a chat that runs live with comments from viewers.
Weidman, who has more than 100,000 followers on Twitch, has seen her share of remarks specifically targeted toward female gamers, such as asking them to take their shirts off on camera. But even male players are met with animosity with comments like being called gay or a virgin, she said.
"Some guys will stand up for you [in the chat], but then they get labeled as 'white knights,' " Weidman said. "It's like no one wins."
But the reasons she keeps gaming — like seeing herself improve, enlivening fans and meeting some of her best friends — outweigh the reasons why she wouldn't, Weidman said.
Guest panelists at the camp agreed that there are different ways to deal with toxic players, like muting their comments during the game or taking a screenshot of them and posting it on forums to help other users avoid them.
Gaming companies have systems in place where there are moderators and ways to report or have inappropriate players banned.
There also are online resources for distressed gamers like Geek Therapy and Anxiety Gaming, a nonprofit that connects players with therapists.
Camper and UCI student Brandi Moy remembered once playing "Overwatch" where other players assumed she was a 12-year-old boy after hearing her voice through the microphone used in the game.
She brushed it off.
"My advice is just don't feel intimidated," Moy said. "Just play, get really good and just crush it."
Twitter: @AlexandraChan10
All the latest on Orange County from Orange County.
Get our free TimesOC newsletter.
You may occasionally receive promotional content from the Daily Pilot.