TimesOC: Détente reached, Foley can again include county health officials in COVID-19 briefs
Good morning. It's Wednesday, Sept. 22. I'm Carol Cormaci, bringing you today's TimesOC newsletter with the latest roundup of news and events.
Détente has apparently been reached between some members of the Orange County Board of Supervisors who, as faithful readers might recall, were at odds earlier this month over COVID-19 news conferences and how they stretched county resources.
The drama unfolded after Supervisor Katrina Foley, a newcomer to the board representing the Second District, began in early August to hold regular public COVID-19 updates that featured experts from the Orange County Health Agency. Foley did this, she said, because the county had scaled back significantly on the number of pandemic-related press conferences it was holding and she was concerned there was not enough information getting into the public's hands at a time when the Delta variant of the coronavirus was beginning to rage here.
Board Chairman Andrew Do (First District) and Supervisor Doug Chafee (Fourth District) sensed some political grandstanding was behind Foley's efforts and, in a joint statement issued Sept. 2, ordered county health officials to stop participating in "publicity events."
Do stated at the time Foley's news conferences were simply political stunts and that the information they provided were already available to the public.
So, fast-forward to this week and Foley was joined once again at her COVID-19 news conference by Dr. Regina
Chinsio-Kwong, an OCHA deputy health officer who, alongside other county experts, had been participating in Foley's talks since early August.
It turns out there has been a meeting of the minds, according to reporting from my colleague Sara Cardine, who covered Tuesday's conference.
"Foley explained in a weekly briefing Tuesday issues between her and other supervisors had been ironed out in a recent agreement that will allow her to feature OCHA experts twice monthly, while the county would continue to hold its own media briefings each Friday," Cardine reports.
Getting down to the most recent available numbers, Chinsio-Kwong said the county inoculated 5,379 people on Monday and is averaging about 1,833 new patients per week. About 79.7% of all vaccine eligible residents have received at least one dose, while 70.4% are fully vaccinated. Among the entire county population, including those not eligible, 68.6% have received at least one dose, while 60.6% have completed a full regimen.
MORE NEWS
— The nonprofit Orange County Human Relations Commission on Friday released a report that shows a 35% spike in hate crimes throughout the county in 2020. Our colleagues Hannah Fry and Anh Do take a deep dive into the report and talk to experts in the field, one of whom notes there is much to be done not only countywide but across the nation to counter the problem.
— As union representatives negotiate with Frontier Communications for better pay, benefits and job security for nearly 2,000 members statewide, Orange County employees took their grievances against the company to the streets during a picket Thursday in Huntington Beach.
— A 51-year-old airline pilot from Cathedral City has been arrested and charged in connection with a series of attacks on women along running trails in Aliso Viejo, authorities said Monday. Robert Daniel Yucas was arrested in connection with several attacks that began in January 2020 after DNA from an arrest in San Diego was matched to the Orange County assaults, Orange County Sheriff Don Barnes said.
— An Orange County woman with businesses in Newport Beach and Huntington Beach is among seven individuals indicted on a range of charges related to a student loan scam that prosecutors say netted more than $6 million from an estimated 19,000 victims nationwide, including 3,000 in California. Angela Kathryn Mirabella, 47, is expected to be arraigned today in a Santa Ana courtroom.
— Travelers along the southbound section of the 405 Freeway near MacArthur Boulevard at around 11 a.m. Monday found lanes closed after a man reportedly jumped to his death from an overpass onto the freeway. The man was struck by a box truck before he hit the pavement.
— Fountain Valley city officials and community leaders gathered inside council chambers on Friday morning to introduce plans to provide aid to those being adversely impacted by the COVID-19 pandemic abroad. To that end, the city is sponsoring on Oct. 2 a "Walk for Vietnam" in partnership with the Fountain Valley Rotary Club's Charitable Assn. and Project Oasis Compati.
SPORTS
— Angels manager Joe Maddon says it's unlikely 22-year-old right fielder Jo Adell, who suffered an abdominal strain last week while he was trying to make a catch, will be able to return to play before the season ends less than two weeks away. "[There's] a lot of soreness," Adell told sports writer Jack Harris. "But things are starting to feel better. I'm starting to work on the right stuff. So hopefully, it'll clear up."
— The U.S. Open of Surfing presented by Shiseido is underway in Huntington Beach this week with new champions to be crowned on Sunday. A total of 96 men and 64 women are competing for the prestigious title and a cash prize of $25,000. Kanoa Igarashi is back at his home break after being busy surfing around the world, including winning a silver medal in the Tokyo Olympics earlier this summer, as surfing made its Olympic debut.
— USA Water Polo has released its Junior Olympics All-Americans, based on the results from the Junior Olympics held in Orange County in July and a whole lot of coastal area athletes are on it. The full rundown can be found here.
LIFE & LEISURE
— What's more fun than a ride on a miniature railroad? Families turned out in droves over the weekend when the Mackerel Flats and Goat Hill Junction Railroad chugged back to life after an 18-month pandemic-forced hiatus. The Orange County Model Engineers club that operates the railroad welcomed more than 2,700 passengers of all ages back to the loop at Costa Mesa's Fairview Park. All aboard!
— O.C. gourmands can take some pride in knowing three area restaurants have been given Michelin Plate designation. They are Knife Pleat in Costa Mesa's South Coast Plaza, Heritage Barbecue in San Juan Capistrano and Khan Saab Desi Craft Kitchen in Fullerton. Reporter Sarah Mosqueda has all the details here.
— A retired Newport Beach businesswoman rediscovered a passion for art and began using shards of tiles to create colorful home décor items that are featured in her friend's Catalina Island gift shop. Our colleague Lilly Nguyen interviewed 82-year-old artist Robbie Britvich, who says she has an affinity for things that are just a bit "off kilter."
OBITUARY
— Fullerton resident Jo Lasorda, the widow of longtime L.A. Dodgers manager Tommy Lasorda, died at her home Monday night at the age of 91, according to Dodger officials. No cause of death was given. The Fullerton City Council last night closed its meeting with a moment of silence in her memory and plan to do the same today during a previously planned "Tommy Lasorda Day" news conference in the city on what would have been his 94th birthday.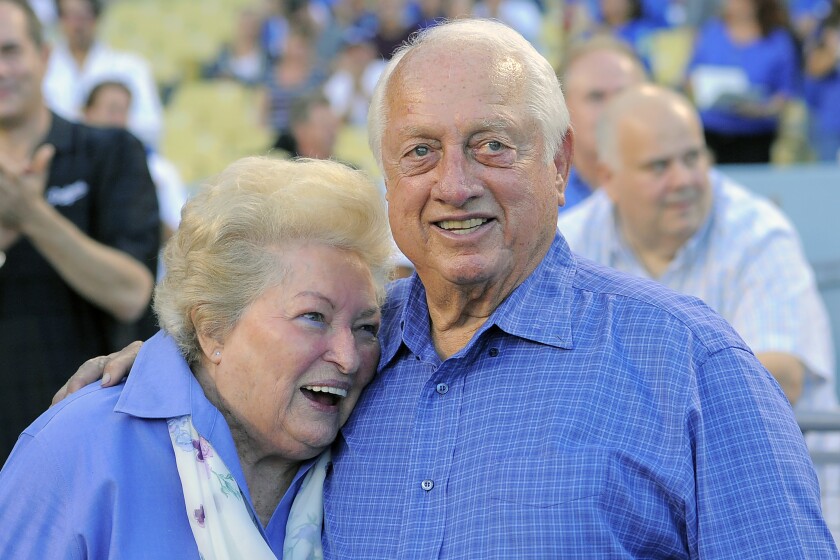 OPINION
— The dean of UC Irvine's School of Medicine, Dr. Michael J. Stamos, pens a commentary piece in which he asks the obvious question about people who avoid getting the COVID-19 vaccinations. Why don't they just get the jab? "We all want this pandemic to end. The best way to achieve this is for 75 to 85% of the population to be vaccinated. If we don't achieve this level of vaccination the virus will evolve and continue to spread," Stamos cautions.

---
All the latest on Orange County from Orange County.
Get our free TimesOC newsletter.
You may occasionally receive promotional content from the Daily Pilot.