Veterans take center stage at celebration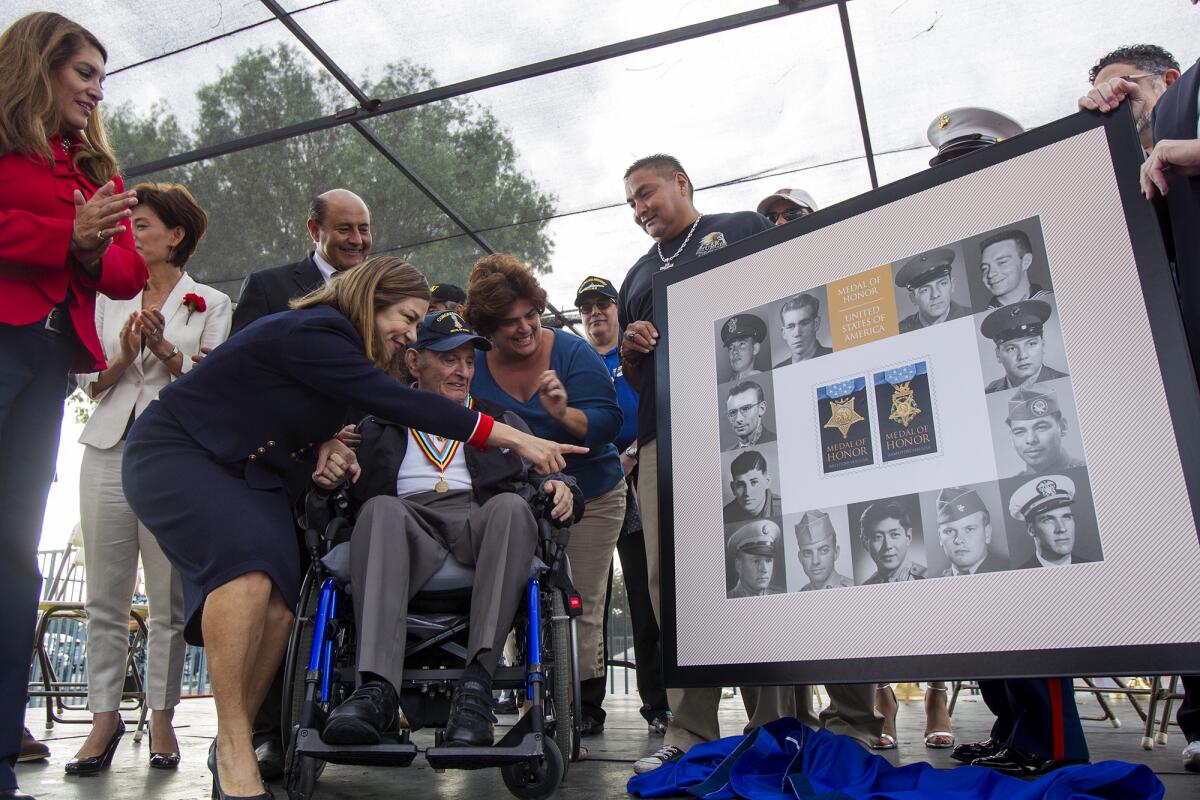 Thousands of veterans, their families and supporters descended on the Orange County fairgrounds Tuesday to celebrate Veterans Day.
The second annual Costa Mesa event, dubbed "Veterans + Labor: Partners in Service," featured free hot dogs, music and booths offering veterans-related information.
"We are free, and every vet here who we honor today stood up and fought for it," said Nick Berardino, a Marine veteran and member of the Orange County Fair Board. "That's why we're able to stand here today. And thank God for the young men and women who are continuing to serve."
Attendance was poised to easily surpass last year's 3,500, said Jennifer Muir, spokeswoman for the Orange County Employees Assn., which was one of the labor groups that organized the event.
She noted that the "thanks a ton" food drive was heading toward about 6,000 pounds of supplies, far exceeding the goal of 2,000 pounds.
"People's generosity is incredible," Muir said.
Attendees wore stickers that read "I'm a veteran" or noted that the wearer was the child or spouse of a veteran.
The event included recognition of Korean War veterans, including Medal of Honor recipient Tibor Rubin of Garden Grove.
Ryan Wilgus, 14, came dressed in full World War II-era paratrooper garb. As part of the 82nd Airborne Living History Assn., he showed visitors the various weapons used more than 70 years ago to fight the war.
Ryan, who comes from a family of veterans, said he hopes to join the Army — which might break the dominant family tradition of joining the Air Force.
"I'm gonna be the one guy," he said with a smile.
Assemblywoman Sharon Quirk-Silva (D-Fullerton) was among the local, state and federal officials who attended to praise veterans for their service. She urged employers to hire veterans.
"It is simple, actions speak louder than words," Quirk-Silva said. "Hire a vet."