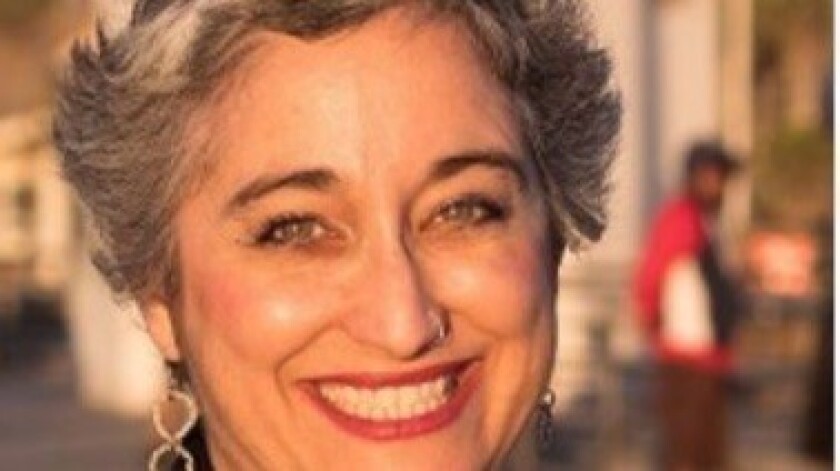 The allegations that Shayna Lathus, a former member of the Huntington Beach, Citizens Participation Advisory Board, is associated in any way with any extremist groups are unfounded. I was the lead organizer for one of several local groups who attended the April 27 rally to counter the anti-immigrant rhetoric of the "March to End Sanctuary State" being held by the far-right Republican group "What You Can Do Now," and I acted as police liaison on behalf of all peaceful counter-protesters in attendance.
I first contacted the Huntington Beach Police Department eight days prior to the event to notify it of our intentions to peacefully assemble, as per our constitutionally protected 1st Amendment rights, and remained in communication with a sergeant during the week leading up to the event. We spoke several times on Saturday before, during, and after the rally, and legal observers from the National Lawyers Guild were present at our request to document all interaction with the HBPD or with the group we were counter-protesting.
An extremist group would not take those precautions to ensure the community's safety. No one in attendance, including Lathus, had reason to expect anything other than a peaceful 1st Amendment assembly and passive resistance.
We cannot control who attends a public event, and anyone choosing to exercise active resistance is responsible for their own actions. As Lathus has stated, she and her friends left the area at the first sign of any altercations, however minor.
The lack of transparency surrounding Shayna's removal is alarming. The CPAB strives to represent the diverse views of the community, yet the community's views were not sought. It's shameful that a small, but vocal, group of residents were able to pressure the H.B. City Council into unceremoniously removing her by mounting an unwarranted and partisan smear campaign.
Andy Lewandowski
Orange
*
Councilwoman caved to far-right social media
As a past chair of the Huntington Beach Participatory Advisory Board, I don't recall revoking my 1st Amendment right to free speech and assembly to volunteer my service. Shayna Lathus had the right to be present at any rally that she chose. While right-wingers might not agree with her activism, it should not have caused her removal from her appointed position.
The City Council member who appointed Lathus, Kim Carr, allowed herself to be pressured by right-wing social media into removing her. Lathus' actions had nothing to do with the HBCPAB or any city business. The Daily Pilot accurately reported the incident, as it was newsworthy, and enlightened the public about the nefarious activities of the H.B. far right.
To demonstrate her independence, Carr should reappoint Shayna Lathus to the board.
Richard C. Armendariz
Huntington Beach
*
Rainbow flag isn't right for City Hall
Regarding the rainbow flag being flown to celebrate Harvey Milk: I get the sentiment but think such a display belongs on one's personal house, not City Hall ("Costa Mesa council votes to fly pride flag at City Hall to honor Harvey Milk Day and LGBT Pride Month"). One of my family members is part of a firm that fought for gay marriage in the Supreme Court (and won), so I am not saying Milk did not do great things. If we are going to wave flags at City Hall, in addition to the American flag, which celebrates every citizen regardless of age, race, creed or sexual orientation, we should start with waving flags on Martin Luther King Day or perhaps a flag on Abraham Lincoln's birthday. We could also wave a Christian flag during December and April to celebrate Christmas and Easter, a flag during Hannakuh, and more. If you want to celebrate Milk that's fine, but it does not need to take place at City Hall unless you are going to wave flags for every resident who wants to celebrate this or that person, or this or that event.
Rebecca Trahan
Costa Mesa
The writer is a former City Council candidate.
*
Support clean energy solutions
Mother Earth has been a generous provider for humankind. Yet hubris, greed and selfishness have led to poisoning her air, water and soil. Our addiction to fossil fuels has created global warming. Heat waves, droughts, wild fires, floods and extreme weather are now our lot.
But this doesn't have to be our future. The marketplace failed to price into coal, oil and gas products the death and destruction they have wrought. If priced appropriately, cheaper, clean energy alternatives would have emerged.
A promising bipartisan bill in Congress, the Energy Innovation and Carbon Dividend Act, corrects the market to make polluting companies pay an increasing fee on their pollution, distributes the net revenues as a monthly dividend to American families to cope with increasing energy costs, and affects a global solution through a border carbon adjustment, which incentivizes trading partners to adopt similar policies.
Bob Taylor
Newport Beach
*
How to get published: Email us at dailypilot@latimes.com. All correspondence must include full name, hometown and phone number (for verification purposes). The Pilot reserves the right to edit all submissions for clarity and length.
---