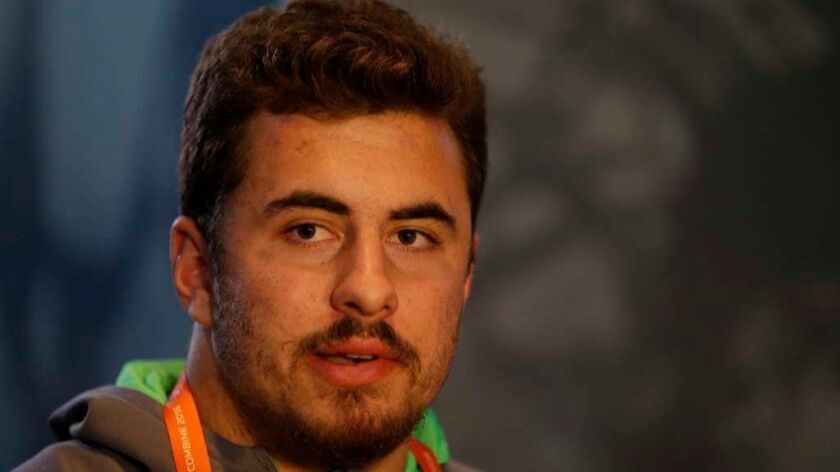 Los Angeles Chargers center Max Tuerk and tight end Sean McGrath will serve as the honorary captains at Friday's Orange County All-Star Classic, a high school football game for recent graduates, at Orange Coast College.
Tuerk has an OC connection, as he played at Santa Margarita before graduating from the high school in 2012.
Tom Telesco, the general manager of the Chargers, will perform the ceremonial coin toss before the 7 p.m. kickoff.
The OC All-Star Game, in its 58th year, features the North against the South. Costa Mesa United, a nonprofit group, and the Chargers teamed up to put the event on this year.
The North will be coached by Santa Ana's Charlie TeGantvoort, a 2001 graduate of Fountain Valley, and Brethren Christian's Pat McInally is coaching the South.
The North has one local player, Costa Mesa linebacker Roman Ayala, while the South has 14 players from the area.
Members of the South team include Edison defensive end Kenny Carmichael, wide receiver Shaun Colamonico and offensive lineman Garrett Weichman, Corona del Mar offensive lineman Arwin Rahmatpanah, outside linebacker Teddy Barber and defensive lineman Bryce Clabaugh, Brethren Christian quarterback Joey Gutierrez, wide receivers Jason Fuga and Nathan Sagastume and outside linebacker Dante Sanchez, Newport Harbor offensive lineman Mike Jarboe and linebacker Gage Roberson, Huntington Beach defensive lineman Jonah Apelu, and Fountain Valley defensive lineman Angel Hernandez.
Past players in the OC All-Star Game have gone on to play in the NFL. Some of those include Huntington Beach's Tony Gonzalez, who played tight end with the Kansas City Chiefs and Atlanta Falcons, El Toro's Rob Johnson, who played quarterback with the Jacksonville Jaguars and Buffalo Bills, Mater Dei's John Huarte, a former Chiefs quarterback, and Magnolia's Hank Bauer, a former Chargers running back.
— From staff reports
---