Sports Editor
John Humphreys moved into the box with about three minutes to go and Corona del Mar High trying to stop Edison near midfield. As the down safety, the junior figured on third-and-two that quarterback Braeden Boyles, with his team trailing by seven, might try to make a play with his feet.
Boyles never had a chance.
A bad snap wound up going toward Boyles' feet, then bouncing almost 20 yards behind him. By the time Boyles picked up the ball, the 6-foot-5 Humphreys threw the 5-8, 142-pounder down for a 25-yard sack.
The defense came through late, and the Sea Kings held on for a 21-14 road win in their Sunset League football debut on Thursday night.
After dominating the Pacific Coast League the past six years, the Sea Kings continued their winning ways in their new tougher league. They took down Edison, which has finished atop the Sunset League in nine out of the last 12 years, at Huntington Beach High, earning the Sea Kings their 31st consecutive league victory.
"Edison was a great team, but I feel like we are not as good as we can be," said Humphreys, whose team had a bye last week to prepare for the Chargers. "I don't feel like we played our best game tonight."
The Sea Kings (5-1 overall), who have won five in a row, jumped to a 21-7 lead midway through the second quarter. It appeared this one might turn out to be a lopsided affair after Humphreys caught his second first-half touchdown, a two-yard fade from Ethan Garbers.
Humphreys, who finished with eight catches for 101 yards, even put his finger near his facemask after scoring his 14th touchdown of the season, silencing the home crowd. But after Garbers' three first-half touchdown passes, the Sea Kings' offense quieted down the rest of the way.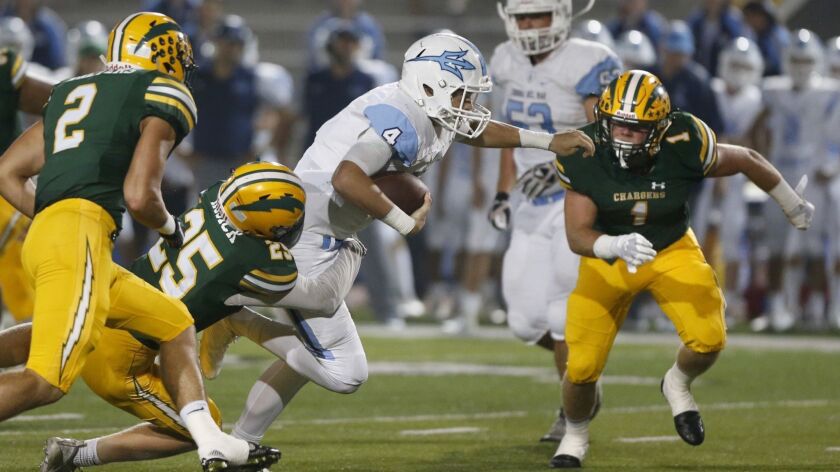 Penalties hampered CdM, ranked No. 2 in the CIF Southern Section Division 4. A holding call nullified a 51-yard touchdown on a Garbers' screen pass to Humphreys late in the first half. Then early in the second half, an offensive pass interference call caused Garbers' 23-yard touchdown to Simon Hall to get called back.
"We had our opportunities … in the first half to push that [lead] out to 28-7," said CdM coach Dan O'Shea, whose saw running back Jason Vicencio rush for 131 of his 132 yards by halftime. "I'm so frustrated giving them that seven in the first half. It was a blown coverage, a missed tackle, and [Nathan Nabal] got … a [60-yard touchdown]."
The Sea Kings also missed two field goals. Edison blocked Ethan Schroeder's 37-yard attempt with 9:44 left in the third quarter, and his 40-yarder went wide right at the 6:04 mark in the fourth quarter.
The second missed field goal gave Edison (2-4) the ball on its 20-yard line. The offense earned another shot at putting together a possible game-tying scoring drive. The previous one saw an illegal-man-downfield penalty negate Boyles' 32-yard touchdown to Nabal on a broken play with 7:55 remaining.
Edison was a great team, but I feel like we are not as good as we can be. I don't feel like we played our best game tonight.
John Humphreys, Corona del Mar High junior
Like the Sea Kings, Edison had two touchdowns called back due to penalties.
Nevertheless, Boyles and the Chargers had another opportunity. The sophomore's favorite target was Nabal, who had five catches for 95 yards and two touchdowns, the second coming on an eight-yard pass six seconds into the fourth quarter to cut CdM's lead to 21-14.
After Kobe Lopez ran for 11 yards and Boyles scrambled for another 13, Boyles went to Nabal again. He hit him on a seven-yard pass to set up a third-and-two at CdM's 48. An issue that hurt Edison in shotgun a handful of times earlier surfaced on the next play. The low snap never made it to Boyles' hands, forcing the Chargers to punt on fourth-and-27.
Garbers, who threw for 160 yards, including his second interception of the season, moved the chains on three straight runs before running out the clock, allowing the Sea Kings to beat Edison for the first time since 1972. The Chargers dropped their first league opener in 11 years.
"We got to stop doing that. We can't rely on being a second-half team," said Edison coach Jeff Grady, whose team also fell short of coming back against San Clemente in a 31-24 loss last week. "You play good teams like this, they jump ahead, and it's hard to catch them. But we had opportunities. We just continually shot ourselves in the foot.
"That was a frustrating football game."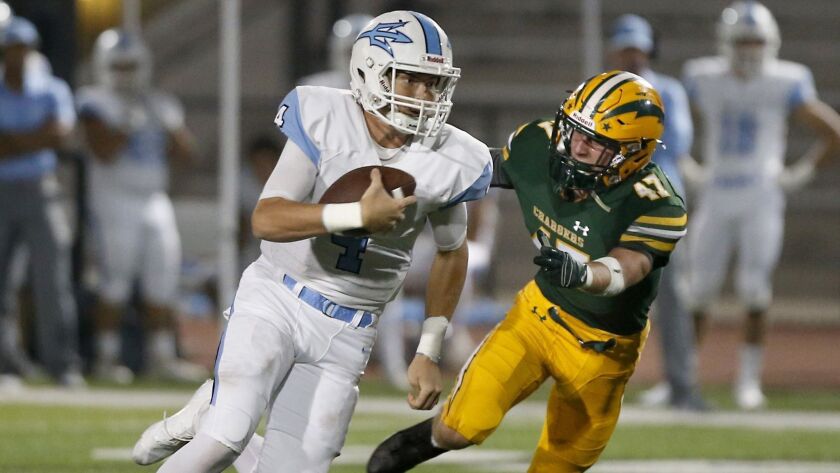 Sunset League
Corona del Mar 21, Edison 14
SCORE BY QUARTERS
Corona del Mar 7 – 14 – 0 – 0 — 21
Edison 7 – 0 – 0 – 7 — 14
FIRST QUARTER
CdM – Humphreys 28 pass from Garbers (Schroeder kick), 6:07.
E – Nabal 60 pass from Boyles (Spradlin kick), 3:29.
SECOND QUARTER
CdM – Schlom 10 pass from Garbers (Schroeder kick), 10:24.
CdM – Humphreys 2 pass from Garbers (Schroeder kick), 6:46.
FOURTH QUARTER
E – Nabal 8 pass from Boyles (Spradlin kick), 11:54.
INDIVIDUAL RUSHING
CdM – Vicencio, 10-132.
E – Lopez, 12-41.
INDIVIDUAL PASSING
CdM – Garbers, 16-28-1, 160, 3 TDs.
E – Boyles, 14-30-0, 165, 2 TDs.
INDIVIDUAL RECEIVING
CdM – Humphreys, 8-101, 2 TDs.
E – Nabal, 5-95, 2 TDs.
Twitter: @ByDCP
---