Huntington Beach girls' volleyball drops Surf League opener at Los Alamitos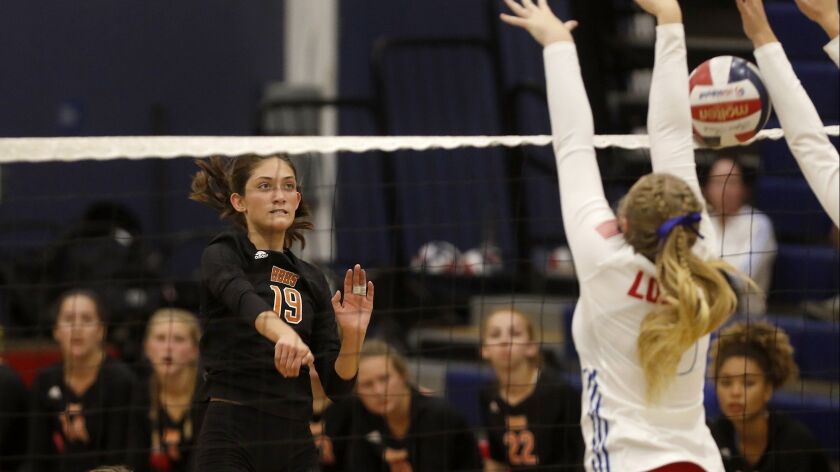 Reporting from Los Alamitos —
The inaugural Surf League girls' volleyball match took place on Wednesday night.
One function of the new four-team setup became apparent as the match went on. Little margin for error exists now that the league schedule has been reduced to a total of six matches.
Los Alamitos High took the early lead in the abbreviated, but intense league race.
Starr Williams had a match-high 18 kills to go with 2½ blocks to lead the host Griffins to a 25-23, 25-18, 31-29 win over Huntington Beach.
The sophomore transfer from Ontario Colony was a clear difference-maker, presenting a vertical threat that could hit over the top of the block. Williams, a 6-foot-2 outside hitter, is committed to Long Beach State.
"She was really good," Oilers sophomore outside hitter Sabrina Phinizy said of Williams. "She had a fast swing, and she finds that seam in the block."
Huntington Beach (8-5 overall) opened league coming off of a comeback from two sets down against Laguna Beach on Tuesday. The Oilers were unable to pull off a similar comeback at Los Alamitos (13-8), although they had set points to go to a Game 4.
Williams twice erased set points for the Oilers. Then with the score tied 29-29, junior middle blocker Xolani Hodel appeared to have a kill to give the Oilers another set point. Instead, Hodel was called for a lift, and the point was awarded to the Griffins.
Junior outside hitter Abby Karich delivered a match-ending kill on the next point.
"I'm never going to blame the referee," Oilers coach Craig Pazanti said. "We put ourselves in a position to allow a bad call at the end of a set to affect us. We didn't pass the ball very well and put ourselves in that position."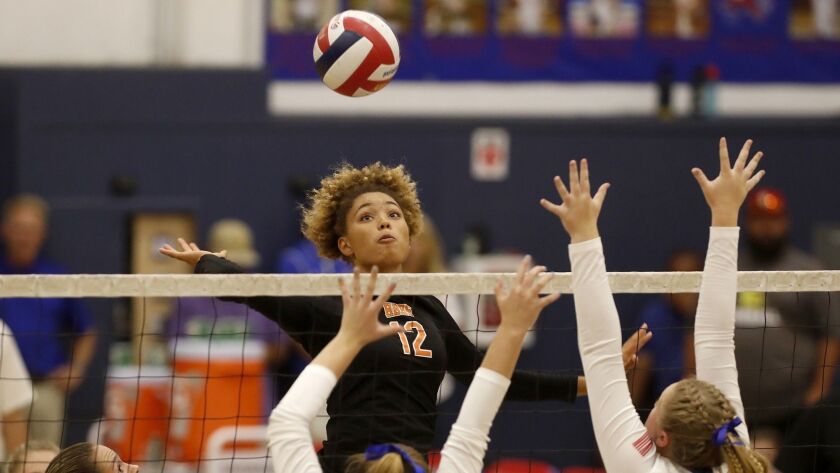 A yellow card was issued after the controversial call. Pazanti said that the yellow card was shown to Oilers junior setter Jaclyn Sanchez for arguing.
"He called a lift on Xolani," a frustrated Pazanti said. "She's been making that play all year long, and it's never been called. It got called three times tonight, and that's taking away her best shot."
Pazanti emphasized that his team's passing was the root cause of their defeat.
"When your two best attackers are your middle blockers, if you don't pass the ball very well, then you're going to be in trouble," he added.
Sophomore middle blocker Olivia Carlton wound up with just four kills and 2½ blocks. Hodel had one kill and 2½ blocks.
Phinizy led the Oilers with 11 kills. Sanchez put up 21 assists, and junior libero Mia Christensen had three service aces.
Karich, who has committed to Utah, had hitting errors that resulted in three consecutive Huntington Beach points late in Game 3. She atoned for those mistakes, stepping to the service line and helping her team turn a 23-18 deficit into a match-point opportunity at 25-24.
Karich had 12 kills and 3½ blocks for Los Alamitos. Bella Vermuellen and Kamryn Parsonage had five kills apiece. Abby Blasi had 13 digs and Allie Livingston had 19 assists.
"Sometimes, I have to be reminded by [Coach] Dave Huber, but I play volleyball because it's fun," Karich said. "When I'm back there [at the service line], all my friends are right next to me. I've got my teammates who are my best friends.
"That's who I'm thinking about. I'm not thinking about, 'If I miss this serve, we're going to lose,' or something like that."
Twitter: @ProfessorTurner
---
All the latest on Orange County from Orange County.
Get our free TimesOC newsletter.
You may occasionally receive promotional content from the Daily Pilot.