Newport residents help Mater Dei girls' tennis edge Sage Hill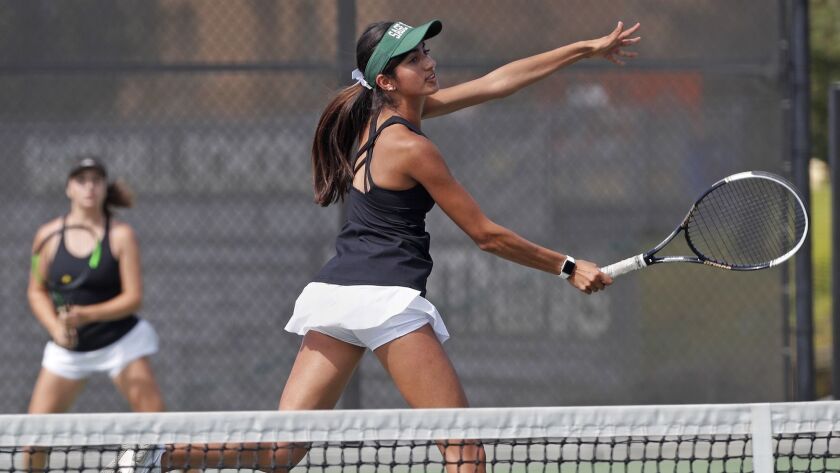 Playing at Sage Hill School is really more like a home match for Mater Dei High girls' tennis junior Natasha Hill.
Hill, a Newport Coast resident, said she lives less than a mile away from the Sage Hill campus.
She certainly made herself feel at home Tuesday as the Monarchs faced the Lightning in a nonleague match.
Hill easily swept her singles sets, 6-0, 6-2, 6-0, helping Mater Dei edge Sage Hill 11-7.
It was the season opener for the Lightning and first-year head coach Whit Kenerson, but Mater Dei improved to 3-0. The Monarchs, who used a total of six girls that live in Newport Beach, also beat Edison and Fountain Valley last week by identical 13-5 scores.
Hill said it was the first time in her three years at Mater Dei that the program had beaten Sage Hill.
"It's really exciting," said Hill, Mater Dei's only junior, who won the Trinity League doubles title as a freshman and sophomore. "We're a lot stronger this year. We practiced hard over the summer and we're ready for the competition. We have a lot of good freshmen in, our sophomores are just killing it … and all of our seniors are just crushing it. They really want to enjoy their senior year, so they are trying their hardest so they can celebrate with victories."
Hill said she has been battling sickness and vomited Tuesday morning, but she decided to try to play through it.
"I took a win for all three [sets], so I was pretty happy with the outcome, despite my circumstances," she said.
Newport Beach resident Ainslee Lehner and partner Marissa Moore won twice at No. 3 doubles for Mater Dei, while Newport Beach resident Maddy Ashworth, a senior, and Newport Coast resident Alexis Brown, a freshman, won once at No. 2 doubles for Mater Dei. Newport Coast resident Lauren Biagiotti and Newport Beach resident Ava MacDonald, both freshmen, subbed in for a set each in singles, though both lost.
Seniors Vanessa Islas and Melanie Villasin swept at No. 1 doubles for Mater Dei, which led 4-2 after the first round and 8-4 after the second round. Grace McSkimmins, a sophomore, won twice at No. 1 singles.
"I knew their top [players] would be good," Kenerson said. "We had to win from the bottom, with our depth, and we didn't do that … We're a little inexperienced. We made a lot of mistakes we're going to have to work on, be a little bit more consistent."
Kenerson, 56, is a walk-on coach. He assisted Cierra Gaytan for the last two years with the Lightning, and took over the program when Gaytan resigned.
Gaytan said in a text message that she resigned due to family matters that needed her attention.
Kenerson is no stranger to the local high school tennis scene. His daughters Paige, Brooke and Reece have all played tennis at Corona del Mar High. Paige and Brooke Kenerson have both graduated while Reece is a sophomore this year for the Sea Kings.
"The more my kids got into it, the more I wanted to get back into tennis," Whit Kenerson said. "But I would never want to coach my own kids. I'm really happy [coach] Jamie [Gresh] is handling everything over there [at CdM]."
Senior Miranda deBruyne and junior Karina Grover won twice at No. 1 doubles for Sage Hill. Miya Stauss, a junior, won twice at No. 3 singles.
Senior Morgan Mann and freshman Alexis Ha each won one singles set for the Lightning, while the No. 2 doubles team of senior Hannah Herin and junior Kimi Reddy defeated Ashworth and Brown 7-5 in the first round.
Sage Hill plays at Santa Margarita on Wednesday and hosts Foothill on Thursday.
Twitter: @mjszabo
---
All the latest on Orange County from Orange County.
Get our free TimesOC newsletter, coming in August.
You may occasionally receive promotional content from the Daily Pilot.