Around Town: Time to register for Newport Beach Christmas Boat Parade
Whether you have a yacht, a kayak or a canoe, you can sign up to be part of the 108th Newport Beach Christmas Boat Parade, which will run Dec. 14-18 at Newport Harbor.
The Commodores Club of the Newport Beach Chamber of Commerce is encouraging boaters to register for the parade before the Dec. 7 skippers meeting at 6 p.m. at the Newport Dunes Waterfront Resort & Marina, where registration numbers will be distributed, parade logistics reviewed and judging procedures discussed.
Parade participants, along with entrants in the Ring of Lights waterfront home decorating contest, will receive commemorative items and be eligible for awards.
To register or for more information, visit Christmasboatparade.com.
*
Balboa Bay Resort lights holiday tree Thursday
The Balboa Bay Resort in Newport Beach will host its annual holiday tree-lighting ceremony from 6 to 7 p.m. Thursday.
The free public event will include live music and a visit from Santa Claus.
Guests are asked to donate a new, unwrapped gift for the Toys for Tots program.
The resort is at 1221 W. Coast Hwy. For more information, call (888) 894-2788.
*
Laguna to celebrate Hospitality Night Friday
The Laguna Beach Chamber of Commerce will present the annual Hospitality Night from 5 to 10 p.m. Friday to usher in the holiday season in Laguna.
Festivities will include musical performances and ice skating while carolers stroll the streets. Visitors can warm up with hot chocolate and feast on tamales.
Santa Claus and Mayor Steve Dicterow will light the pepper tree at 6 p.m. in front of City Hall, 505 Forest Ave.
For more information about Hospitality Night, including details on street closures, visit lagunabeachchamber.org.
*
Friends of H.B. Library to fill the wassail bowl for holiday party
Friends of the Huntington Beach Library will present a wassail party from 7 to 9 p.m. Friday at the Huntington Beach Central Library & Cultural Center, 7111 Talbert Ave.
The event will include food, live entertainment and wassail, a hot mulled cider traditionally used in Christmas festivities.
Admission is $10 per person. For more information, call (714) 375-5114.
*
Crystal Cove to host holiday bazaar and tree lighting
The Crystal Cove Alliance will present the 20th annual holiday bazaar and tree lighting on Saturday at Crystal Cove State Park.
The event will feature the beach bazaar from 10 a.m. to 5:30 p.m., strolling carolers starting at 3 p.m., arts and crafts and free hot cocoa and cookies starting at 3:30, Santa Claus' arrival at 4 and the tree lighting at 5:15.
Parking will be available for $5 an hour (maximum $15) in the lot inland of Pacific Coast Highway at Los Trancos.
*
Balboa Village presents Christmas at the Beach
Balboa Village in Newport Beach will celebrate the season with Christmas at the Beach from 2 to 6 p.m. Saturday, including a tree-lighting ceremony, live music and children's activities.
The tree lighting is scheduled for 5:30.
Balboa Village, home of the Fun Zone, is at 600 E. Bay Ave.
*
Segerstrom Ranch grounds will open to the public Saturday
The grounds surrounding the historical Segerstrom family home and barn will be open to the public from 9 a.m. to noon Saturday.
The property is next to 3315 Fairview Road, between South Coast Drive and the 405 Freeway.
To RSVP, call (714) 546-0110. Formal tours will not be provided.
*
Corona del Mar Christmas Walk returns Sunday
The 38th annual Corona del Mar Christmas Walk, a holiday tradition presented by the Corona del Mar Chamber of Commerce, is set for 11 a.m. to 4 p.m. Sunday in the village business district.
Festivities will include merchant promotions, a vendor fair, live music by more than a dozen bands, performances by high school and community organizations, the Newport Beach Fire Department's Fireman's Grill barbecue, a beer and wine garden, restaurant food tastings, a drawing with more than $15,000 in prizes, and children's entertainment including photos with Santa Claus, bounce houses, bungee jumping, holiday characters and a petting zoo.
Admission is free. For more information, call (949) 673-4050 or email info@cdmchamber.com.
*
Balboa Island holiday party to feature snow, Santa and tree lighting
Balboa Island will kick off its holiday celebration with festivities from 4 to 7 p.m. Sunday at the fire station at Marine and Park avenues.
Kids can play in snow, and Santa and Mrs. Claus will arrive at 4 p.m. Caroling will begin at dusk, and cider and cookies will be served for a tree-lighting ceremony.
*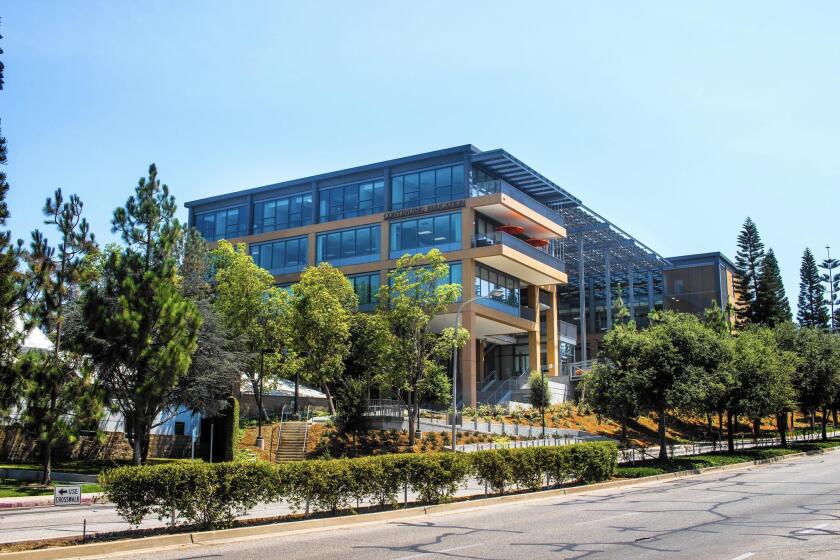 UCI Continuing Education gets new building on campus
The UC Irvine Division of Continuing Education has opened a new five-story building on campus.
The 75,000-square-foot space has 23 classrooms for up to 770 students, including two computer classrooms, and office space for 200 staff members.
"Our new facility brings together the best tools, resources and technology, helping us to expand our services and build upon the school's legacy of providing decades of excellence to working professionals and students at the local, regional and global levels," Gary Matkin, dean of the Division of Continuing Education, said in a statement.
The Division of Continuing Education offers open-enrollment learning opportunities for adult students online, on campus and at employer sites worldwide.
*
Oak View nonprofit gets $5,000 grant from Bank of America
Bank of America on Tuesday presented a $5,000 grant to the Oak View Renewal Partnership, a nonprofit that provides advocacy and resources for residents of Oak View, a largely low-income, Latino neighborhood in Huntington Beach.
The money is part of $260,000 in grants the company awarded to 21 Orange County nonprofits that provide services for needy residents.
*
Newport lawyer honored as Everyday Hero
Newport Beach resident Nancy Dahan, a family-law attorney and board president of Human Options, recently was honored with the Everyday Hero Award by the Orange County Women Lawyers Assn.
Human Options is an Irvine-based nonprofit that helps victims of domestic violence and their children. Dahan joined the board 16 years ago.
"Women who are in this process cannot do it alone," Dahan said in a statement. "Showing up matters, helping matters — even one hour makes a difference in that person's life. The trajectory of an entire family is changed because they got the help they needed, from counseling to legal support."
Dahan has practiced family law since 1988 and has her own practice, Brown Dahan LLP, in Irvine. The National Assn. of Women Business Owners recently recognized her as one of the Most Remarkable Women of Orange County.
*
Recycling offered for cooking oil, fat and grease
In the aftermath of the busy Thanksgiving cooking season, the Costa Mesa Sanitary District and the Orange Coast College Recycling Center are collaborating to offer free disposal of used fat, oil and grease.
The goal, sanitary district officials say, is to keep the potentially pipe-clogging materials out of the local sewer system.
Residents are encouraged to pour cooled fats, oils or grease into plastic containers for drop-off at the OCC Recycling Center, 2701 Fairview Road, Costa Mesa.
For more information, visit cmsdca.gov or call the recycling center at (714) 432-5072.
*
Newport foundation gave $60 million to nonprofits in past year
More than 650 philanthropists and business and community leaders gathered last month at the Orange County Community Foundation's annual meeting at Hotel Irvine.
Shelley Hoss, president of the Newport Beach-based organization, announced at the event that the foundation had awarded $60 million in grants and scholarships to hundreds of students and nonprofit organizations during the past fiscal year.
*
True Sioux Hope Gala at Balboa Bay Resort raises $450,000
Some 350 guests attended the first True Sioux Hope Gala last month at the Balboa Bay Resort in Newport Beach to support the Oglala Lakota Sioux of the Pine Ridge Reservation in South Dakota.
The event, organized by Newport entrepreneur Twila True and Orange County philanthropist Donna Pickup, raised more than $450,000 to help the tribe, according to a news release. The reservation has few natural resources, no industry, few jobs and inadequate medical care and housing, according to the American Indian Relief Council, which says 69% of Pine Ridge residents live below the poverty line.
The fundraiser featured a cocktail reception, live music, traditional Sioux dances, a Native American artisan market and silent and live auctions.
*
Fundraiser generates $272,000 for art college scholarships
The Laguna College of Art and Design's 27th annual Collector's Choice juried art auction and fundraiser generated $272,000 for student scholarships, the college said.
More than 200 guests attended a Nov. 18 ceremony at the Montage Laguna Beach resort that featured silent and live auctions of juried paintings and sculptures. Laguna College of Art and Design alumni, faculty members and students donated the artworks.
LCAD officials honored the Medtronic Foundation for its financial gifts that have helped the college expand the Dennis and Leslie Power Library and make other improvements, the college said.
*
Children's charity taking donations of gift-filled shoeboxes
Operation Christmas Child, a project of the international Christian organization Samaritan's Purse, is accepting donations of gift-filled shoeboxes for needy children overseas through mid-December at its regional processing center at 2722 Michelson Drive, Irvine.
The shoeboxes can include toys, school supplies, hygiene items and notes of encouragement.
Residents also can pack a virtual gift-filled shoebox by browsing samaritanspurse.org/occ to select gifts matched to a child's age and gender. Then they can upload a photo and write a note of encouragement to be included in the shoebox they build online. The box will be prepared by project volunteers. Residents can follow their box to learn where in the world it will be delivered.
*
Costa Mesa school to host creativity labs for kids
Reid Day School in Costa Mesa will host a public Creativity Labs Museum on Wheels Workshop for children ages 7-13 from 2:30 to 4 p.m. Dec. 9.
Participants will design and create personalized art pieces called PlasTikobots, made from reclaimed plastics.
Admission is $10. To register or for more information, visit reidday.org.
*
Pancake breakfast with Santa set in H.B.
Huntington Beach families can celebrate the arrival of the holidays at a pancake breakfast with Santa Claus on Dec. 10.
The $10 event will be held from 8:30 to 10:30 a.m. or 9:30 to 11:30 a.m. at the Murdy Community Center, 7000 Norma Drive.
The program also will include holiday music, arts and crafts, a bounce house and photo opportunities with Santa.
To sign up, visit hbsands.org.
*
Resolution Run will aid cancer research and H.B. high schools
The fourth annual Resolution Run scheduled for Dec. 11 in Huntington Beach will benefit the McKenna Claire Foundation and all schools in the Huntington Beach Union High School District.
The McKenna Claire Foundation, based in Huntington Beach, raises money and awareness for research and treatment of pediatric brain cancer.
The Resolution Run will feature a 1-mile run starting at 8 a.m. and a 5K (3.1-mile) run starting at 8:30 a.m. After the races, runners can attend a health and fitness expo and a free pancake breakfast provided by the Huntington Beach Fire Department.
For more information or to register, visit hbuhsd.edu/events.
*
Newport philanthropists to receive Lifetime Achievement Award
Heritage Pointe, a nonprofit Jewish-oriented retirement community in Mission Viejo, will honor Newport Beach philanthropists Scott and Leslie Seigel with its inaugural Lifetime Achievement Award during Heritage Pointe's annual fundraising gala Dec. 11 at the Island Hotel in Newport Beach.
The Seigels have operated California Closets in Southern California for 35 years and are involved in several other community organizations.
---