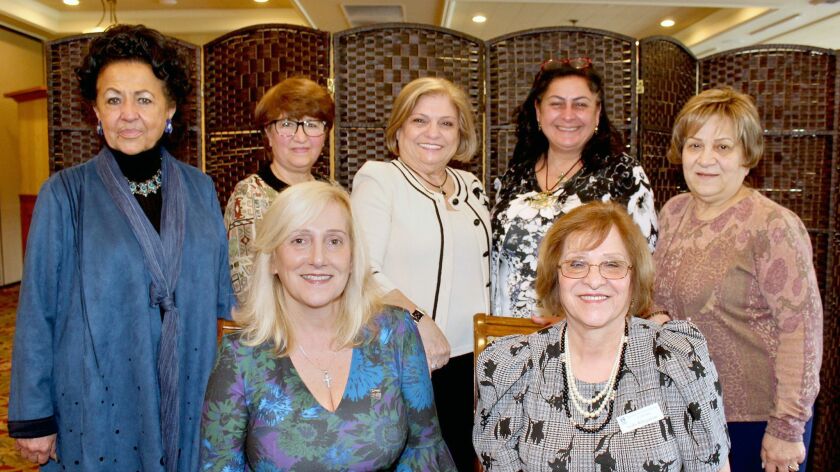 The Soroptimist organization was formed in 1921 by a group of 80 women in Oakland, Calif. Today, Soroptimist is an international organization with clubs in more than 120 countries.
More than 60 active women are members of Glendale Soroptimists, chartered in 1943. Those women put themselves to work organizing their "Live Your Dream" and grant awards luncheon, chaired by Debbie Mallon and Dr. Ilena Blicker.
Last Thursday, more than 80 members and their guests filled the largest banquet room at the Oakmont Country Club. President-elect Martha Wilson welcomed her audience, filling in for Kathryn Van Houten, club president who was absent due to business commitments.
Wilson also introduced city dignitaries who attended including Glendale Councilwoman Paula Devine, Soroptimist past president. Also attending were Councilmen Vrej Agajanian and Vartan Gharpetian, City Manager Yasmin Beers and City Atty. Mike Garcia.
Devine offered greetings from the city. To those who volunteer, she said, "You aren't getting paid because you are priceless. Enjoy the giving."
Devine also referred to the packets of Kleenex at each place setting, suggesting the honorees' backgrounds and current successes would bring a tear to the eye.
Heather Ghermezian, chair of the "Live Your Dream" event, presented three women a total of $8,000. These "Training Awards" are designed to assist women who provide the primary financial support for their families.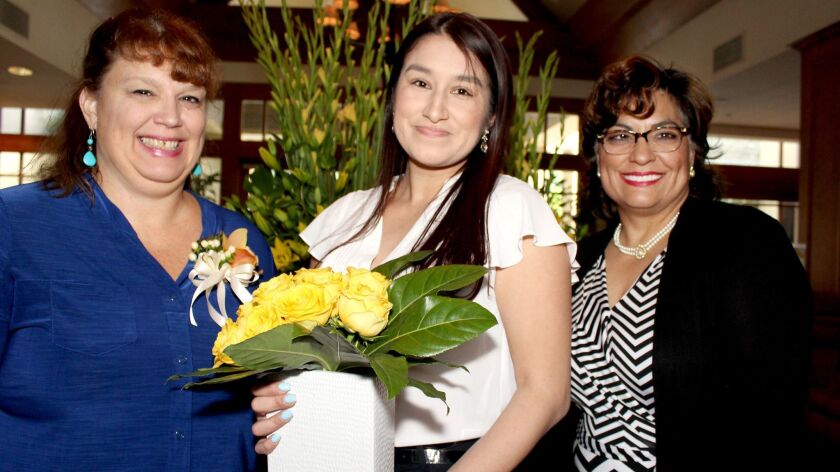 First to be recognized was Rita Falkenhagen, a Glendale resident and Glendale Community College student. A victim of domestic abuse, with her abuser boyfriend in jail, Falkenhagen worked to support herself and her children.
She dreamed of going to college. When the opportunity came, she enrolled in the local college and will graduate soon.
"I absolutely love studying and educating my mind. It empowers me to know that I can do anything I put my mind to," she said.
The second awardee was Bertha Sandoval, a Montrose resident and also a student at Glendale Community College. Sandoval is the seventh of eight children in her family. Her siblings and parents were crammed into an 850-square-foot apartment. Eventually, after a divorce, she became the breadwinner, with three small children to support. She put her education on hold.
As her children grew, Sandoval went back to school.
"I'm overwhelmed with joy, and that I'm not alone in this journey," she said.
Also honored was Francis Echeverria. She lives in Pasadena and attends Pasadena City College. Echeverria is a 31-year-old single mother of two children, Joel Echeverria, 14, and Evelyn Hernandez, 5. Both were present, cheering mom on.
"Thank you for believing in me," she said to her children.
Her past was filled with abusive relationships and the temporary loss of her children. Joining CalWORKS, a public-assistance program that provides cash aid and services to eligible families that have children in the home, gave her the esteem to go back to school and pursue a degree in criminal justice.
"I truly believed I would never become anything in my life," she said.
"Live your Dream" judges were Soroptimist members Michelle Gonzalez, Nancy Guillen and Dr. Serineh Melidonian.
The program ended with the grant awards presentation by Susan Hunt, grant chair. Awards totaling $14,000 were given to the Ark Family Center, the Armenian Relief Society, Door of Hope and Taking in the Reins. The latter organization supports local girls from low-income households who work with horses and prepare meals in an organic kitchen, thereby learning self-sufficiency skills.
In the past year, Glendale Soroptimists have paired 13 girls with professional female role models and donated 50 caps to hospitals for women undergoing chemotherapy. At its recent "Pajama Day," members gathered and distributed 378 pairs of women's and children's pajamas to local shelters.
Before her audience dispersed, Wilson closed with a brief reminder of Glendale Soroptimists' largest fundraiser of the year, "Bras for a Cause," to be held March 30.
Ruth Sowby Rands may be reached at ruthasowby@gmail.com.
---