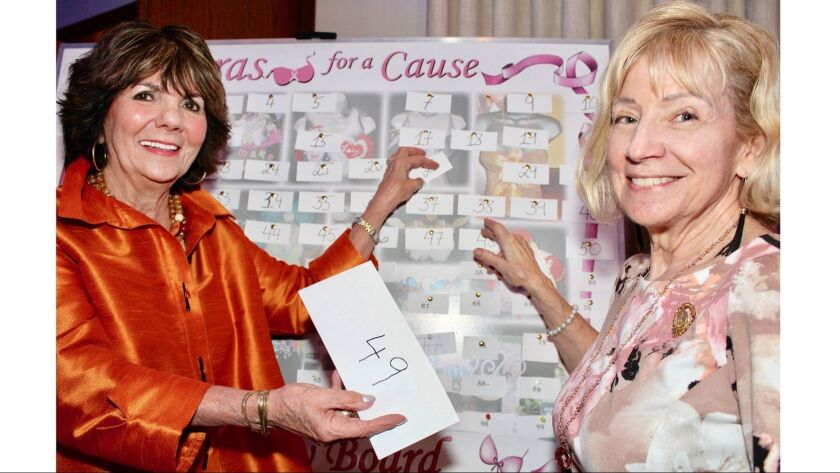 Members of Soroptimist International of Glendale welcomed 130 supporters to their 16th annual fundraiser called "Bras for a Cause" this past Saturday.
For over a decade and a half, Soroptimist members have encouraged supporters to decorate bras, which are then auctioned off to the highest bidders, all in the name of breast cancer awareness.
At Glendale's Glen Arden Club — formerly a Moose Lodge — 21 embellished bras were on display. This year's theme, "Starry Night," represented the challenge for local nonprofit organizations to shine in the community by decorating their creations.
A few agencies had the opportunity to use their bras to educate attendees about their individual causes.
An example was Camp Rosie's "We Can Do It" bra in support of the YWCA Glendale. Devon Malick created the undergarment.
The fundraiser began with cocktails and heavy hors d'oeuvres. Wine and beer tastings were scattered throughout the ballroom.
A mystery board offered chances to win goodies such as a See's Candies gift certificate, accompanied by a $10 Apple Store gift card. Also awaiting a lucky donor was a Porto's Bakery basket filled with bread and pastries.
A mere $20 could make you a winner or a loser. Some envelopes attached to the mystery board had notes simply thanking donors for their contributions.
Glendale City Councilwoman and past president of the local chapter of Soroptimists, Paula Devine, was in charge of the mystery board. Her security backup was Sgt. Jazmine Ramirez, with the Glendale Police Explorers Post 104. Ramirez also had a hand in creating one of the decorated bras .
The program began with Kathryn Van Houten, current president of Glendale Soroptimists, welcoming members and their guests.
She told her audience that the Glendale Soroptimists are celebrating 76 years of service and has more than 60 members. This summer, Soroptimists will be sponsoring the YWCA's Camp Rosie — hence, the decorated bra.
As sponsors, Soroptomists will present a day of career exploration for girls at each of the three camp sessions.
"But tonight, this is an evening for stars to shine," Van Houten, said.
And indeed it was. The soft blue lighting in the banquet room provided a perfect background to enhance the centerpiece pin lights shining on slender fibers soaring from white hydrangea blooms.
Van Houten introduced dignitaries present including state Assemblywoman Laura Friedman and state Sen. Anthony Portantino, Glendale Mayor Zareh Sinanyan, City Council members Devine and Vartan Gharpetian, Greg Krikorian, president of the Glendale Unified school board, and Armine Gharpetian, school board clerk.
Mayor Sinanyan offered greetings from the city, saying, "Please look at these beautiful bras. I can't say that at any other event."
All during the heavy hors d'oeuvres dinner, diners kept popping up to see if anyone had a higher bid on the bra they wanted. Soroptimist member Carmen Libaridian had bids on five bras.
Her favorite was the "Great Catch" bra, with Dodgers and Red Sox emblems and catcher's mitts stuffed in the cups. Libaridian said that if she won that one, she plans to set it on the bar at her home for parties during baseball season.
As dessert was served, the winning bras were announced. Among the winners were Libaridian's favorite, "Great Catch," dubbed "Most Humorous."
Adventist Health Glendale's bra, "Star of the Night," had multicolored sequins on the cups, adorning a black torso with healing messages written on it. Members of the hospital's cancer-care art class created the bra. It won "Best Depiction of Theme."
Voted "People's Choice" by attendees was "Causemic Healing." The bra and torso were painted with blue and gold swirls and was sponsored by Glendale residents Sue and Steve Wilder.
An online auction, live auction and opportunity drawing with $3,000 in the offing ended the evening.
Decorated bras chair Kathy Lefkovits and event co-chairs Tarry Kang and retired obstetrician Dr. Carol Ann Burton, mightily contributed to the 1,000 hours of Soroptimists' volunteer time that made the 16th annual "Bras for a Cause" a sparkling night to remember.
Ruth Sowby Rands may be reached at ruthasowby@gmail.com.
---