Retired Glendale first responders fighting battles on a new front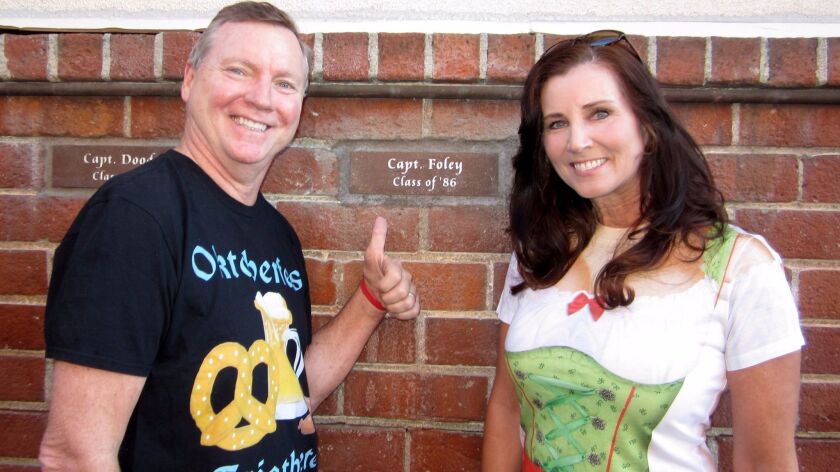 After nearly 30 years of battling blazes with the Glendale Fire Department, two retired firefighters have spent what should be their leisure years, separately facing new kinds of fights.
Niall Foley's battle began in 2015, when the 55-year-old former fire captain noticed an increased weakness in his right arm. Before that, Foley was fine and passed every medical evaluation he underwent.
"Something changed, and there was some muscle atrophy in my right hand," he said.
A battery of tests soon revealed that Foley was in the early stages of ALS, or Lou Gehrig's disease. Upon receiving the diagnosis, he only told two people in the department — his fire chief and his battalion chief.
Amyotrophic lateral sclerosis is a type of neurodegenerative disease that attacks the brain and body — disrupting communication between the two. This disruption leads to difficulty speaking, muscle weakness and fatigue.
Over time, the disease progresses to a point where a person afflicted with it finds themselves trapped in their own bodies — unable to move or speak but still aware of their surroundings.
Eventually, Foley's condition worsened and he had to retire soon after the diagnosis. But rather than have the disease control his life, the diagnosis spurred Foley to travel the world with his wife, Dawn.
"We've gotten to take some bucket-list trips that have just been fantastic, from Bora Bora to Ireland," he said. "I got to show my wife the Eiffel Tower this year — that was pretty special."
After their globetrotting, the couple returned to their Thousand Oaks home so that Foley could undergo a new drug treatment that may help fight the disease. However, Foley said he's aware that a cure has yet to be found for ALS.
"[My wife and I] are hoping for a slowdown of the disease, so that I can be able to do some things between now and when I can't," he said. "Hopefully that amount of time in between is a little bit longer."
Foley said the treatment is not cheap, about $146,000 per year without insurance. Thankfully, he said, his insurance covers a portion of the cost and he is able to pay for the rest.
Others are not so lucky.
That's why Foley is involved with the Golden West chapter of the ALS Assn.
The organization raises money for research for the disease and helps provide care services for the afflicted.
For his part, Foley has helped raised $15,000 for the association as part of the upcoming Walk to Defeat ALS in downtown Ventura this Sunday.
And Foley isn't the only Glendale firefighter fighting for his health.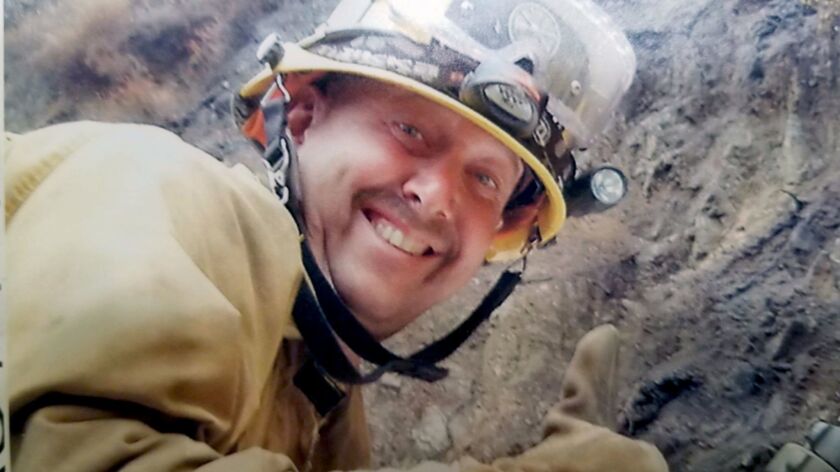 For George Gemind, the fight began earlier this year. Since his retirement, he and his wife, Cathy, have been living in Bonners Ferry, Idaho, where he works as a general contractor.
It was there, several months ago, that he began to experience pain in the side of his body. At first, the 57-year-old said he thought it was just a pulled muscle.
But with that pain, was a cough that wouldn't go away.
"It all started in September, when I went to see a doctor about the pain in my right side," he said. "They took an X-ray above my chest and saw a mass over my left lung."
The X-ray was soon followed up by a CT scan, where Gemind's fears were confirmed. It was Stage 4 lung cancer, and it had metastasized, spreading from his lungs to his ribs.
"I was a little taken aback, you know. We all know what that diagnosis means," he said.
Gemind was told chemotherapy would not help with the cancer, and the best that doctors could do was prescribe medication to manage his pain. However, he was undeterred.
He and his wife began looking for alternative treatments and settled on a clinic in Reno.
Gemind said, in addition to chemotherapy, the clinic also prescribed a diet and supplement regimen to patients.
However, because it's viewed as an alternative treatment, Gemind's insurance won't cover the $60,000 cost.
Lisa Myers, a family friend, decided to start a crowdfunding campaign on YouCaring to help pay for the treatment. As of Thursday afternoon, it has raised $9,215.
"Without doing the fundraiser, he can't afford to do the treatment, and he's going to die," Myers said. "This would give him a chance, $60,000 is not too much money to save somebody's life."
Both Foley and Gemind have not just received an outpouring of support from their friends and family, but from the Glendale Fire Department as well.
"I am fortunate in that I was a fireman in the city of Glendale," Foley said. "I'm blessed to have the love and support of a whole other family."
Since his diagnosis, Gemind has received a stream of visits and calls from his fellow firefighters. He also said the comments made on the YouCaring page have been especially heartening.
"It's been an emotional roller coaster, just seeing all these great people on the website," he said. "The comments have been overwhelmingly nice and very positive. It helps keep my mind in the right place."
Twitter: @Andy_Truc
---