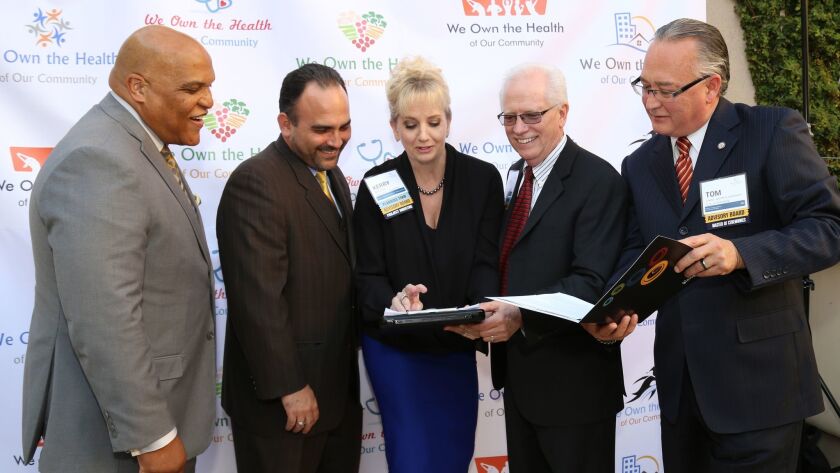 Community leaders took to the Alex Theatre stage on Thursday to sign a pledge proclaiming their commitment to improving Glendale's collective health.
The event was part of the Glendale Healthier Community Coalition's "We Own the Health of Our Community" initiative and representatives from more than 100 organizations, including local businesses and government agencies, signed the pledge. Signatories included Mayor Paula Devine, Glendale Unified Supt. Winfred Roberson Jr. and Glendale Fire Chief Greg Fish.
The various signatories pledged to support the coalition's initiative, which includes inspiring healthy behavior among their employees and staff as well as encouraging those with health issues to seek proper medical assistance.
"We will take collective action as one community such that … we can make the difference to the lives of the people in our community," City Manager Scott Ochoa said.
Join the conversation on Facebook »
Established in 2015, the initiative seeks to improve the health of people who work and live in the city by addressing health risks that are prevalent.
One such risk is diabetes.
Barbara Ferrer, director of the Los Angeles County Department of Public Health, said about 44% of residents in Los Angeles County are afflicted with prediabetes — where a person's blood sugar levels are higher than normal but they have not yet progressed to type 2 diabetes.
A change in lifestyle including healthier eating and being more active can help prevent prediabetes from turning into type 2 diabetes, she said. Early screening for diabetes is also key.
Toward the end of the evening, Glendale Mayor Paula Devine said she was proud city organizations are taking on this responsibility. Devine, who is a retired teacher with a degree in physical education, said she is aware of the importance that healthy eating and physical activity can have on a person's health.
"I look at my job on the city council and as mayor as ensuring that your quality of life is the best that it can possibly be," she said.
Twitter: @Andy_Truc
---