Glendale resident earns book award for research into New York theater during 1970s fiscal crisis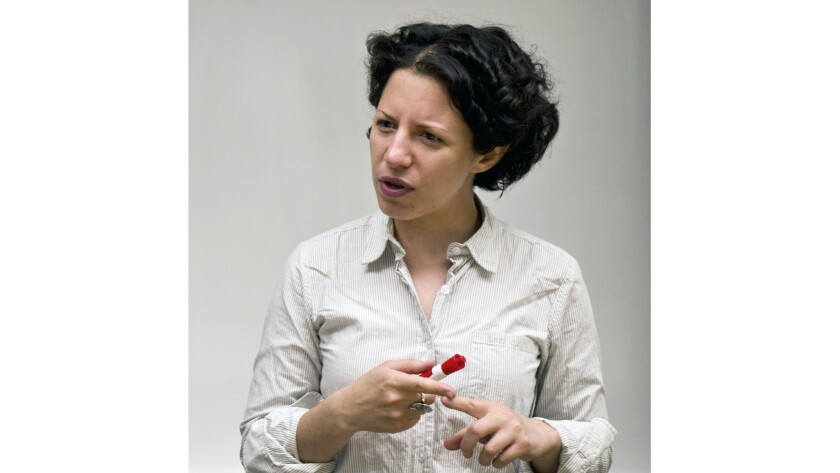 A Glendale resident and theater professor will be honored with a Book Award in August for her monograph detailing the relationship of community and the arts in 1970s New York.
Hillary Miller, who teaches at California State University Northridge, and her book "Drop Dead: Performance in Crisis, 1970s New York" earned the 2017 John W. Frick Book Award from the American Theatre and Drama Society.
The book investigates how grassroots responses by the New York theater arts community during the fiscal crisis of the 1970s led to the inextricable link between the arts and the identity of a city.
Miller's inquiry was motivated by what she said is a lack of coverage of New York's downtown theater scene during what was an important period for the city.
"I took a New York history class and we spent so much time looking at the fiscal crisis from 1974-75 and its implications," Miller said. "Then I'd go to theater classes and we weren't really discussing that."
The book's title is a reference to a famous New York Daily News headline, "Ford to City: Drop Dead," after President Gerald Ford told New York City's then mayor and governor that there was nothing the federal government could do to aid the city's severe money shortage.
Miller said the ephemeral nature of theater meant researching communities that may no longer exist and there was a lot of trial and error involved. She said it was a mix of extensive interviews and archival work, in some cases, sifting through municipal financial documents from New York's financial crisis.
"I usually started at a big archive, somewhere like the New York Public Library and then basically try to pick up the threads and find key people," Miller said.
Miller added that some of the most exciting interviews for her were with people who had worked in Harlem and Coney Island in the '70s and tried to get different theater movements and community art movements started.
She said they loved the idea of being able to revisit the turbulent time despite the difficulties.
"I remember one afternoon going to a small community organization — it was like a local district organization in Coney Island — and there was a guy who had been there for decades and he just talked for hours about the kind of community theater that he recalled on the boardwalk and in buildings that have since been torn down," Miller said.
The book's subject matter is also relevant to current discussions about nixing funding for the National Endowment for the Arts and other arts funds, she said, and that the question of how art can represent a community is still missing from the national discourse.
"What I was trying to set out with the book is that the arts are literally inside our civic fabric," Miller said. "You can't say that they are something separate that we decide to fund or not."
One example Miller has from her own life is from her two years as a Glendale resident. She said she has seen a lot of movement to create a distinct arts ecosystem in the city that doesn't just try to mimic Los Angeles.
Miller attended Sunday's CicLAvia event and said she saw city officials asking residents what type of public art matters to them.
"Having an arts commission out there on the street next to the Metro is saying, 'we are a civic organization just like the Metro,'" Miller said.
Miller will receive the John W. Frick Book Award at a conference in Las Vegas, Nev. on Aug. 5.
Twitter: @JeffLanda
---