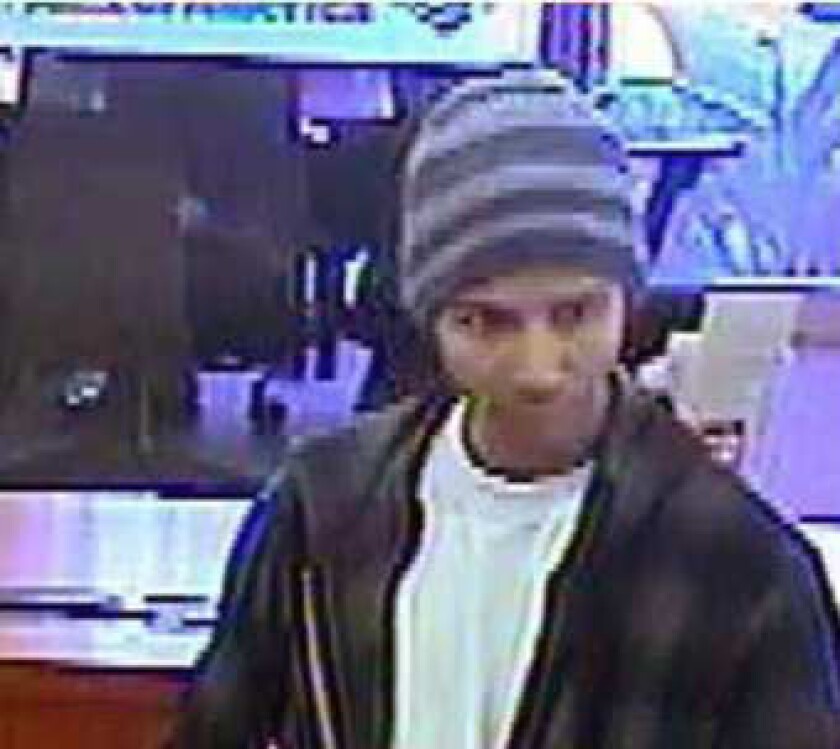 FBI officials are asking for the public's help in tracking down the so-called "Cooler Bandit" who has robbed seven banks, including one in Glendale.
The FBI also released surveillance photos of the man who, according to the FBI, has robbed seven banks in Southern California since August 2009 — the latest on Jan. 15 at the U.S. Bank in Long Beach.
The man — dubbed the "Cooler Bandit" because of the nylon cooler or lunch bag that he carries to stow the money — tried to rob the Wells Fargo bank on Brand Boulevard in Glendale on Jan. 14.
The man approached a teller and passed a demand note, FBI officials said. But he abandoned his plans when the teller had trouble reading the note.
The same method has been used in other robberies. He often flees on foot, but has been seen entering a stolen 1991 white, four-door Toyota Camry, according to the FBI.
While witnesses have not seen him carrying a weapon, he has threatened to kill victims who don't comply, FBI officials said.
The "Cooler Bandit" has robbed banks in El Segundo, Hemet, San Gabriel, Marina Del Rey and Hacienda Heights.
He is described as Latino or Black, 16 to 25 years old, 5 feet 5 inches to 6 feet tall and 110 to155 pounds. He has black hair and brown eyes, and has also worn sunglasses with orange lenses and black-rimmed glasses.
Anyone with details about the bandit has been asked to call the FBI or local police. The FBI's Los Angeles bureau can be reached at (888) 226-8443.
— Veronica Rocha
---