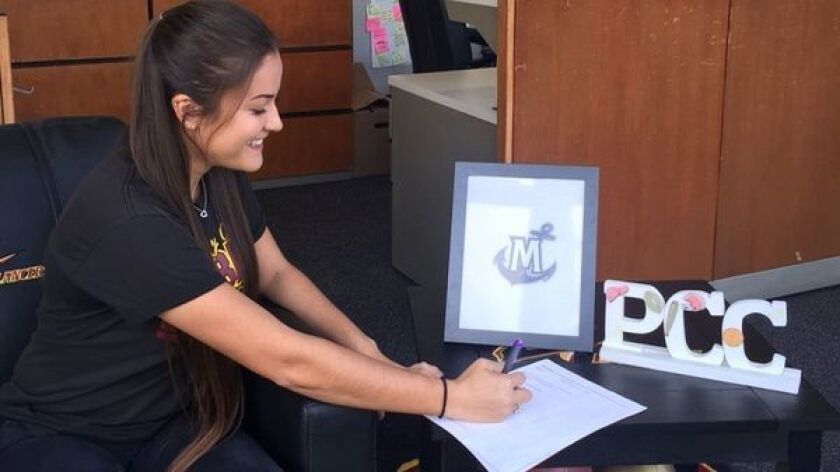 It was nice to be pleasantly surprised at Glendale Community College on Wednesday evening.
The Vaqueros women's basketball team was not only competitive, but routed Santa Monica College, 82-42.
Two years ago, the Vaqueros finished in last place in the Western State Conference South Division with an overall record of 3-24.
Last season under first-year coach Joel Weiss, the Vaqueros enjoyed a resurgence as they finished 16-12 and 6-4 in the Western State East Division to take third place.
On Wednesday, Glendale improved to 10-6.
While the team's success is certainly newsworthy, I think even more pertinent is the unit's make-up.
Glendale's 15-woman squad consists of seven area players: Burroughs' Caitlyn Pentland, Melissa Garcia, Paula Galicia and Brooke Radcliffe, Crescenta Valley's Halia Kekahuna, Glendale's Sylvia Vartazarian and Providence's Fabi Jimenez.
Though Weiss isn't local, both his assistant coaches are in Glendale High graduate Ron Arevalo and current Burroughs coach Vicky Oganyan.
Nine of the 18 members of the Glendale Community College women's basketball team are from the area, meaning high schools from the cities of Burbank, Glendale, La Cañada and La Crescenta.
At this point, you may ask why any of this matters?
Glendale Community College was founded in 1927 to serve area students with its first campus located at Glendale High. For the next 43 years, the institution was part of the Glendale Unified School District and only broke away to form its district in 1970.
It was built to serve area students. The latest demographic from 2016 shows that 39% (899) of the 2,334 freshmen admitted to GCC came from GUSD campuses and 51% hailed from area schools.
Those numbers should be reflected in the student-athlete population, but don't.
If you follow GCC athletics, the women's basketball team's 50% ratio is groundbreaking.
Off the rosters listed on the GCC website, no fall sport boasted a 50% clip.
While women's volleyball was pretty close at 46%, all other sports were at 25% or less with women's cross-country and golf totaling one athlete per squad.
From the previous spring, men's tennis was the best at 36% or four out of 11. Softball and men's golf had the lowest total numbers of two athletes each.
Even women's basketball is an outlier compared to its male counterpart as the nine-player men's hoops squad featured one former area star in Burroughs' Steven Hubbell.
I'm just wondering if sooner or later someone from within Glendale Community College will ask an important question: Why are so many area athletes not attending and playing at GCC?
On the same day the GCC women triumphed, former Burroughs softball coach Doug Nicol tweeted out a team photo of the Pasadena City College softball team that featured two of his former players in Alise Archuleta and Amanda Flores.
Last season, PCC boasted seven area players (five more than GCC) and enjoyed a banner year in which it won 25 games and advanced to the postseason for the first time in 11 seasons.
The school even hosted a signing day in late November in which its feature athlete was Hoover High alumna Karina Moreno. The shortstop set the Lancers' single-season (48) and career (84) records in runs and inked with Marymount California University.
On the other side of the diamond, the generally downtrodden PCC baseball squad enjoyed its own renaissance with four area players, only two less than GCC.
This past season, the GCC women's soccer team struggled to a one-win campaign, while Pasadena enjoyed a strong season with six area players that would have proven invaluable to the Vaqueros.
In men's soccer, GCC's 28-man roster featured six area athletes, only two more than Pasadena, whose leading scorer was former Glendale High standout Pablo Buenrostro. Did I mention 2017 All-Area Player of the Year Romio Sislian of Hoover also plays for the Lancers?
Even in community college football, two former area high school standouts earned SCFA American Division second-team honors in GCC punter Mikey Selsor (La Cañada) and PCC wide receiver Forest Fajardo (Burbank).
Fajardo was one of five area players on the Pasadena roster, which included running backs coach Richard Broussard (Burbank), who is now at the helm at Village Christian.
Glendale, led by former Burbank High All-Foothill League standout John Rome, only touted four more area athletes.
While athletic enrollments ebb and flow and often change with coaches, this is a trend that deserves to be observed.
As for the Vaqueros women's basketball team, congratulations for putting the "community" in Glendale Community College.
---