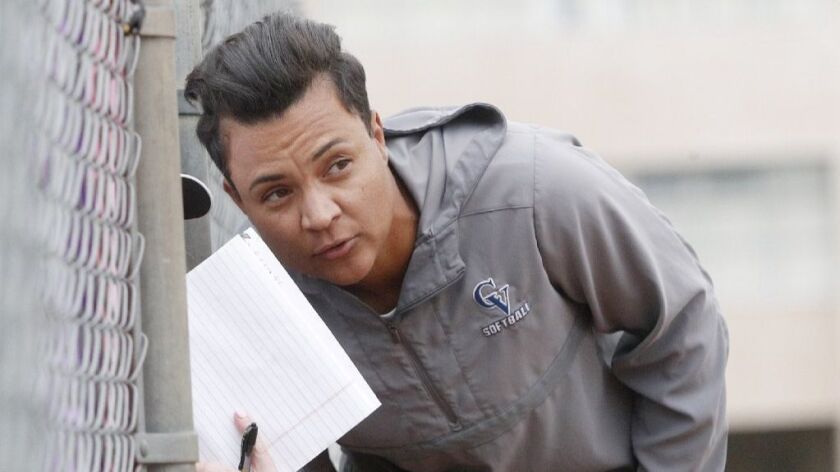 POMONA — When the CIF Southern Section Division III semifinal softball games got underway Tuesday, there was just one top-four seed remaining.
That team was Crescenta Valley, the No. 1 squad in the tournament.
In a quest to advance to the championship game, the contest between the Falcons and host Diamond Ranch would have to be decided in extra innings in an epic battle.
Behind a strong performance from sophomore pitcher Dee Dee Hernandez, Crescenta Valley pulled out the victory, 3-2, in 12 innings to advance to the championship.
"This is probably the best game I've ever been a part of with anything that I've ever done," Falcons coach Amanda Peek said. "It was just a dog fight and we were just able to pull it out."
Crescenta Valley will look to win its first crown since 1986 under former coach Dan Berry.
The Falcons (26-5-1) will take on West Ranch in the Division III title game Friday or Saturday at Deanna Manning Stadium at Colonel Bill Barber Park in Irvine. West Ranch (18-7) will be making its first title appearance after beating Long Beach Wilson, 9-4, in its semifinal.
After falling behind in the second inning, 1-0, the Falcons, the three-time Pacific League champions, fought back to take a 2-1 lead in the third. But the Panthers (14-14-3) tied the score at 2 in the third.
Hernandez, the reigning All-Area Softball Player of the Year who struck out six and allowed five hits over 12 innings, retired the next 17 straight batters to keep Diamond Ranch (No. 3 in Hacienda League) off the board. She also got out of a bases-loaded jam in the 10th.
At the plate, Hernandez was four for six.
"We are just 11 strong, that's how our team is" Peek said. "This is what they have worked very hard for and all that work is paying off."
---