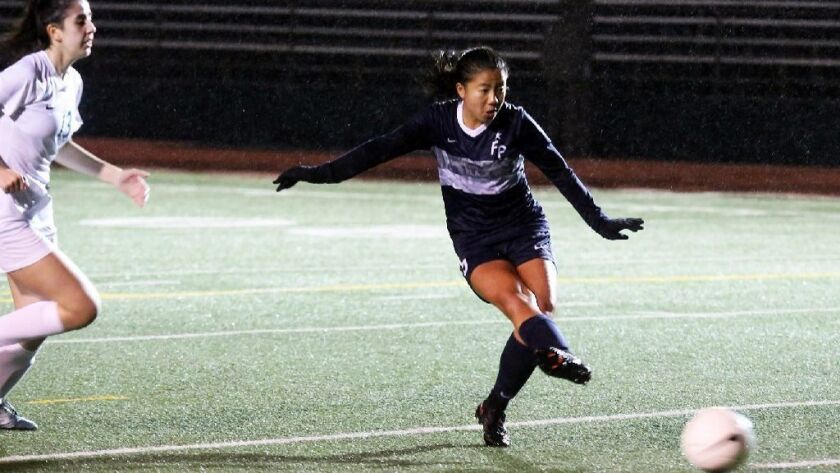 LA CAÑADA FLINTRIDGE — For the past week, the Flintridge Prep girls' soccer team has been tested in myriad of circumstances.
From the loss of one of their top players for the remainder of the season to playing in some bizarre weather conditions, the Rebels have pressed on in their quest to win a second straight CIF Southern Section championship.
After learning it will be without standout senior forward Helen Schaefer, who recently suffered a torn right anterior cruciate ligament, Flintridge Prep can still draw from its surplus of talent and championship pedigree.
Behind two goals and one assist apiece from Caitlin Fong and Mikaela Celeste, Flintridge Prep posted a 4-2 Prep League home win against Westridge on Monday at St. Francis High's Friedman Field.
Flintridge Prep (18-0-1, 8-0 in league) also received two assists from Mckenna Dominguez in a match that began in steady rain.
Fong and Celeste, both whom received All-Area nods after helping Flintridge Prep win the CIF Southern Section Division III championship last season, both scored a goal in each half to help turn back Westridge (4-4-2, 2-2-1).
Schaefer, who picked up All-Area honors last season, led the Rebels with an eye-popping 41 goals and 15 assists for 97 points before sustaining her injury Jan. 8 against Westridge.
"Helen is a great goal scorer," said Flintridge Prep coach Esteban Chavez, whose team is ranked No. 1 in Division II. "We definitely miss her. We miss her scoring goals and we miss her leadership. She's heart broken.
"This program has had that consistency for a long time. There's that commitment level and the way we train. That consistency can translate into goals. We have experience and are technically sound."
The Rebels have tallied 145 goals this season. The record for most goals in a season in CIF Southern Section history is 177, set by Lancaster Desert Christian during the 2007-08 season.
Fong and Celeste took care of business in helping the Rebels win their 23rd straight league match.
Westridge opened the scoring in the sixth minute, when a 35-yard shot by N-Dea Goodwin was initially stopped by Flintridge Prep goalkeeper Libby Penn. Penn made the save, but the ball deflected off Penn and into the net.
Flintridge Prep responded about six minutes later on a goal by Fong off an assist from Dominguez."
Celeste made it 2-1 when she took a pass from Domnguez and beat Westridge goalkeeper Ava Ferrante in the 17th minute.
Goodwin tied it at 2 off a scramble in front of the net off a corner kick in the 52nd minute.
Fong gave the Rebels a 3-2 lead in the 56th minute, when a direct kick by Celeste was stopped by Ferrante before Fong scored off the rebound.
"It was important to get that third goal after we had some earlier opportunities," Fong said. "The key was being able to stay patient and we have a team that's known for that."
Celeste closed out the scoring in the 70th minute off a pass from Fong.
"It's definitely a huge loss not having Helen and she's such a big part of the team," Celeste said. "We like the fact that we have people who can step up their games when needed.
"We're finding out what work best for us right now. We have high goals set."
Twitter: @TCNCharlesRich
---