Glendale Community College baseball racks up Western State Conference awards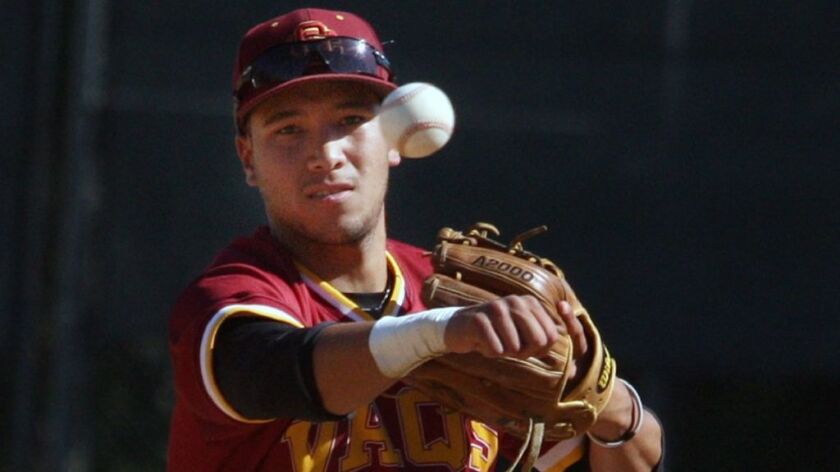 Though the Glendale Community College baseball team did not earn any of the three top Western State Conference East Division awards handed out, the Vaqueros still received plenty of accolades.
Glendale was awarded five all-conference first-team accolades, four second-team selections and an infield full of gold gloves that constituted four of the six defensive awards merited by the squad.
This past season, Glendale finished with a 33-10 record and a 16-4 mark within the conference to take second behind College of the Canyons.
The Vaqueros were defeated by No. 5 seed El Camino, 2-1, in the CCCAA Southern California Regional round on May 6. Glendale's series was the only one within the state to feature two 30-win squads.
Off that team, Glendale has quite a few special players, including Bruno Teramoto.
The red-shirt sophomore shorstop was a unanimous pick to the first team and as a gold glover.
Teramoto batted .377 with a team-leading 42 runs batted in, 25 runs, 13 doubles, five home runs and a team-best 16 stolen bases.
"I've been here three years and this is my last year, so getting those rewards means a lot to me," said Teramoto, a native of Brazil. "I've been putting in work a lot and it just shows with the results. I'm surprised and excited."
Teramoto was part of an infield of gold glovers that consisted of unanimous selections in first baseman Mondo Rodriguez, shortstop Grant Mona and third baseman Frank Garriola.
"I have to tip my cap to infield coach Sergio Plasencia," Glendale Coach Chris Cicuto said. "Our entire infield won a golden glove. Coach [Alex] Kocol mentored him into his abilities and when Sergio played for us, he won the Rawlings Gold Glove award back in 2013. So, I'm not surprised."
Rodriguez earned a first-team conference nod after batting .297 with 35 hits, 32 runs, 30 RBI, seven doubles and five home runs.
"Mondo is one of those guys who got better and better," Cicuto said. "His bat improved and his glove was one of the best around."
Outfielder Cristian Montes was Glendale's third and final position player to be named to the conference's first team.
Montes also won a gold glove and led the Vaqueros in batting average (.450) and added 54 hits, 31 RBI, 30 runs, 12 doubles and 14 stolen bases.
"He's a great player and a leader out there," Cicuto said. "He had a few schools looking at him, including a couple in the Big West. Overall, he was our best offensive player and I think he should be a candidate for state and All-American awards."
Glendale boasted two more first-team selections in sophomore pitchers James Giambalvo and Angel Lerma.
Giambalvo earned his selection after the reliever finished with a 1.54 earned-run average in 23 appearances and 45 innings in which he posted a 3-2 mark with eight saves. Giambalvo also struck out 38 versus walking eight.
"Honestly, it's exciting, I'll say that. It feels good to win," Giambalvo said. "To me, it's a short step and a short goal accomplished on my way to the next level. I just aimed to do the best I could."
Lerma was Glendale's most reliable starter as the right-hander posted a 6-0 record through 14 appearances and 10 starts with a 2.78 ERA garnered over a team-leading 64 2/3 innings pitched. Lerma fanned 32, but also walked 20.
"Angel pitched well for us, particularly when we needed him to," Cicuto said. 'He had a rehab assignment last year and he was an outstanding relief guy. He has some Division II opportunities out there and it will be neat to have him sign."
Glendale added four second-teamers in infielders Garriola (.382 batting average and team-leading 58 hits, along with 41 runs and 33 RBI) and Mona (26 runs and 21 RBI), utlitity player NJ Omoruyi (.322 average and 14 runs) and pitcher Marco Quintanar (5-2, 4.06 ERA in 51 innings), while outfielder John Malott (.342 average and team-leading 43 runs, 54 hits and 31 RBI) won his team's final gold glove.
Glendale's Jason Whaley (3-1 with 3.19 ERA in 42.1 innings), Sergio Rey (17 runs) and Max DeAmicis (22 strikeouts in 28 1/3 innings) were all named honorable mentions.
College of the Canyons swept the top prizes as Cole Klescz was the Western State Conference East Division Player of the Year, Justin Dehn was the pitcher of the year and Chris Cota was the coach of the year.
Twitter: @campadresports
---