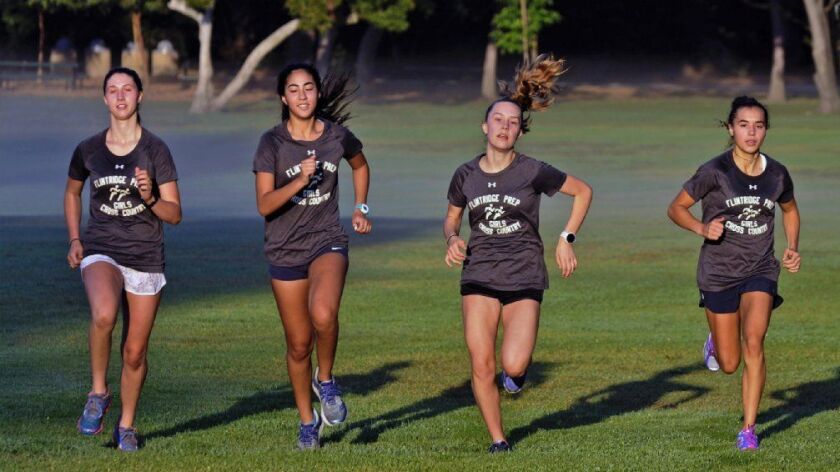 Expectations have been set, team spots have all nearly been decided and now what remains is for the girls' cross-country season to begin for the Crescenta Valley High, Flintridge Prep, Flintridge Sacred Heart Academy, Glendale, Hoover and St. Monica Academy programs.
No area team — boys or girls — shined brighter than the Flintridge Prep girls' team last season in what was truly an amazing 2016 campaign.
The Rebels upended archrival Mayfield Senior for the Prep League championship, blasted Pacifica Christian for the CIF Southern Section Division V crown and lastly toppled Francis Parker, 51-170, for the CIF State Division V title at Woodward Park in Fresno.
The Rebels' team time of 95 minutes, 16 seconds set a record for Division V, while the margin of victory was the greatest at the state level for any girls' team across any division.
Since that fateful day in November, the Rebels have undergone many changes with the graduation of Oklahoma University-bound Natalie O'Brien and senior Maia Cohen along with the retirement of co-coach Mike Roffina.
Even the team's remaining co-coach Jill Riehl will be missing from the sidelines as she welcomed a child in August and is out indefinitely.
The good news is that Flintridge Prep returns five of seven runners from last year, led by senior Sophie Gitlin, who finished 10th at state last season. Gitlin is one of two seniors back along with Gabriela Bennett. Among the juniors, league champion Sasha Codiga returns along with Jenna Mijares and Caroline Wreszin.
Other runners looking to break through include juniors Haley Allen and Hope Codiga.
While Riehl is out, assistant coach Beth Pattinelli (mother of boys' standout Evan Pattinelli) is in charge and doesn't anticipate any bumps heading into the season.
"We're only as strong as our weakest runners," Pattinelli said. "The girls are really motivated by each other and when one girl has a race less than what she hoped for, there's another girl right there that she's encouraging to pass her right by. The girls do care about each other doing well and the success of the team comes from their support of each other."
Crescenta Valley was an interesting position last season.
The Falcons finished third in the Pacific League, but were never a title contender. The squad packed well, but its first runner finished outside the top 10 at league finals.
Both aspects may change this season as the Falcons welcomed a late transfer in Bellarmine-Jefferson senior Caitlyn Couch.
Couch was a Division V standout, having won nine straight league meets (Camino Real and Del Rey leagues) and three consecutive league titles.
"I think we have a good group of girls and it's only going to get better with Caitlyn," Crescenta Valley coach Mark Evans said. "She's ready, healthy and running well."
Couch will miss the first league meet and Crescenta Valley's Staub-Barnes Invitational as her transfer sit-out period lasts until Oct. 2.
In the meanwhile, Evans returns most of last year's squad in senior Naila Ortiz, juniors Melissa Owens and Sojeong Kang and sophomore Sophia Atin.
Others to watch for include Gabriela Borraez, Samantha Moore and converted track sprinter Izzy Lieberman.
Up the hill at Flintridge Sacred Heart, the numbers have risen to around 35 for coach Kirk Nishiyama's program.
Last season, the Tologs took their lumps to the tune of finishing fifth in the revamped and even tougher Mission League.
If there's a silver lining, it's that last year's FSHA squad was young, as six of seven runners are back.
"What's nice this year is that we're deeper than we've been in a few years," Nishiyama said. "We have a pool of about 12 girls who will compete for varsity. A bonus from that is that will make us more competitive, as well."
Junior Samantha Covey finished 10th at league finals and returns as does senior Bobbie Byrne and sophomore Lauren Nettels, who Nishiyama believes can compete for the team's top spot.
Freshman Joshlyn Aguirre is a newcomer to watch.
At Glendale High, longtime coach Bob Bailey has a trio of runners he can rely on.
Junior Vanneza Venzor was the Nitros' No. 1 last season and will likely hold onto that position.
Sophomore Kaley Tien and junior Alisson Corvera will also probably finish second and third for Glendale, which clipped archrival Hoover by a point at last year's league finals.
"Vanneza made great strides in her running ability last season and now that she knows she is good, Vanneza is ready to push herself this year," Bailey said. "Alisson had an injury-filled cross-country season, but she has looked good this summer and is ready to go and Kaley is growing as a varsity runner after her first season last year."
Hoover and its seven-girl squad will be powered by sophomores Gabby Quinones and Lia Yaghisaei.
Though Quinones finished 21st at the league finals last season, she showed flashes of brilliance, including when she ran a time of 19 minutes, 28.8 seconds at Arcadia County Park at the second Pacific League meet. The mark broke the freshman course record of 19:37 set in 1997 by Hoover's greatest runner, Anita Siraki.
The only thing holding back Quinones is, according to Hoover coach Jack Sallakian, she spent most of the summer in Mexico and didn't have much time to train.
"For Lia and Gabby, I'm hoping they finish in the top 14 in league," Sallakian said. "They both can do it and I want them to both be pushing for a CIF spot. I think they can make a big splash, but right now it's baby steps."
St. Monica introduced a new coach in Dennis Slavin, who will be assisted by Chris Plance.
It's not likely the Crusaders will field a full team, as they'll run four or five girls throughout the season in invitationals.
"It's unfortunate because of the size of the program that we don't have year-round training with fall and spring," Slavin said. "So, right now we have to get our runners up to speed in the summer months without injury. With the new athletes it's about introducing them to the sport, keeping them healthy and making sure they improve."
Slavin spoke highly of senior Margaret Short and junior Kristina Turicchi.
St. Monica will compete as a freelance squad and has seven invitationals on its schedule.
---