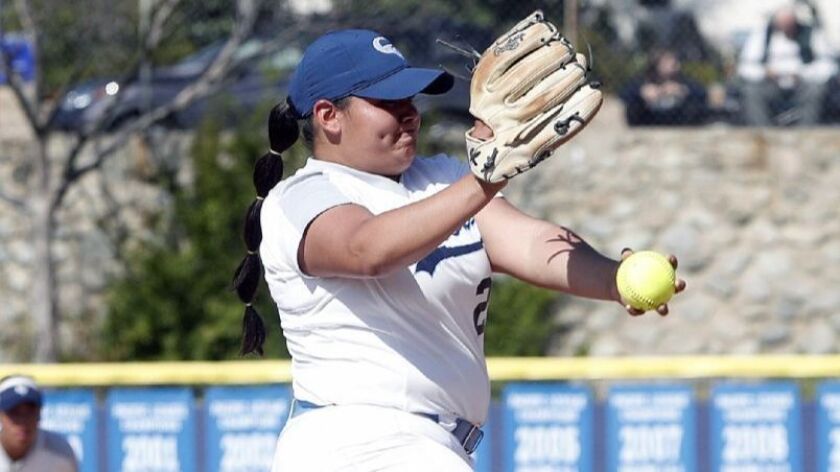 Nearly two months after helping the Crescenta Valley High softball team win a CIF Southern Section Division III championship, sophomore pitcher Dee Dee Hernandez continues to be showered with accolades.
After being selected the Pacific League Pitcher of the Year and CIF Southern Section Division III Player of the Year, Hernandez picked up some more state and national recognition as she was recently named to the Cal-Hi Sports All-State Softball Underclassmen first team and honored as a MaxPreps National High School Underclass All-American.
Hernandez, a left-hander, went 23-5 with a 0.98 earned-run average in 28 appearances. She struck out 164 and walked 20 in 158 innings. At the plate, Hernandez proved to be a juggernaut, as she hit .602 (53 for 88) with three home runs, 17 doubles, 25 runs, 42 runs batted in and a .943 slugging percentage for the Pacific League-champion Falcons (27-5-1, 14-0 in league). She recorded a 1.616 on-base plus slugging percentage.
"It means a lot when you can receive recognition like this because there are so many great softball players out there," Hernandez said. "I think I gained a lot of experience from last year and that helped me going into this year.
"It's about going out there and learning more. You just have to keep going."
Hernandez, a member of the Mexican National Team, tossed a no-hitter to help Crescenta Valley record a 3-0 victory against West Ranch in the division's championship contest in Irvine in May. It marked the first CIF crown for Crescenta Valley since 1986.
"Dee Dee is such a great athlete overall and we are very proud of her," said Crescenta Valley coach Amanda Peek, who was named the CIF Division III Coach of the Year. "The thing with Dee Dee is that she'll just keep on going and she's nowhere near her peak. Things are just beginning for her with two more years of high school and then heading off to college for four years.
"She's not afraid to go up against anybody. She proved that all year long."
Hernandez went 21-2 with a 0.42 earned-run average and 162 strikeouts to just four walks in 131 1/3 innings during her freshman campaign with the Falcons.
---