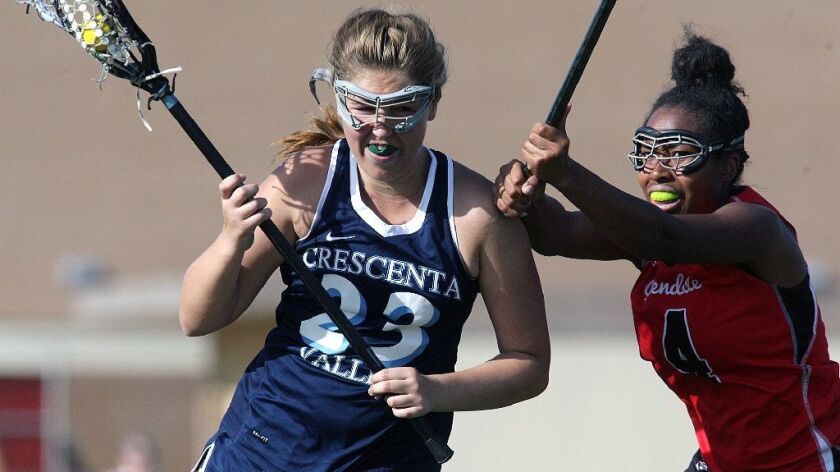 In winning its first Pacific League championship in the program's three-year history, it appeared the Crescenta Valley High girls' lacrosse team might have a player earn one of the league's top honors.
The Falcons went 14-5, 4-0 in league and reached the first round of the United States Southern Section North playoffs with an array of bona fide scorers and defenders.
While Crescenta Valley coach Boz Crowther would have liked for one of his players to have been selected the league's offensive or defensive player of the year, it wasn't meant to be.
"We have some really excellent players, but there are very good players on the other teams in the league," Crowther said. "The way it is with our team is that we put the team before individual accomplishments.
"We have six or seven players scoring at least one goal a game and we regularly got some very good defensive efforts, so we know what our players can do. On some of the other teams, they have one player account for about 45 % of their goals."
West Ranch's Audra Kim was named the league's offensive player of the year and Westridge's Isabelle Peng was named defensive player of the year.
Still, Crescenta Valley had 10 players pick up all-league honors. Glendale (12-7, 2-2 for third place) had seven athletes earn recognition.
Abby Sheklow, Leah Crowther, Kimmie Foster and Madeline Heeg of Crescenta Valley were bestowed with first-team recognition, while Glendale's Rachel Fong, Erika Lopez and Xcaret Salvador also received first-team nods.
Sheklow, a senior attacker, finished with 53 goals and 17 assists.
"You knew going into each game that the other team would be keying in on Abby," Boz Crowther said. "She was a great playmaker and could always be counted on to score big goals."
Crowther, a senior attacker, contributed 32 goals and 14 assists to form an impressive one-two punch with Sheklow.
"Leah controlled the midfield circle on draws and provided a lot of key goals," said Crowther, who is Leah's father. "She's come back and helped out in the midfield and on defense."
Foster registered one goal and two assists while serving as the linchpin for the Falcons on defense.
"I think Kimmie is one of the very best players who go end to end in our league," Crowther said. "She had some of the toughest assignments, which included marking the other team's top scorers."
Heeg had 27 goals and three assists as a junior midfielder.
"She was always going hard up and down the field and making the big plays and she solidified our transition game," Crowther said.
Glendale, which also qualified for the postseason, received top-notch performances throughout the campaign from Fong, Lopez and Salvador.
Fong, a sophomore, made a smooth transition from defender to midfielder. She finished with 83 goals and 18 assists.
"I think she's the best athlete in our league," said Glendale Coach Joe Campbell, who was named the league's coach of the year. "She learned how to play a new position so well and she's a very intelligent player."
Lopez, a junior midfielder/attacker, collected 60 goals and 12 assists.
"She's great at getting to the net and scoring," Campbell said. "She's a very dynamic player and she showed her versatility in being able to play multiple positions."
Salvador, a sophomore midfielder, notched 45 goals and 20 assists.
"Xcaret brought plenty of energy to our team and you could feel it," Campbell said. "She's an instinctive player with great vision."
Crescenta Valley's Sabrina White, Lexi Ballard, Lizzie Hales, Peyton Marshall and Sierra Marshall were named to the second team, along with Glendale's Jasmin Contreras, Stephanie Herrera and Ashley Iglesias.
White, a senior goalkeeper, had 173 saves and a 7.33 goals-against average. Ballard. a sophomore attacker, finished with 16 goals and 11 assists. Hales, a sophomore midfielder, recorded 16 goals and two assists. Peyton Marshall, a sophomore attacker, contributed 16 goals and nine assists and Sierra Marshall flourished as a senior defender.
Contreras, a sophomore midfielder, contributed six goals and 10 draw controls. Herrera, a junior defender, had five goals and 18 ground balls. Iglesias, a senior defender, contributed two goals and 30 ground balls.
Audrey White of Crescenta Valley and Glendale's Aura Vivar received honorable mention.
White, a sophomore, further stabilized the Falcons on defense. Vivar, a senior attacker, collected 20 goals and three assists.
Twitter: @TCNCharlesRich
---