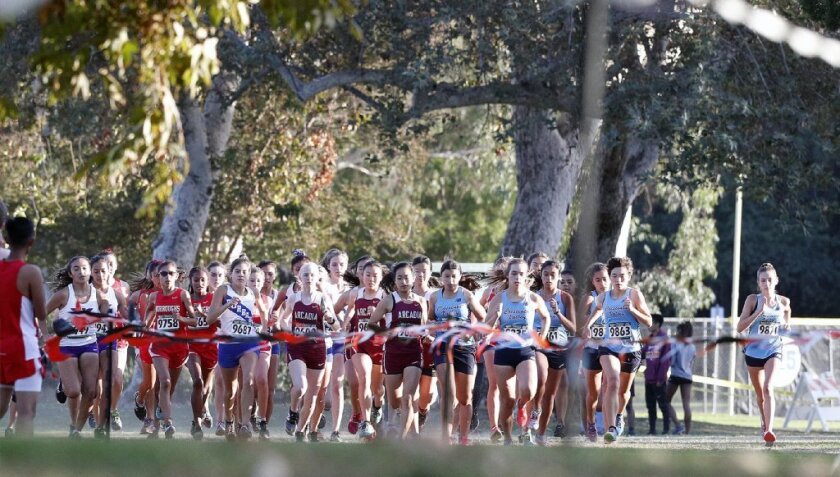 ARCADIA — Things probably couldn't be going any better for the upstart Burbank High girls' cross-country team.
After finishing fourth in the talented Pacific League last season, Burbank put a plan in place to make significant strides and seriously contend for the league championship this season.
Backed by another stellar performance during the league's second meet Thursday at Arcadia County Park, the Bulldogs proved to be all business in their quest for a title.
Burbank received five top-13 finishes to register 36 points to capture the three-mile race and a share of the league championship in convincing fashion Thursday.
In the boys' race, Crescenta Valley ran to victory, clinching a share of the league championship.
"They really wanted it," Burbank coach Kathryn Nelson said. "We've talked a lot about what it takes to win it and they put in the work by running in the Verdugo Mountains since the summer.
"It's such a tough league and you have great teams like Arcadia and Crescenta Valley in the mix."
Burbank, ranked No. 10 in CIF Southern Section Division I, won the first meet Sept. 20 at Crescenta Valley Park. The Bulldogs can win the league crown outright at the league finals Nov. 1 at Crescenta Valley Park.
Burbank was paced by Shalom Mejia, who finished third in 18 minutes, 05.0 seconds on the mostly grass course. The Bulldogs received a fourth-place effort from Sol Fernandez in 18:12.3. Also scoring for Burbank was Mckynzee Kelley (seventh; 18:33.8), Jamie Levin (ninth; 18:35.9) and Lydia Forsyth (13th; 18:45.5) among the event's 46 runners.
Burroughs took second with 59 points, followed by Crescenta Valley (60), Arcadia (69), Hoover (168), Glendale (169) and Pasadena (193).
Arcadia's Joyce Wu won her second league race in a row after clocking 17:39.1 and Crescenta Valley's Sophia Atin finished runner-up again after turning in a mark of 17:42.7.
Burroughs had five top-20 finishes. Sophia Navarro was sixth (18:19.6) for the Indians, followed by Ceci Whitney (eighth; 18:35.2), Jordan Guzman (11th; 18:42.6), Lakely Nealis (14th; 18:53.2) and Julianna Navarro (20th; 19:19.6).
"I thought they ran pretty solidly," Burroughs coach John Peebles said. "They are improving each time out."
Atin paced the Falcons, whose top five runners finished in the top 24.
"It's a fun course to run, a little different then most others," Atin said. "Without any hills, you can focus on sticking with the pack.
"I'm tired of finishing second and I'm going to try very hard to win in the next [league] race."
Also scoring for the Falcons were Samantha Moore (fifth; 18:14.9), Gabriela Borraez (10th; 18:41), Ily Nelson (19th; 19:17.5) and Reese Sion (24th; 19:35.5).
Hoover's top runner was Gabriela Quinones (28th; 20:04.2). Glendale was led by Vanneza Venzor (31st; 20:40.4).
In the boys' competition, Crescenta Valley clinched its title share with a second straight first-place finish. The Falcons, who won the league title last season, collected 36 points by virtue of five top-12 performances.
Dylan Wilbur of Crescenta Valley, ranked No. 5 in Division I, won for the second straight league meet. Wilbur finished in 14:46.6 and teammate Manan Vats was second (14:52.9). The Falcons received a 10th-place finish from Grant Lauterback (15:13), an 11th-place run from Erik Faeustle (15:14.8) and a 12th-place effort from Evan Doloszycki (15:25.6).
"It's a team that's got such a great work ethic," Crescenta Valley coach Mark Evans said. "We have such talent runners with Dylan and Manan and it goes right on down with other top runners we have. There's a lot of camaraderie.
"We'd like to win league again and we know we have to keep putting in the work and stay sharp."
Wilbur looked for a quick start on the mostly flat course.
"You want to get out good early and I was able to do that," Wilbur said. "You want to find a way to be able to control the race and I needed to have confidence in myself."
Arcadia, ninth in Division I, took second with 45 points. Burbank finished third (77 points), followed by Burroughs (97), Glendale (104), Pasadena (176) and Hoover (193).
Raymond Berrellez of Burroughs and Glendale's Arvin Sales shined with top-four efforts. Berrellez took third in 14:54.6 and Sales was fourth in a career-best 14:56 in the field of 49.
Burbank was paced by a fifth-place finish from Andres Leon (15:00.2), who was followed by Dayne Ellis (16th; 15:38.5), Victor Goli (17th; 15:39.4), Tadeh Shanazari (19th; 15:47.8) and Anthony Chiaravalle (20th; 15:49.5).
In addition for Burroughs, Carlos Ponce took 21st in 15:49.6. He was followed by Robert McGraham (23rd; 15:52.1), Trevor Villagran (24th; 16:02.3) and Johnny Padungyothee (26th; 16:14.4).
Chadi Saklaway took 13th (15:27.1) for Glendale. Hoover's top finisher was Omer Abdelrahim, who placed 33rd in 16:42.7.
Twitter: @TCNCharlesRich
---