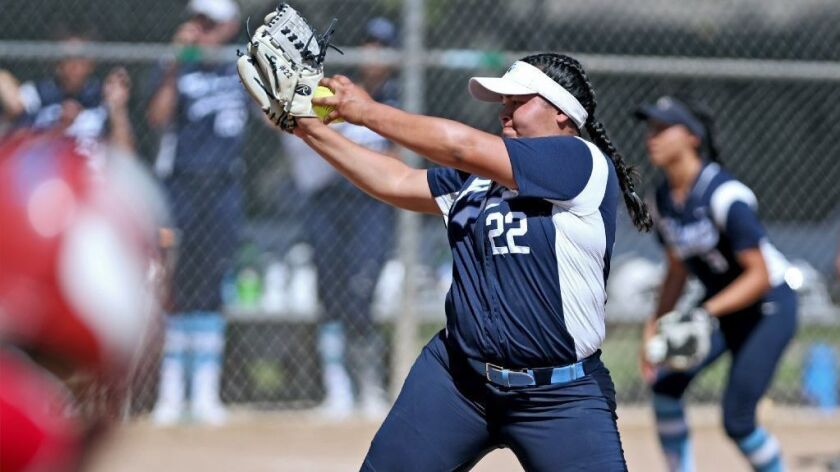 A noteworthy change occurred this season.
Normally, the softball season begins in late February or early March. However, things switched up this year when the CIF Southern Section office moved the spring season up a couple of weeks, resulting in teams having to get acclimated to competing earlier.
While most of the squads have had games and practices postponed because of a series of recent rain storms, the final pieces appear to be in place in terms of forming lineups and more.
Crescenta Valley will look to repeat as Pacific League champions and upstart Flintridge Prep will try to build off of last season's playoff success. Glendale, Flintridge Sacred Heart Academy, Hoover and Holy Family will attempt to gain traction after missing the playoffs a season ago.
Here is a closer look at the teams.
CRESCENTA VALLEY
Once again, Crescenta Valley will likely be the prohibitive favorite to capture the Pacific League title. The Falcons have won two straight league championships under coach Amanda Peek, a former All-Area Softball Coach of the Year who guided the Falcons to a mark of 25-3, 13-1 in league and an appearance in the second round of the CIF Southern Section Division III playoffs as the second seed.
There's more good news for Crescenta Valley, which will bring back standout sophomore pitcher Dee Dee Hernandez and senior infielder Alyssa Hernandez, along with a group of key starting position players.
Dee Dee Hernandez, a left-hander who was named the All-Area Softball Player of the Year, finished 21-2 with a sparkling 0.42 earned-run average. She struck out 162 and walked just four over 131 1/3 innings. At the plate, Hernandez hit .556 with 45 runs batted in, 19 doubles, three home runs and scored 10 runs.
Alyssa Hernandez, who picked up All-Area honors, batted .548 and scored 46 runs. She drove in 37 runs and had 26 extra-base hits.
They will be joined by senior outfielder Kristy Taix (.564 batting average in 2018), senior infielder Peyton Hause (29 RBI) and junior infielder Maddie De Leon (eight home runs).
"It's a little bit different starting the season earlier because most of the players are coming back from travel ball," Peek said. "It's just about getting people together and going over different things.
"We'll worry about where we are toward the end of the season. Until then, we are a work in progress. We'll be pushing hard to win league again and try to get some other things accomplished. We have a lot of excellent players."
FLINTRIDGE PREP
A season ago, Flintridge Prep was one of the youngest teams in the area. A lack of experience didn't seem to faze the Rebels, who had nine freshmen. Flintridge Prep went 11-8, 6-6 in the Prep League for fourth place before making a charge in the CIF Southern Section Division VII playoffs.
Under coach Julie Mejia, Flintridge Prep reached the second round of the playoffs as a wild-card entry.
Now, it appears as though the Rebels will turn to the much-needed experience they acquired from last season and continue to stay hungry.
"I think what we were able to do in the playoffs last year will definitely help us," Mejia said. "The players now have a much better idea of what they need to do in terms of becoming a goal-oriented team.The interest level is so much higher and we want to be in position to win league and go far again in the playoffs."
It's quite possible that could happen for Flintridge Prep, which will bring back senior infielder/outfielder Melissa Grande (.517 batting average), senior infielder Libby Penn (11 stolen bases), sophomore catcher Emma Stellar (39 RBI) and sophomore infielder Olivia Stevens (17 runs).
GLENDALE
Glendale missed the playoffs last season after qualifying in 2017.
Glendale coach Chris Funaro and the Nitros would like to be a part of the playoff picture come May. Glendale will feature a group of mostly juniors and seniors, perhaps putting it in position to play beyond the regular season.
"It will be better to have that kind of leadership and experience," said Funaro, whose team finished 14-8-1, 7-7 in the Pacific League for fifth place. "The key will be using it to our advantage and trying to move up a few spots in league.
"We'll be a much better hitting team and I think we'll improve with our defense. Teams will try to make a run at Crescenta Valley in league, plus we'll see about Burroughs, Burbank and Arcadia. I think we can stack up with most of those teams."
The Nitros will turn to senior pitcher Aurora Funaro, a right-hander and reigning All-Area selection who went 14-8 and struck out 154 in 105 2/3 innings in 2018. She will be joined by senior infielder Viviana Bocanegra, senior catcher Mona Perez and junior infielders Jaimie Harris, Alyssa Wilson and Kylie Lousararian.
FLINTRIDGE SACRED HEART ACADEMY
It was a difficult season for the Tologs last year after suffering several key injuries that played a role in them finishing 11-13, 1-7 in the Mission League for fifth place.
However, things could be looking up for the Tologs. The Tologs will spend the next two seasons in the Sunshine League, which features Louisville, Notre Dame Academy, Marymount and Immaculate Heart.
"We went through some things last year and it was hard to get going at times," Flintridge Sacred Heart coach Kirk Nishiyama said. "I think we'll be competitive and we'll have most of the team back. I think we'll be able to challenge for league."
The Tologs will count on senior infielder Amanda Ramirez, senior outfielder Amesie Noll and senior catcher/outfielder Julia Powers to provide leadership. They will be joined by junior infielder Cate Ziegler, junior outfielder Brynne Richardson and junior catcher/outfielder Sarah Peck.
Ziegler earned All-Area accolades after batting .390, to go along with a .538 on-base percentage.
HOOVER
Numbers will be down for the Tornadoes, who will carry 10 or 11 players. The low turnout won't give coach Rich Henning much opportunity to experiment with different lineups or provide versatility.
Still, Henning will chug along with the current roster.
"We are very inexperienced, so we'll see where we go," said Henning, whose squad went 4-20, 2-12 in the Pacific League to tie for sixth place with Pasadena and Muir last season. "We'll focus on development and I think we'll swing the bats pretty good."
The Tornadoes will bring back senior infielder Samantha Serrano, senior outfielder Catherine Villasenor and junior pitcher Alexis Figueroa.
HOLY FAMILY
Holy Family will have a new coach on board in Dave Lear, who served as an assistant last season for Greg Ziomek. Ziomek is now coaching the school's track and field team.
The Gaels, who missed the postseason after going 1-13, 0-10 in the Horizon League in 2018, will look to get back on track.
"We'll have 12 players and I already know most of them, so the transition won't be that hard," Lear said. "We have to go out there and learn how to automatically make the plays and get the key hits in order to be successful."
Holy Family will be led by senior pitcher Crystal Bonilla, sophomore pitcher Pollyanna Tucker and freshman infielder Haylie Zuno.
Twitter: @TCNCharlesRich
---