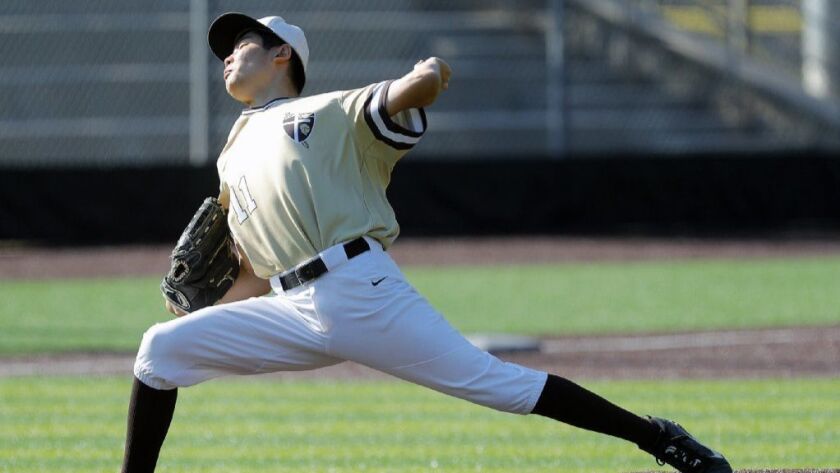 GLENDALE — Individual meetings were held once the regular season came to a close in the spring for the St. Francis High baseball team.
St. Francis coach Aaron Dorlarque and his assistants huddled with each member of the Golden Knights to help them search for a role they might be able to handle in the summer and perhaps into next season.
That approach has been a boon for the youthful Golden Knights, who are again participating this summer in the Valley Invitational Baseball League.
Dorlarque liked what we saw Wednesday, as St. Francis scored five runs in the first and second innings en route to a 14-5 home win against Canyon Country Canyon at the Glendale Sports Complex.
"It's not so much about the wins and losses, but how they can continue to develop at the plate and in the field," said Dorlarque, whose team finished 12-18, 5-13 for last place in the competitive Mission League last season. "The guys are stepping and and handling their roles very well. We have tried to put them in positions where they can be successful.
"We've seen development over the last month or so and it's something they can build on. It's about getting experience and being more confident within your role. That's what I like to see."
Canyon (1-13) scored two runs in the first inning before St. Francis (3-10) responded in its half of the inning.
Brendan Durfee had a run-scoring triple to cut the deficit to 2-1 before Quinn Deitch (four hits) tied the score at 2 with a RBI-single.
Deitch stole home on a double-steal attempt to make it 3-2. Kiko Robles followed with a run-scoring single to give the Golden Knights a 4-2 lead. Jack Costa capped the scoring in the inning with a RBI-single to center to make it 5-2.
In the second, a run-scoring single from Stephen Castro extended the lead to 6-2 and Isaac Phe had a bases-loaded double to right field to give St. Francis a 9-2 advantage. Later in the inning, Ryan Durfee had a sacrifice fly to center to give St. Francis a 10-2 lead.
"We're just trying to build a foundation within the team," said Brendan Durfee, who finished with three hits, three runs and two runs batted in. "I think we've been having good at-bats and a good approach at the plate and it showed today.
"I think everything added up nicely in being able to score five runs in each of the first two innings. A lot of good things just seemed to happen."
Canyon scored two runs in the third to pull to within 10-4.
St. Francis made it 11-4 in the the third on a run-scoring single by Deitch, who collected four singles, two runs, two stolen bases and two runs batted in.
Justin Hindi, Luke Crawshaw and Brendan Durfee each drove in a run in the fourth to give the Golden Knights a 14-4 cushion.
"We have a lot of guys who know how to hit the ball and take advantage of different opportunities," Dorlarque said. "I like where we are on offense."
The Cowboys plated a run in the fifth to wrap up the scoring.
St. Francis relief pitcher Ryan Rizzo threw the final two innings, striking out three.
---