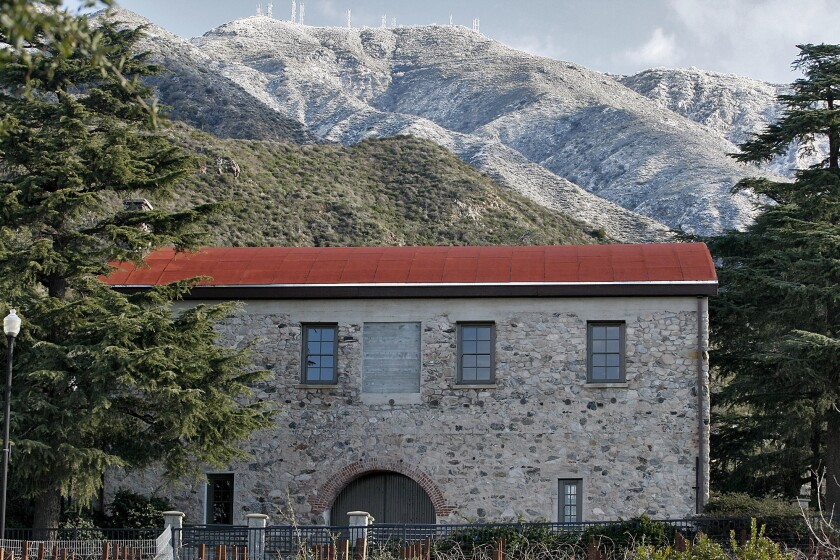 A roundup of community events in and around La Cañada Flintridge. To submit items, email carol.cormaci@latimes.com.
EVENTS
Thanksgiving Day 5K Run/Walk & Food Drive — Thursday, Nov. 28, 8:30 a.m. This longtime local tradition organized by the Community Center of La Cañada Flintridge begins and ends at Memorial Park, 1301 Foothill Blvd., La Cañada. For children 12 and under there is a Kids' Mile Run, a family fun event where parents are encouraged to run alongside their children (the kids must be registered, but the parents can accompany them at no extra charge). This run begins at 9:30 a.m., also at Memorial Park. The food drive is the largest one organized each year in the Foothills. Canned and nonperishable food is collected at the race and distributed during the holidays by Crescenta Valley Sheriff's Station personnel to more than 100 area families in need. To register for the race visit cclcf.org. Registration prior to the event is $40; at the park on the day of the event, $45.
Annual Holiday Book Sale — Saturday, Dec. 7, 10 a.m. to 4 p.m. Friends of the La Cañada Flintridge Library host this book sale in the library's lobby, 4545 Oakwood Ave., La Cañada. There will also be a music program and reception beginning at 2 p.m.
La Cañada Library to host La Cañada High School Art Show and Reception — Wednesday, Dec. 11, 3 to 5 p.m. La Cañada Library, 4545 Oakwood Ave.
Second annual Holiday Art Exhibit, Fair — Wednesday, Dec. 11, 4 to 6 p.m. In Council Rooms A and B at USC Verdugo Hills Hospital, 1812 Verdugo Blvd., Glendale. For more information call (818) 952-2226.
'Holiday at the Old Stone Barn' — Saturday, Dec. 14, 5:30 to 7:30 p.m. Deukmejian Wilderness Park, 3429 Markridge Road, Glendale, featuring a holiday craft table and performance by the Towne Singers. RSVPs are required; call (818) 548-3795.
PERFORMANCES
Crown City Ringers annual holiday concert, "Carol of the Bells" —Friday, Dec. 13, 7:30 p.m. Gamble Lounge at Pasadena Presbyterian Church, 585 E. Colorado Blvd., Pasadena. Admission is free.
Pasadena Symphony's 'Holiday Candlelight' — Saturday, Dec. 14 at 4 and 7 p.m. All Saints Church, 132 N. Euclid Ave., Pasadena. Special guests include David Lockington, conductor; Sarah Uriarte Berry, vocalist; Los Angeles Children's Chorus; the Donald Brinegar Singers and the L.A. Bronze Handbell Ensemble. Tickets start at $20 and can be purchased at pasadenasymphony-pops.org or by calling the box office at (626) 793-7172.
PUBLIC FORUM
Proposition 13 Remedy — Thursday, Dec. 5, 9:45 a.m. Sponsored by the League of Women Voters Pasadena Area, this forum will be held at the Women's City Club of Pasadena, 160 N. Oakland Ave., Pasadena. Immediate past president of the state League, Helen Hutchison, will give the background and details of the Schools and Communities First measure, a ballot initiative that aims to level the playing field for businesses that already pay their fair share and provides tax incentives to spur new investment in small businesses while protecting residential interests. An optional breakfast for $25 will be served at 9 a.m. is available by reservation; the deadline is Nov. 29. Reservations also are required for seating. The deadline is Dec. 3. For reservations and information call (626) 798-0965, or go to office@lwv-pa.org or lwv-pa.org.
CLASSES
Meditation Class — Fridays, noon to 1 p.m. This weekly meditation class, led by the Kadampa Meditation Center, is held in Room 4 at the Crescenta-Cañada Family YMCA, 1930 Foothill Blvd., La Cañada. No meditation experience is necessary, and all are welcome. The hour begins with guided meditation, followed by a teaching and then another meditation. Cost: free for YMCA of the Foothills members; $5 for nonmembers.
International Folk Dancing — Thursdays, 7:30 p.m. All are welcome to learn and do fun and beautiful dances from around the world every Thursday evening at the Community Center of La Cañada Flintridge, 4469 Chevy Chase Drive, La Cañada. Teaching level is adjusted to each evening's participants. The large dance room has a new floor and the ample parking is free. Each dancer's $5 pays for the class use of the facility. For more details, visit Foothill.Dance or contact JanRayman@charter.net or (818) 790-8523.
SENIORS
Pioneer Club/New Beginnings Club — Mondays at 11 a.m. Seniors who would like to lunch with others and perhaps enjoy a game of bingo or go on outings are invited to check out the Pioneer Club that meets the first and third Monday each month at Holy Redeemer Church, 2411 Montrose Ave., Montrose, or the New Beginnings Club that convenes at St. James the Less, 4625 Dunsmore Ave., La Crescenta each second and fourth Monday. For more information about the Pioneer Club, call Mary Mancuso at (818) 249-8454. To learn more about the New Beginnings Club call Gloria Pauly at (818) 248-2944.
---