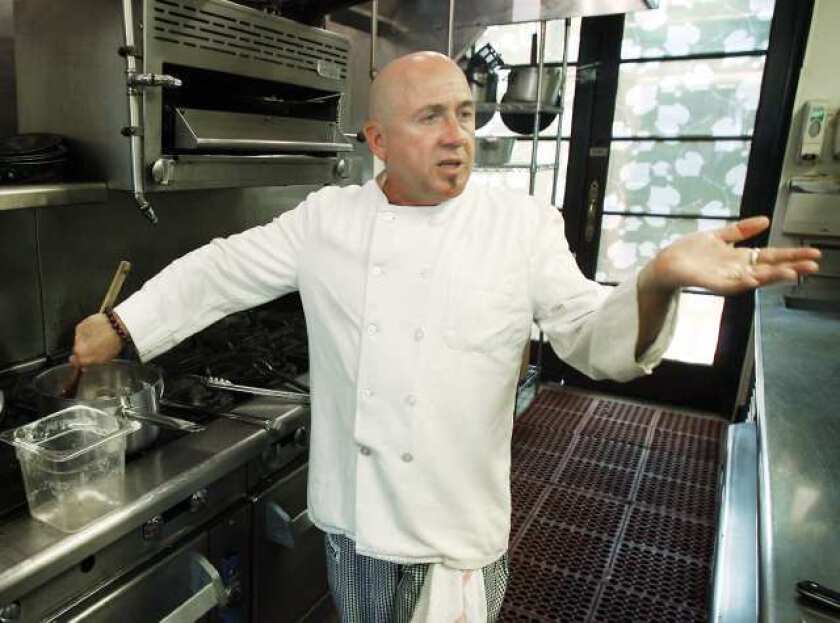 Unlike many of his chef brethren, Laurent Quenioux has not appeared on a single televised cooking show. To veterans of the L.A. dining scene, however, his name is no less familiar than the latest winner of 'Top Chef.' The French chef has warmed the bellies of adventurous diners with his unique pop-ups in Downtown L.A., as well his innovative cuisine at Bistro LQ, gaining a legion of followers almost as fanatic as reality TV junkies.
Recently, though, he's returned to the kitchen at Vertical Bistro in Pasadena, a place he now calls home.
Quenioux moved to Los Angeles from France thirty years ago and hasn't left the city since.
Formerly a resident of the Hollywood Hills, he now lives in South Pasadena . He feels at ease in Southern California's warm climate, and thrives in the heat of its kitchens. Having helmed Bistro K in the aughts, he's finally boomeranged back to the area.Quenioux describes this move as a result of disillusionment with his former base along with a renewed love of the San Gabriel Valley.
"Here [in Pasadena], people are casual, polite, beautiful, different. There's no lines, no traffic. People shake hands on the street. Totally not L.A."
Anyone familiar with chef Quenioux, however, would regard his cooking as anything but homely. "Grilled steak, at the steakhouse, for example — I hate it. It's so unexciting. Where is the flavor?"
The sold-out success of this summer's Sunday through Tuesday nights at Downtown L.A.'s Starry Kitchen, dubbed "LQ@SK," is indicative of a Bistro LQ audience which sorely misses its star. At the launch of LQ@SK, there was much buzz about tacos filled with escamoles, or ant larvae (to return at the end of the year). Diners at the latest series of LQ@SK nights ate scallops two ways (as tartar and sauteed) and kaffir consomme with sauteed foie gras and Dungeness crab.
While the avant garde style of Bistro K may have been a bit outlandish for mid-2000's Pasadena to swallow, Laurent is able to indulge the comfort-driven side of his split cooking personality given his appointment as executive chef of Vertical Bistro. "Starry Kitchen and Vertical Bistro are my Dr. Jekyll and Mr. Hyde," Quenioux muses.
That's not to say, of course, that Vertical Bistro is comprised only of safe menu items. Burger nights, on Thursdays, feature patties made with bison, pork and Kobe beef. Chef Quenioux's love of offal will become more and more evident as he continues to develop and widen the gastropub-like bar menu as a complement to the wine program. As he moves forward, he is confident in the sense of adventure of Vertical's base clientele.
Quenioux is also working to bring seasonal engagements to the restaurant, such as a version of the late-fall, multi-course truffle dinners he procured at Bistro LQ. A hunter himself (bow & arrow is his weapon of choice), he hopes to shoot enough prize to supply a dinner focused on game meat. Though he intends for the limited engagement to include brown bear meat, Quenioux maintains he'll need to hire that particular hunter out.
It becomes apparent that Chef Quenioux's vision for Vertical is larger than the sum of its courses.
"I'd like to believe that Pasadena will be [the] capital of San Gabriel Valley, you know?" Laurent seems intent on mastering the finds in the area as he sources not only fruits and vegetables from multiple farmers markets throughout the week, but sea cucumber and squab from Shun Fat, veal liver from Gelson's and cod liver from Jon's.
For his own off-hours nourishment, the chef can be found gleaning inspiration at Thien An in Rosemead feasting on the 7-course beef dinner, at Taste of Brazil in El Sereno enjoying the calabresa or Din Tai Fung in Arcadia slurping on xiao long bao.
While Laurent is upping the ante with a slightly more adventurous direction for Vertical Bistro's menu, it still reveals a passion for the fundamentals. "For me, cooking is not a tool to get somewhere else, to become a star. Or to go into the next thing. I enjoy cooking in itself; I enjoy being in the kitchen."
And for that, Pasadena can be proud that chef Quenioux calls it his home.
Esther Tseng writes about food, cocktails and nightlife on her blog, estarLA.com. She lives in Hollywood with her beloved cat, Rufus, and can be reached at esthert@gmail.com.

---