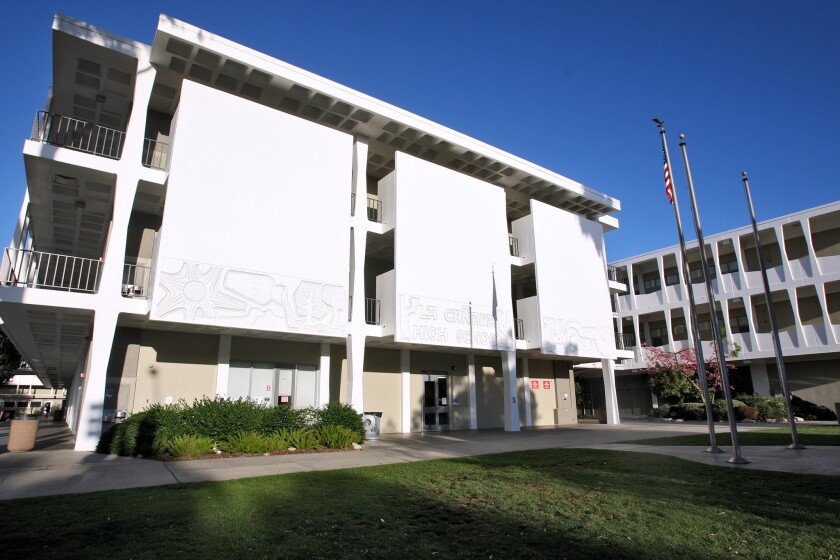 The La Cañada High School community is rallying behind a highly respected teacher recently accused in a lawsuit of discriminating against four Korean American students caught last year cheating on an AP history exam and expelled from the class.
Plaintiffs in the Sept. 11 lawsuit claim damages related to the physical manifestations of emotional distress, loss of standing in the community and humiliation suffered as a result of what they say was unfair treatment by social science teacher Bill Lively and subsequent punishment from Principal Jim Cartnal.
District officials say the administrative actions taken after one student allegedly shared the contents of an Oct. 30, 2018, AP European History exam with others taking the same test later that day were fair and in keeping with the LCHS's academic honesty policy.
"We vehemently deny the allegations of wrongdoing with respect to the discipline issued as a result of students engaging in academic dishonesty," La Cañada Unified School District Supt. Wendy Sinnette said in a statement issued Nov. 8, after a news article detailing the lawsuit was published in the La Cañada Valley Sun.
The attorney for the plaintiffs, Andrea Tytell, refused to comment on the case.
Parents, including some in the local Korean American community, are taking to social media and penning letters to the editor to defend Lively and Cartnal and share their students' positive experiences with both educators.
Eugene Joung, whose daughter is a junior, had earlier heard rumors about the cheating incident and the allegations of discrimination that followed but said he was surprised to learn legal action had been taken.
"It upset me because it really taints the name of my daughter and what she's working for," he said. "It really is bad we now sort of all get roped into this because we're Korean American — it's unfair."
Joung said his daughter made great progress in Lively's AP European history class last year and became a better student because of it. While he understands the pressure students face and the complications that arise on diverse campuses, he doesn't support the accusations against Lively.
"I think he's a fair teacher who demands the best from his students," he said. "If there were more teachers like him, we'd all be in a better place."
Academic honesty, punishing offenders
Each year, La Cañada High School students registering for classes must acknowledge by signature that they have read and will adhere to an academic honesty policy, which defines cheating and plagiarism and outlines a scale of violations (copying homework, looking at someone's paper or sharing test contents with others) and their consequences.
While Principal Cartnal could not discuss individual student discipline cases, he explained the procedure for punishing first, second and third offenses may include students receiving zeroes on assignments or being suspended.
A "severe violation" includes premeditated cheating, falsifying records, giving test answers to other students and posting test questions or answers online and is logged in a student's discipline file, the policy states.
"For the first severe violation, the assistant principal … will notify all other teachers the student has for the semester of the infraction," Cartnal explained in an email. "A teacher recommendation will be made to the administration for an F in the class for the semester, and a recommendation may be made for the student to be dropped from an honors or AP, for one severe violation or for a third violation, from the specific course he/she cheated in."
The policy states offenders also receive an "unsatisfactory" citizenship score and are to be disqualified from extracurricular activities for a six-week period.
The lawsuit describes a junior referred to as J.C. who, feeling pressured by several students, "created a Google document setting forth all that he could remember about the questions and format of the exam." He shared the document with 11 other students, including the co-plaintiffs, all three of whom admitted to opening the email.
The suit alleges "many of the other students who received the email were Caucasian or athletes" but did not indicate whether they, too, opened the email. It also claims that the plaintiff students were not punished for the Oct. 30, 2018, incident until Cartnal became principal on Dec. 7.
Supt. Sinnette explained part of the reason for the delay Wednesday in an email to the Valley Sun.
"Investigations into allegations of cheating are exhaustive and can take considerable periods of time to gather evidence and produce substantiated findings," she said, adding that the Thanksgiving break and an IT employee's attendance at a conference prolonged a conclusion.
'On the right path'
Soo Kim Choi is the mother of two sons, one who graduated from LCHS last year and another who is a junior. A member of the Korean American Parents Assn. (KAPA) she heard rumors about parents suing the district but said she was still surprised to read the suit's claims.
She heartily defended Lively and Cartnal, who responded when her older son requested more support for students who participate in science fairs and competitions and helped her younger son with his Eagle Scout project.
"I was really sad to see the [Valley Sun] article, because both my boys had a relationship with both teachers, and I know both of them are wonderful educators."
Choi said she shared the article with other Korean American parents, who said their children also had good experiences with the two named defendants. Pondering what might be done to help the situation, KAPA members thought they could reach out to other parents about the academic honesty policy.
"We're going to try to educate Korean American parents by reviewing the school's honesty policy and maybe even translate it into Korean," she said. "We should come together as a community to have a single goal — to improve our schools for our children."
She said the Korean American community has made great strides in recent years and feels hopeful as more parents feel integrated into the wider school community, La Cañada High School will become stronger.
"That's my vision for our school going forward," Choi added. "I feel like we're on the right path."
Representatives for both parties in the case are currently scheduled to appear Dec. 3 for an initial status conference at Los Angeles County Superior Court's Dept. 52, 111 N. Hill St., Los Angeles.
---