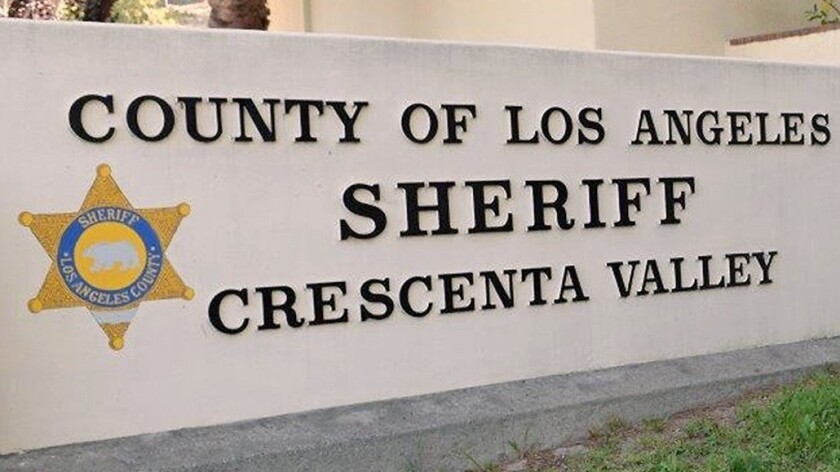 Nov. 13
Burglary, residence: 2700 block of Brierhaven Avenue, La Crescenta. A woman reported she and her husband had gone to work at around 7:30 a.m. Nov. 12 and returned at around 8:50 p.m. the same day to find a rear sliding glass door had been smashed. In a walk-through of the property, deputies observed a bathroom door was unlocked and determined that to be the point of exit. They saw footprints leading to a side yard believed to have been left by the suspect. The victim said she believed as many as nine designer handbags had been taken from a bedroom closet shelf.
Battery: 1900 block of Verdugo Road, La Cañada. A woman told deputies on Oct. 25 at around 4 p.m. she was walking toward the rear employee entrance of her workplace when a co-worker stopped her near the doorway. She said he gripped one of her forearms, and then the other, pulling her in toward his body. He then kissed her on the right side of her neck before she pulled away and walked into the building. She later told a co-worker and a manager about what had happened. She said the man works as a kitchen helper and always hugs male and female employees but told deputies soon after the incident she gave two weeks' notice and terminated her employment.
Identity theft: 2000 block of Los Amigos Street, La Cañada. A woman reported going to a Verizon store the day before, after noticing she was unable to send or receive calls and text messages on her cellphone and being referred to the company's technical support help desk for assistance. When she called, a representative told her someone had used her personal information and security passwords to change her cellphone number and transfer service to another provider.
Nov. 15
Burglary, vehicle: 200 block of Montrose Avenue, Montrose. A man told deputies he'd made a cash withdrawal from Bank of America in Montrose at around 3:52 p.m. that day and then returned to his 2019 Honda CRV, placing the envelope with the cash inside into the vehicle's glove compartment before going home. He parked his car on Montrose Avenue for one hour before returning to find the vehicle's passenger side window smashed. The glove compartment was open, and the envelope inside had been taken. The victim had also left his wallet, containing cash, inside the center console. But the console was left untouched during the incident, leading him to believe someone had observed him at the bank and followed him home for the purpose of stealing the envelope.
Nov. 18
Battery: Ocean View Boulevard at Foothill Boulevard, La Cañada. A man said he was driving home after shopping at the La Cañada Ralphs at around 1:10 p.m. when a newer model black Mercedes with paper license plates abruptly cut him off at the intersection. He honked his horn, and the other driver slammed on his brakes in response, causing him to have to maneuver around the vehicle. The Mercedes driver, described as a white male with brown hair, rolled down his window and stared him down. They exchanged brief words, and the man spat on him, the saliva landing on the side of his face and right forearm. He took out his phone to take a photograph of the other driver, who'd started to exit the Mercedes, but when the man saw the phone, he reentered the vehicle and drove away, merging on the Foothill (210) Freeway westbound. He told deputies he was desirous of prosecution and would recognize the man if he saw him again.
Petty theft, vehicle: 4300 block of Commonwealth Avenue, La Cañada. A woman said sometime on Nov. 16, between noon and 2:45 p.m., someone entered her unlocked 2017 Dodge Ram truck, which had been parked in her driveway, and stole an Apple iPod and Bluetooth attachment device, a folding knife and an unspecified amount of cash. Papers from the vehicle's glove compartment had been strewn around the interior, although nothing else looked out of place. She said she believes her daughter was the last one to access the vehicle the day before and that the suspect may have been a friend of the daughter. During deputies' investigation, the victim discovered a second vehicle belonging to her mother may have also been accessed, as its glove compartment door was also open, though nothing appears to have been disturbed.
Compiled from reports on file at the Crescenta Valley Sheriff's Station.
---