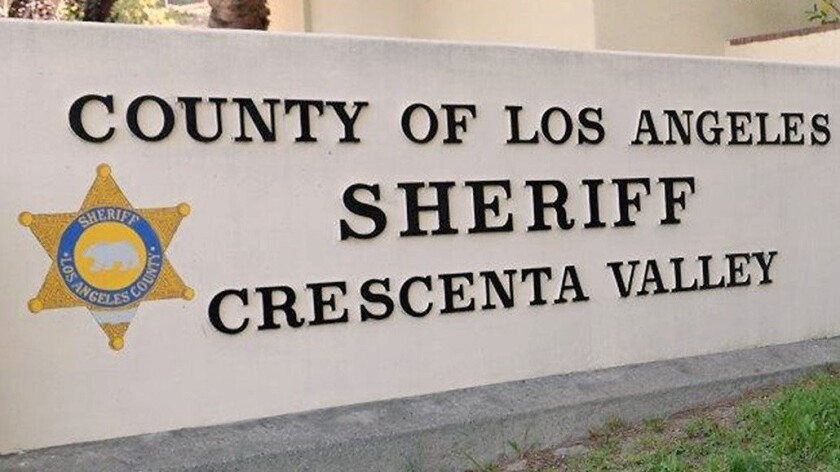 Nov. 24
Petty theft: 2600 block of Foothill Boulevard, La Crescenta. A woman told deputies she was shopping at a grocery store and had placed her purse on the top part of her shopping cart. When she went to pay for her groceries, she realized her wallet had been stolen. Among its contents were her driver's license, physicians ID card, federal Drug Enforcement card, along with several credit and membership cards and an undisclosed amount of cash. She said she didn't see anyone approach her cart while she was inside the store.
Nov. 25
Shoplifting: 2600 block of Foothill Boulevard, La Crescenta. A store employee reported that at around 6:05 p.m. that day a white male with a shaved head and wearing a Lakers basketball sweater and black jeans had been standing in the store's alcohol aisle, looking suspicious. The employee had been called away but later reviewed the store's surveillance footage and saw a man place several items into a shopping bag and leave the store without paying. He then entered a white Toyota RAV-4 and drove out of view. Among the items reported missing were five bottles of champagne.
Nov. 27
Unauthorized use of credit card: 2800 block of Harmony Place, La Crescenta. A man was traveling in Mexico on Nov. 23 when he received an email from Wells Fargo Bank informing him of a zero balance on an account in which he'd previously had funds. When he called the bank, a representative told him someone had made numerous transactions using his credit card information, including purchasing airline tickets through American Airlines from Texas to London. A representative from the airline gave the man a name connected to the tickets and said the trip was scheduled for Thanksgiving Day.
Nov. 28
Burglary, residence: 3000 block of Hopeton Road, La Crescenta. A man who'd left his home at around 5:30 p.m. that day to have Thanksgiving dinner at a relative's house received a call at 7:01 p.m. from his alarm company, informing him the alarm system had been activated. He arrived home at around 7:30 p.m. and noticed a sliding glass door near the kitchen and dining area had been shattered, so called the sheriff's department. The victim said at a glance nothing appeared to be missing.
Nov. 29
Vandalism, vehicle: 3000 block of Henrietta Avenue, La Crescenta. A man parked his nonoperational 2004 Ferrari 360 Spider in front of his home on Nov. 25 at around 10 a.m. with the intention of having it towed the following day. When the tow truck arrived at around 5:30 p.m. the next day, the man noticed the vehicle's tire valve stems had been removed or cut off. He told deputies he'd had an argument with a neighbor, who may have cut the valves in retaliation.
Nov. 30
Burglary, vehicle: 2200 block of Waltonia Drive, Montrose. A man parked and secured his 2015 Toyota Tacoma truck along a curb on Nov. 23 at around noon. When he returned that day at around 10 a.m. he noticed the driver's side rear window had been shattered and his black and brown Wilson leather jacket was missing from inside.
Dec. 1
Burglary, vehicle: 2200 block of Nika Vista Avenue, La Crescenta. A man had parked his 2004 Ford Explorer under an apartment complex carport and, on Nov. 30 at around 10:30 p.m., took several items from an offsite storage facility and placed them into the vehicle's back seat before locking the vehicle. The next morning at around 6:30 a.m., he was notified by a neighbor that the vehicles' rear passenger side window was shattered. The man said he'd seen two men in their 20s hanging out near an alley south of the carport "smoking a bong." As they'd both seen him place the items in his vehicle, he believes they may have been the ones who broke into it. Among the items missing were six TaylorMade golf clubs and a black Yamaha keyboard.
Dec 2.
Vandalism: 200 block of Berkshire Avenue, La Canada. The owner of a property under construction contacted deputies to report an unknown person had cut through a section of chain-link fence, gained entry to the construction site and stolen a trailer, cutting a padlocked chain to exit the property. The owner had last been on the property Nov. 30 at around 4 p.m. When he returned at around 8 a.m. Dec. 2, he saw the cut-through fence. The contents of the trailer were not listed in the sheriff's report.
Compiled from the reports on file at the Crescenta Valley Sheriff's Station.
---