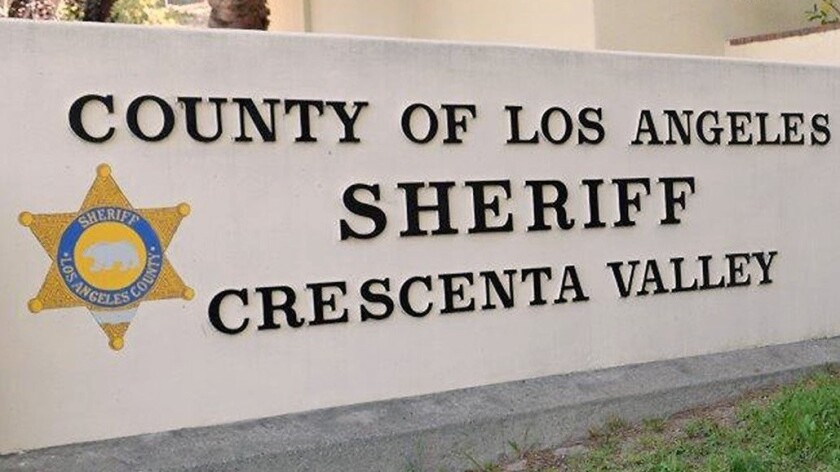 Dec. 3
Theft by false pretenses: 4700 block of Alta Canyada Road, La Cañada. A man was scammed on the morning of Dec. 2 by a caller who pretended to be an attorney who was helping the victim's granddaughter raise bail after she was supposedly arrested on a reckless driving charge. After the caller passed the phone to a woman who pretended to be the granddaughter in need of help, the victim withdrew an unspecified amount of money, as he had been directed by the "attorney." At 2 p.m. that day, a blond woman representing herself as someone from the bail bond firm arrived at the victim's home and accepted the money from him. She was described as in her 20s, about 5 feet 8 and wearing professional attire, including heels. Later that day the victim spoke to his granddaughter, learned she had not been arrested and realized he had been scammed. On Dec. 3, he received another call from the purported attorney asking for more money in his granddaughter's case and advising him there was a 48-hour gag order on the case. This time he told the caller he knew of the scam and disconnected from the call.
Dec. 4
Petty theft: 3000 block of Community Avenue, La Crescenta. A witness saw a male and a female who were the occupants of a black Ford pickup with Arizona plates stop at 9:18 a.m. and take three boxes of miscellaneous electrical wires out of the bed of her neighbor's pickup truck. The couple drove off and out of view.
Theft by false pretenses: 4700 block of Oakado Place, La Cañada. A man reported discovering that sometime between 8 a.m. and 5 p.m. on Dec. 3 one of his business checks had been cashed by an unknown person at a Wells Fargo branch.
Dec. 5
Forgery: 400 block of Paulette Place, La Cañada. At 10 a.m. that day a woman received a call from a representative of California Credit Union advising her there had been suspicious activity on her account, with several checks made out to Courtney Landscape having been cashed by an unknown person using a mobile deposit app. The victim said she wrote one check to that firm; the fictitious checks appeared to have been copies of the original.
Attempted burglary: 3900 block of Alta Vista Drive, La Cañada. At 10:18 a.m. on Dec. 4 a resident who was away from his home received an alert on his phone from the Ring alarm system at his property, alerting him to a prowler. He called the sheriff's station and deputies were dispatched to the scene. They found no one there at the time and no evidence of a crime. On Dec. 5 the resident took to the station the Ring video footage, which shows a man described the report as a Latino or "dark-skinned white" walking around the man's backyard, talking into a cellphone in his hand. The suspect is wearing a dark blue hooded sweatshirt, light gray pants, white sneakers and yellow gloves. He can be seen on the footage checking door handles to try to gain access. Then a faint voice is heard saying what sounds like the word "police" and the suspect flees the property. The deputy writing the report said the suspect might have been talking to an accomplice who was monitoring a police scanner.
Theft from access card and petty theft of a wallet: 900 block of Foothill Boulevard, La Cañada. A woman shopping at HomeGoods at around noon Dec. 4 set her purse in the child's seat of a shopping cart. She reported that when she reached the cashier's stand to check out she realized her Gucci wallet containing identification, cash, credit/debit cards and gift cards had been stolen. Shortly afterward she received a text on her cellphone alerting her to an attempt that had been made to charge something to one of her credit cards. That high-end purchase had been declined because the buyer could not provide a PIN for the account.
Dec. 6
Vandalism: 2700 block of Frances Avenue, La Crescenta. A woman reported that sometime between 5 p.m. Dec. 5 and 3 p.m. Dec. 6 someone damaged a 20-foot length of wood edging between her driveway and her neighbor's, breaking it in several places.
Dec. 8
Strong-arm robbery: 600 block of Foothill Boulevard, La Cañada. A man reported that he was standing outside the store of a gas station at about 9:50 p.m. Sunday when three black males, all described as being about 17 to 18 years of age and all about 6 feet 2 or 3 exited the store. One of the teens asked the man if he could use his cellphone, so the victim offered up his Apple iPhone 8 Plus. The teen took the phone and pretended to talk on it, then all three of the young men began to run away together. The victim yelled out that he would give them cash if they would bring back his phone, so they returned to him and walked with him to a nearby ATM. The victim saw an opportunity to grab his phone back and tried to do so, but it was wrested away from him. The three teens were last seen walking eastbound on Foothill Boulevard.
Compiled from reports on file at the Crescenta Valley Sheriff's Station.
---